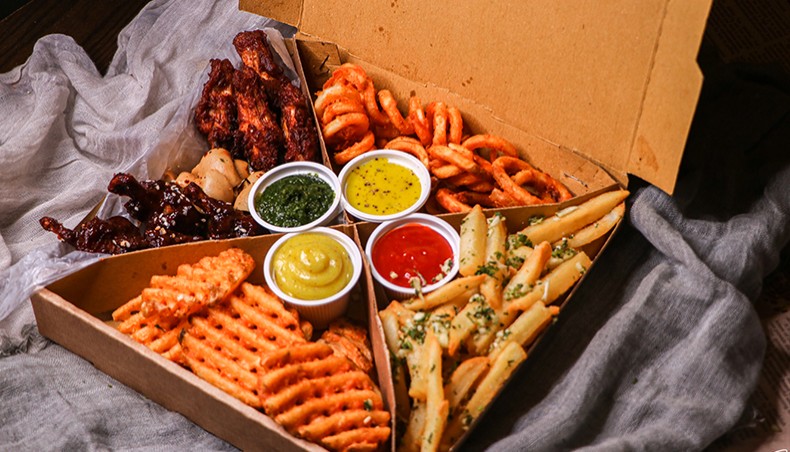 In recent years, restaurant business has been booming exponentially in urban settlements of Bangladesh. Many young entrepreneurs have taken this opportunity to do something of their own as well as create employment opportunities. These eateries have already become a new space for socialising among urban youths and families. The COVID-19 outbreak and the subsequent health regulation suddenly interrupted this growth. Many young restaurateurs are struggle; however, local chain restaurants with strong own delivery team are doing comparatively well. Nahid Riyasad writes about young restaurateurs and their crisis management strategies
THE urban youth of Bangladesh was introduced to different types of cuisines at a much affordable price with the rise of food carts in the 2010s. These small, two-three people operated outdoor kitchens offered a variety of instantly cooked hot meals in residential and university areas targeted towards the generation Z. Affordability and casual roadside environment with fast services were major reasons behind the popularity.
Many of those carts have managed to become successful local food joints and one has made it to the international arena. From media reports, by 2021, the food service industry of Bangladesh is expected to be at Tk 4500 crore. The adaptation of dine-out culture by the middle-income city dwellers as well as students have boomed the restaurant industry.
With the expanding industry, many young people have started their own restaurants with minimal investments. The taste of the people was also becoming diversified as a number of ethnic cuisines from different ethnic communities were offered. Serious competitiveness was pushing the restaurateurs to bring newer food with much competitive price and everything was going great. Then with the sudden unexpected arrival of COVID-19 has changed everything.
To know the experiences of restaurant owners during this time of pandemic and global economic crisis, New Age Youth talks to few young people who are into food business and chalks their experiences. What we can gather from the (not)happenings of the last six months, the industry is at distress.
Romit Wasiqul is a student of urban and regional planning in Rajshahi University of Engineering and Technology, who started a juice cart, the first of its kinds in the locality at his campus in 2018. It was an instant hit among the students because of the quality and service. Blenders', the cart, was launched on the first day of Bangla year and it sold 130 kilograms of watermelon juice on that day.
With the success, Romit started his second restaurant, Mizan's Kabab and Food, targeting the campus population in March 2020. The first 12 days, it got tremendous response and catered to 300-400 people per day on an average with Bangla food and kababs. Then, all the educational institutions were closed so were their doors.
'We hired an ex-navy chef and that is the reason behind the long queues but the amazing run had to stop due to the pandemic. In June, we reopened our restaurant and started delivering a couple of items but that is not enough for covering even the operational costs. As our location is campus based, we have to wait until the activities restart here, Romit told New Age Youth.
The story of Arpon Changma, an institutionally trained chef and owner of a pan-Asian restaurant at Mirpur, Dhaka, is quite similar but different on another note. When the first COVID-19 positive case was announced on March 8, he closed his restaurant CHT Express.
The venture of two friends started in July 2017 as an online food delivery platform and went on to offering a full-fledged dining experience from January 2018. The restaurant has started their operation but only online delivery in late July, following the months of social distancing. The numbers of orders are nowhere near sufficient to covering even portions of the operational costs.
During a conversation with New Age Youth, he shares the hurdles, 'We have to run the business from our own pocket at this moment. There are a lot of costs that has to be taken care of like rents and salaries. Our landlord is considerate and waived a small portion, not enough but it was a good gesture.'
Things are even grimmer for Kacchi Express in Narayanganj because they cannot grab the online market due to the nature of their products, as mentioned by Ahsan Habib, one of the four owners of the delicate kacchi experience in the town.
'Since mid-March, we have stopped our operation as the town was one of the COVID-19 hotspots. The business had to survive so we maintained it from our own accounts. We opened our shop twice in the last six months but could not entertain a single guest in those two separate days, which is not a good sign,' he said.
Habib also talked about their logistical drawback, 'many fast-food and snacks can deliver online because they prepare before and make every order on the go, but for kacchi and biriyani, you have to cook at the beginning of the day. So, insufficient orders can turn into huge financial loss.'
Jaba is a restaurant in Tejgaon that offers traditional Garo cuisine in the capital. Their owner Sumon Sangma, during a conversation with New Age Youth informs that from the second week of March, guests started to vanish and by March 22, they had to close their doors.
'The most disheartening part of the closure was we had to let go two of our staffs but that was the only thing we could do at that moment. After three straight months of closed doors, we started online delivery from the second week of June,' he said.
Sumon also stressed over other aspects too, 'delivering online cannot sustain a dining restaurant for long and for that reason, we had to reopen our dining with all the necessary health safety measures in August. Today (August 25) we only entertained a group of five people and that is it. A few hundred taka of sells on a day is nothing.'
Things are not as worrying for everyone and we do get a few responses about good business. Abu Taher Onik runs a restaurant called Urban Spoon at Banani and shares his experience of keeping the business alive during the COVID-19 situation.
'In the initial stage, we had to let go of a chunk of our staffs because restaurant was closed for more than two months, this has been the worst part of the story. After that, we started delivering online from the end of May but orders were very low. However, we have opened our dining for a month now maintaining all the safety measures and we are getting more guests than ever, even more than before the coronavirus,' Onik said.
From the experiences so far, we can see that online orders have been insufficient to bring even the operational costs. A major reason behind this is that most of the restaurants depend on third party delivery services. During the rise of the competitive e-commerce market and fast deliveries, those will win who has their own strong delivery team, as mentions Mir Mehedi, the owner of Pizzaburg, a popular and successful local food chain in Dhaka.
'From the beginning of the COVID-19 situation, we closed the dining of all five of our outlets and started online delivery. We do have a few delivery-only outlets so the necessity of our own delivery team was essential. That is exactly why we our created our own delivery team that covers a large area of the capital and delivering hot and fresh pizzas and burgers right at the doorsteps of our guests,' he said.
Pizzaburg's attractive pizza packaging and delivery by maintaining proper hygiene, inclusion of a few alcohol pads inside the pack is well appreciated by the customers, as gathered from the responses of pizza lovers in their social media page.
Tahsin Rob, one of the owners of Heart World, echoed the same. Heart World emerged from a little corner shop in a Dhanmondi market to a very popular restaurant with its own fanbase. Rob emphasises on the importance of a large delivery network and coverage area and how this technique helped them to survive in these difficult times.
'We were closed, but not for long, more or less a month. In that time, we went through a five-day training period of how to handle the logistics with required health measures and took another fifteen days to prepare to start the operation. From then on, we are delivering online. The landlords have been considerate to us and allowed us to start paying six months of due rents from the next year which is a huge gesture,' Rob said.
The young entrepreneur also discussed how they have built a team of riders through Facebook who were vacant due to the closure of ride-sharing services and expanded their delivery in all of Dhaka.
Many the young entrepreneurs who have invested much of their money, labour and dream in restaurants are in economic distress, but, at the same time, there are also a few who are doing great during the crisis time. It is the ability to adapt, re-plan, revise and execute that keeps a business going, even more during times of crisis.
The business that have swiftly shifted to efficient online delivery services are keep going. It is also true that not every restaurant has the volume of customers or orders like the local chains so it is hard for them to survive only on delivery.
Right now, it is a test of determination and patience and those who will overcome the challenges, will survive after the storm fades.
Nahid Riyasad is a member of the New Age Youth team.
Want stories like this in your inbox?
Sign up to exclusive daily email