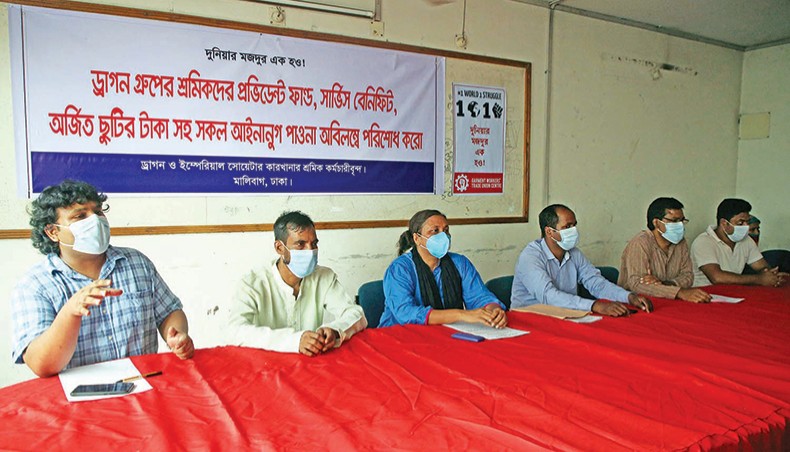 Terminated workers of two sweater factories of Dragon Group in the capital announced on Saturday that they would beseize the Shrama Bhaban from Monday indefinitely over outstanding payment of provident fund money, earned leave and service benefits.
The workers announced to lay siege to the factory owner's house, the Bangladesh Garment Manufacturers and Exporters Association office and to hold a hunger procession towards the prime minister's office to realise their demands as the Dragon Group terminated about 1,500 workers from its two factories amid the coronavirus pandemic without paying the benefits they were entitled to under the law.
Dragon Group Shramik Karmachari Sangram Committee announced the programme at a press conference in the capital on Saturday.
Sangram Committee coordinator Abdul Kuddus said that most of the workers who were terminated from their jobs had been working there for more than 15 years and the factory authorities had declined to pay the workers their provident fund, earned leave and other benefits.
He said that the workers had deposited eight per cent of their monthly basic salary to the provident fund and as per the law, the employer would contribute the same amount to the fund.
The Dragon Group authorities had, however, declined to pay their share to the workers' provident funds and also did not pay the amount terminated workers had been depositing from their own salaries, Kuddus said.
He said that the authorities announced to shut down the factories since the beginning of the coronavirus outbreak in the country using the pandemic as a pretext and paid 60 per cent of workers' wages for the months of April, May and June from the government's stimulus package.
'Laying off the permanent workers without paying any lawful benefits, the authorities are now running production in the same building with temporary workers under another factory name,' Kuddus alleged in the press conference.
He said that the workers had been continuing their movement to meet their lawful demands for a couple of months and had also requested the Department of Inspection for Factories and Establishments to resolve the problem but the government department had also failed.
The Sangram Committee said that the crisis management committee under the labour ministry had failed to make the Dragon Group comply with the laws.
The terminated workers said that they would start the Shrama Bhaban Occupy programme from Monday and it would continue until their demands were met.
Bangladesh Trade Garment Workers Union Centre general secretary Joly Talukder, international affairs secretary Monzur Moin and former general secretary Sadekur Rahman Shamim, among others, attended the press conference.
Dragon Group chairman Mostafa Golam Quddus and DIFE inspector general Shibnath Roy could not be reached for comments in this regard despite repeated attempts.
Want stories like this in your inbox?
Sign up to exclusive daily email
More Stories from Apparel