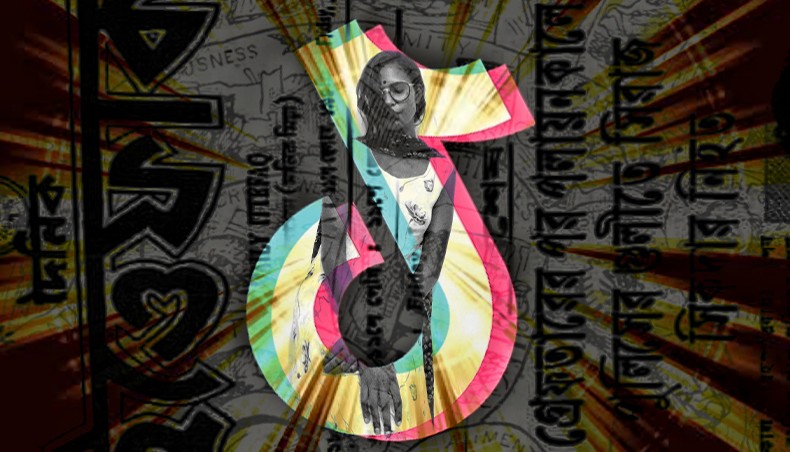 Unlike the highly regulated media contents, TikTok has contents which cannot be directly regulated by the govt-media-industry complex. Is it this transgressive quality added to the content that threatens the fascistic psyche which demands conformism? We keep betraying ourselves even when we are complying with fascistic practices and who does not betray himself in fascism, asks Oliur Sun
DURING the caretaker government rule in 2008, in one of the southern districts of Bangladesh, I remember hearing stories of army personnel tearing ladies' pants which were locally known as 'dividers' because of their cuts at the bottom. Albeit, local tailors immediately stopped making them and the pants went out of fashion. But what prompted this military crackdown on a particular variety of pants? What name shall we call this coercion?
Because it was not only a war against pants but also hair, decoration and behaviour — appearance and body itself. Biopower in action? Militarisation of culture? Modern state being modern state? — Perhaps all of them. Unsurprisingly, the same tendencies still persist. We have police working as occasional barbers, magistrates providing teenagers with free and unwanted makeover and of course our parents or an annoying uncle or aunty acting as our personal and forceful stylist — a combination of fascistic and micro-fascistic tendencies determining our fashion — culture of fashion — culture itself.
But who gets to determine culture/s, if culture is something to be determined at all? Undoubtedly the powerful and ruling class. But what happens to the cultures of people who do not fit into the gentrified taste of the ruling class especially in cases where they are only trying to mimic the celebrated culture/s of the ruling class? Their cultural representative gets beaten by a mob of course because they were practising or, rather mimicking the most gruesome 'mastani' of the ruling class that the dominant group themselves have infiltrated into the society in the form of 'bhai culture' and so on. Are TikTokers and their fan gangs not merely the caricature of the socio-political bhai culture?
If 'behind the ranting megalomaniacs, bullies, drug-fiends, and broken down bohemians who constitute the outer facade of fascism, the business heads of finance-capital who pay the costs and pull the strings are perfectly cool, clear and intelligent' (R Palme Dutt), what kind of people are behind the uncouth TikTokers who are deemed as abomination in the name of entertainment?
Mass cultures are not limited to the much loved or selectively perceived, romanticised and often produced 'folk cultural elements.' Much like the dis-tuned songs by a media business tycoon, there are unsettling elements in mass cultures. TikTok content is perhaps, no different. Surely while the third world teenagers fight over TikTok and Likee popularity, the share price of these platforms goes high in the market and everyone knows who makes all the money.
Nevertheless, due to their increased and almost unparalleled popularity, they have earned a sense of suspicion from the governments and in some cases a direct ban — TikTok stopping its operation in Hong Kong, India banning TikTok for being 'prejudicial to [the] sovereignty and integrity of India'. What is so threatening about TikTok, a Chinese product that even China had to stop its operation in Hong Kong? Is it not the space of TikTok itself regardless of its ownership where people can also organise and make their causes trendy?
The recent grilling of TikTok star, Opu Bhai on charges of assaulting, harassing and beating people has drawn attention to these platforms in Bangladesh which many have associated with teenage gang culture. But this mere association fails to address the generation of gang culture because the promotion of gang culture is a political phenomenon perpetrated by the ruling party's students' wing event at the school levels. The cultural translation of this political as well as social reality in explicit forms on different platforms is something that unsettles the middle-class audience of culture who also largely decides what qualifies as culture that is the national culture.
Also, what happens when a cultural content maker challenges one or two prejudices of the middle-class (though they share nearly the same prejudices) such as hairstyle? The middle-class audience wants to remove that sign of course (hence the desire to cut Opu Bhai's hair and even the judge being quite bothered by Opu Bhai's hairstyle).
As serious as the beating of middle-class educated men by the Opu Bhai gang is, the treatment of Opu Bhai afterwards by the same group exposes the deeply held biases of the educated middle-class among which is the prejudiced treatment of Noakhailla or largely Southern identity. Opu Bhai is also a wannabe ruling class who by the means of his popularity perhaps thought that he had gained access to the ruling class but hopefully a mild session of mob beating before being put in a police van was enough to disillusion him.
It is quite interesting to watch the same middle-class educated group drooling over Lady Gaga or Sia's hairstyle and enthusiastically despising Opu Bhai's hairstyle — this not just a simple hypocrisy, it is also the prevailing colonial mind-set worsened by cultural prejudices being carried by both the TikTokers and the educated middle-class group.
When most of the deshi TikTok contents are as much sexist, abusive, racist and filled with moderate-Muslim-like prejudices as the mainstream media contents (but unlike the highly regulated media contents, TikTok has contents which cannot be directly regulated by the govt-media-industry complex), what causes this outrage and this call for preservation of culture? How can you preserve or maintain the existing state of a culture when culture is something that is always mixed and changing? The conformist ideology behind these sentiments is most likely to be the spillage of fascistic political practices in the sociocultural space.
The phantasmic transgression that TikTok or Likee content-making offers through lip-syncing in itself plays on the desire of the 'bewildered herd', as Chomsky identifies the group, to live the silver screen fantasy. But is it this transgressive quality added to the content that threatens the fascistic psyche which demands conformism? Or is it that there is an Opu Bhai inside of us all, the educated middle class and our middle-class façade wants to hide this from our sight?
Therefore, when the real Opu bhai is sighted we first take him as a joke and then try to suppress him and impose behaviours and features that we believe to be ourselves. But we are rarely what we think we are. Consequently, we keep betraying ourselves even when we are complying with fascistic practices. And who does not betray himself in fascism?
Oliur Sun is a non-philosopher.
Want stories like this in your inbox?
Sign up to exclusive daily email
More Stories from Mindspeak