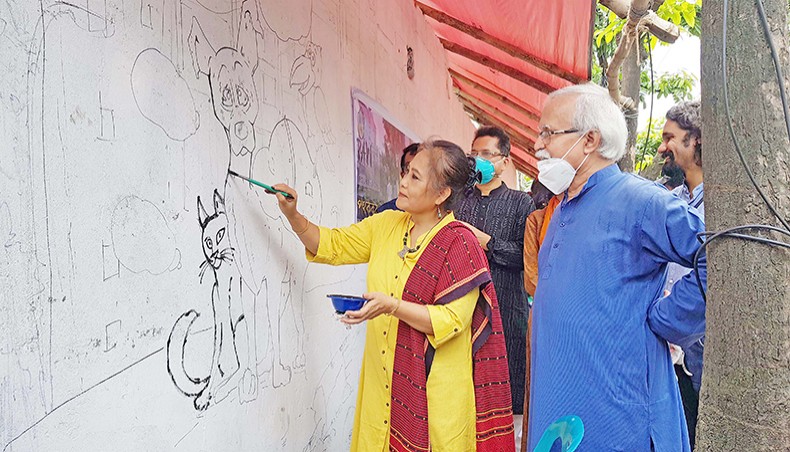 Dhaka South City Corporation has planned to relocate stray dogs from its territory to the city periphery as its stray dog population has increased apparently for its failure to sterilise them effectively.
City corporation officials said that they took the initiative in the face of increasing incidents of dog bites, as an alternative to the dog culling banned by the High Court in 2014.
People from different areas, including Maniknagar, Moghbazar, Hatirpool, Azimpur as well as parts of Old Dhaka, complained to the city corporation against the proliferation of canines, they said.
DSCC veterinary surgeon SM Shafiqul Islam said that 'upon public demand' south city mayor Sheikh Fazle Noor Taposh asked him to take steps to relocate dogs from the DSCC area.
He said that they did have no study on the city's dog population but the number of registered dog was 46.
He further said that the government health department had vaccinated some 48,000 dogs, including 28,000 in the DSCC area, in 2019.
He said that the city corporation was neither doing vaccination nor sterilisation after its three-month-long project for the purpose ended in March 2018.
The DSCC that time sterilised about 2,400 dogs.
Animal rights activists and academics, however, said that the relocation of dogs might be harmful for both dogs and people.
They said that the failure of the city corporation turned into a curse for the domesticated carnivore.
According to KBM Saiful Islam, the chairman of medicine and public health department at Sher-e-Bangla Agricultural University, dogs strictly maintain their territory while one dog never allows another into its territory.
'Local dogs will fight relocated dogs to maintain their territory creating a new public nuisance where they will be relocated,' he said.
Saiful said that sterilisation was the best way to protect both public health and animal rights.
Considering public health, he said, some dogs may be shifted to designated sanctuaries but not to localities where dogs have already been living.
He also advised the authority to create public awareness in this regard.
Zahid Hussain, the general secretary of Care for Paws, an animal welfare organisation, said that the relocation would create death threats for relocated dogs and problems for local people although the measure might give relief to city residents.
He said that as dog culling was illegal so the authority found this as an alternative, which was not scientific.
'Vaccination and sterilisation of dogs are a scientific solution to the crisis, he said.
Officials of the Infectious Disease Hospital, the only hospital providing treatment to animal-bite victims from all over the country, said that an average of 250 dog-bite patients were admitted to the hospital daily in January this year.
The figure was 202 in January 2016 and 184 in January 2015.
Roughly 95 per cent of the victims were from Dhaka, they said.
Residents complained that dog-bite incidents increased in the capital with the number of stray dogs swelling since 2013 as both the city corporations had been neglecting their duty of either vaccinating pie dogs or keeping their number in check.
They said that stray dogs got aggressive at night when passers-by felt insecure that such dogs might attack them.
Animal rights activists alleged that the relocation of dogs without creating sanctuaries for them would eventually mean culling for them.
They said that it would be a violation of animal rights and against their welfare.
The Animal Welfare Act 2019 was enacted on July 10, 2019 repealing the earlier Cruelty to Animals Act 1920 to protect animal rights.
Although the animal welfare law provides for penalties for cruelty to them, yet harming and killing of animals continue across the nation, said animal rights activists.
In 2011, the government took an action plan to conduct a survey to determine the number of stray dogs across the country as of 2012.
Under the action plan, the government also set the deadline to vaccinate and sterilise each and every stray dog by 2012 and eradicate rabies by 2020.
The government, said residents, seems to be oblivious of their action-plan goals.
Residents also said that no activity to vaccinate or sterilise stray dogs by Dhaka South City Corporation and Dhaka North City Corporation was visible to them.
Want stories like this in your inbox?
Sign up to exclusive daily email
More Stories from Country