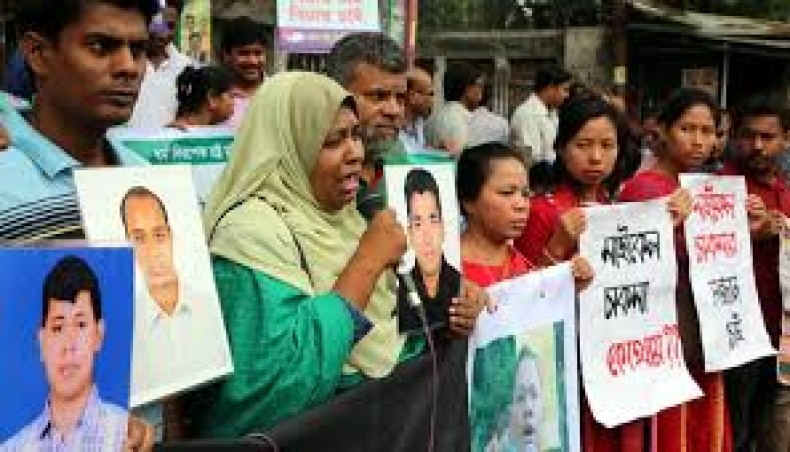 Twelve human rights groups on Thursday alleged that security forces and law enforcement agencies in Bangladesh were continuing extrajudicial killings with apparent impunity, targeting journalists, activists, and government critics.
The organisations made the allegation in a joint statement on Friday, ahead of the International Day of the Victims of Enforced Disappearances to be observed on Sunday.
Quoting a report of rights organisation Odhikar, they said that incidents of enforced disappearances had continued during the COVID-19 epidemic and at least four people became victims of enforced disappearance during that period.
They said, 'The economic hardship caused by the pandemic has had a detrimental impact on the mental, social, and physical well-being of families of the disappeared, and on their ability to search for their loved ones.'
'From January 1, 2009 to July 31, 2020, at least 572 people have been reported forcibly disappeared by security forces and law enforcement agencies in Bangladesh. While some were eventually released, shown arrested, or discovered killed by security forces and law enforcement agencies in so-called "crossfire" encounters, the whereabouts of many of them remain unknown,' the statement said.
'Enforced disappearance is part of the ruling party's ongoing crackdown on freedom of speech. Disappearance, or threats of disappearance, is used to silence critics and repress the opposition,' it alleged.
'The Bangladesh government authorities have failed to respond to the repeated calls from families of the disappeared for investigations into the enforced disappearance of their loved ones. Victims and their families are met with repeated obstacles to legal redress, including police refusal to file cases and threats to drop cases,' it said.
The organisations alleged that law enforcers were enjoying a culture of impunity, perpetuated by the ruling party's refusal to acknowledge the occurrence of enforced disappearances or hold security forces accountable.
'Although enforced disappearances had taken place earlier, this practice has increased exponentially since the present Awami League-led coalition took office in 2009. Numerous members and supporters of the political opposition were subjected to enforced disappearance around the 2014 general election, which the major opposition parties boycotted,' it said.
The statement was endorsed by Advocates for Human Rights, Anti-Death Penalty Asia Network, Asian Federation Against Involuntary Disappearances, Asian Human Rights Commission, Asian Network for Free Elections, Asian Forum for Human Rights and Development, International Federation for Human Rights, Human Rights Watch, Mayer Daak, Odhikar, Robert F Kennedy Human Rights and World Organisation Against Torture.
Want stories like this in your inbox?
Sign up to exclusive daily email
More Stories from Country