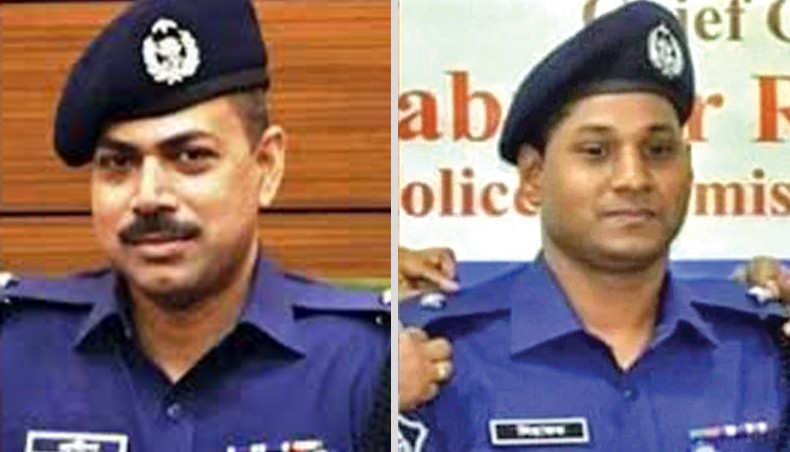 Two courts in Cox's Bazar and Chattogram asked the police to launch separate inquiries against 19 policemen, including the then Teknaf police officer-in-charge Pradeep Kumar Das and Baharchara police investigation centre in-charge inspector Liyakat Ali, and 11 civilians over a shooting death in March 2019 and threatening a businessman in 2014.
New Age correspondent in Cox's Bazar reported that Nurul Hossain, the brother of a victim of extrajudicial killing in March 2019, filed the complaint with the court of a senior judicial magistrate in Cox's Bazar against suspended OC Pradeep Kumar Das and sub-inspector Deepok Biswash and 21 others.
Senior Judicial Magistrate Mohammad Helal Uddin asked current Teknaf police station officer-in-charge to submit its report by September 7.
Of the 23 suspects the victim's brother Nurul Hossain named, 16 are police personnel and seven are dafadar and village police and locals.
Nurul of Hinllha union in Teknaf said his brother was killed in a reported 'gunfight' on March 31, 2019 and alleged that the police killed his brother after taking Tk 5 lakh as extortion.
His lawyer Insafur Rahman confirmed the matter to reporters while Cox's Bazar pubic prosecutor Faridul Alam said that the court would finalise its decision abnd record it formally after getting report from Teknaf police station whether any murder case was filed with the station.
The suspects include the then Teknaf police inspector ABMS Doha, sub-inspectors Jamsed Ahmed and Diponkor Kormakar, assistant sub-inspector Hillol Barwa, Farhad Hossen, Ameer Hossain, Sanjit Dattha, and constables Robel Sarma, Sagar Dev, the then driver of officer in-charge Jahir Ahmed, constable Hirdha, Armed Police Battalion constables Saikat, Prosenjit and Uday. They belong, or once belonged, to the police force.
Dafadar Nurul Ameen alias Nurullah, Jahangir Alam, Nurul Hossain, Anwarul Islam, Nurul Alam, Nurul Ameen, among others, are civilians.
Mahmudur Rahman, who was an expatriate in Saudi Arabia, turned into a businessman after returning home about one and a half years back.
His ordeal began when Nurul Ameen, a dafadar demanded Tk 10 lakh from Mahmudur as extortion for Pradeep Kumar but he denied paying the amount.
Later, subinspector Dipok Biswash picked up Mahmudur with the help of union parishad dafadar and village police are Nurul Ameen, village police Nur Hossain, Buttho, Anwarul Islam and village police Nur and demanded Tk 10 lakh for his release.
'I went to Teknaf police station to release my brother on the same evening,' the complainant said. But sub-inspector Dipok Biswash threatened him and demanded Tk 10 lakh.
He claimed in his petition that he had paid Tk 5 lakh to sub-inspector Dipok Biswash but his brother was not released, rather he was killed along with another person in a 'gunfight' near a fishing project in Moulavi Bazar area of the same union on March 31, 2019.
Of the suspects, Pradeep is now in jail as a suspect of retired army major Sinha Mohammad Rashed Khan killing on Cox's Bazar-Teknaf Marine Drive at Shamlapur under Teknaf upazila in Cox's Bazar on July 31.
In Chattogram, another complaint was lodged on Wednesday with Chattogram metropolitan magistrate Abu Salem Md Noman against seven people, including Inspector Liyakat Ali for allegedly threatening a businessman, Jashim Uddin, and demanding Tk 5 lakh.
Among the accused, inspector Liyakat, Cumilla's Daudkandi police station sub-inspector Md Hannan and Satkania police station sub-inspector Md Nazrul were from police while S M Sahabuddin, Bisnupada Palit, Kazal Kanti Baiddya and Ziaur Rahman were businessmen.
According the complaint, the then Detective Branch sub-inspector Liyakat demanded Tk 5 lakh from Jashim on June 14, 2014, in connection to a case filed against him by his business rival.
When Jashim refused to pay money, a case was filed against Jasim in Women and Children Tribunal.
He got bail form the case, Liyakat and the other suspects demanded money from Jashim and they threatened him to kill him 'crossfire'.
With the help of Liyakat a total 13 cases were filed against Jashim, who got bails in 10 cases and three cases were still pending.
Before filing the case, Jashim filed a written complaint to Chattogram Metropolitan Police CMP Commissioner against Liyakat. Jashim said that earlier he could not file the case because he feared repercussions but took the decision after the arrest of Liyakat.
Liyakat Ali, who was later promoted to an inspector and was suspended during his appointment as the in-charge of Baharchara Police Investigation Centre in Cox's Bazar, was now in Rapid Action Battalion custody in connection with the murder of retired army major Sinha.
Complainant's lawyer Jewel Das said that the then Chattogram superintendent Babul Akhter, the then Sadarghat police station officer-in-charge Pranab Chowdhury, Ukhia police station officer-in-charge Mozina Akhter and 13 others were charged in the case.
But, the court accepted the charges against seven of them only and said that if any of them are found involved in the inquiry, the court would take into cognizance.
Want stories like this in your inbox?
Sign up to exclusive daily email
More Stories from Country