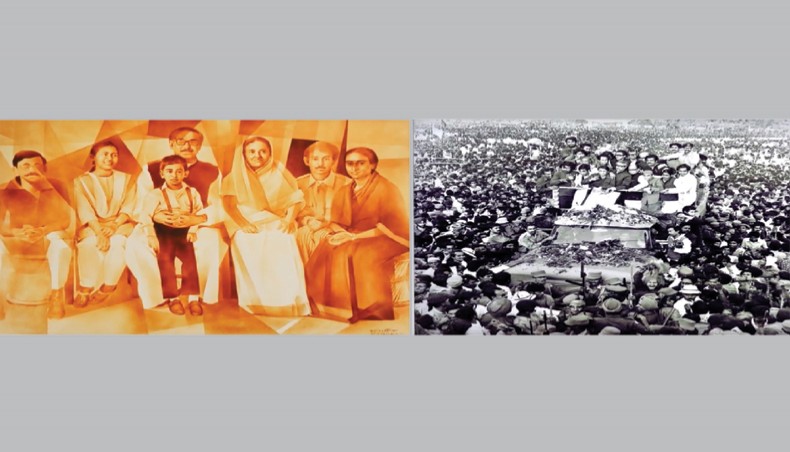 An exhibition featuring paintings and photographs portraying the life and works of country's founding president Sheikh Mujibur Rahman and grenade attack on an Awami League rally on August 21 in 2004 is under way at Bangladesh Shilpakala Academy.
The 15-day exhibition, titled 'Muktir Mahanayak', has been jointly organised by Bangladesh Shilpakala Academy and Bangabandhu Sheikh Mujibur Rahman Birth Centenary Celebration National Implementation Committee in association with the cultural affairs ministry.
The event features a total of 340 artworks by 250 artists along with collected photographs, which have been displayed at the National Art Gallery 1, 2, 3 and Bangabandhu Corner of the National Art Plaza of BSA.
Prime minister Sheikh Hasina inaugurated the event through video conference on August 23. The exhibition has been planned by Bangladesh Shilpakala Academy director general Liaquat Ali Lucky.
Paintings, portraying historic March 7 speech, liberation war, Sheikh Mujibur Rahman, Sheikh Russel, Sheikh Hasina and others, which have been created by both emerging and acclaimed artists, have been displayed at National Art Gallery 1 and 2.
The works at gallery 1 have been divided into two segments. A total of 100 watercolour and oil paintings created by prominent artists have been displayed under one segment and the other segment features 90 artworks - based on the books 'Asamapta Atmajibanee' and 'Amar Dekha Naya Chin' - by emerging artists.
Artist Shahabuddin Ahmed's painting titled 'Sneho', Abdul Mannan's 'Banglar Mukh', Nasim Ahmed Nadvi's '7th March 1971', Rokeya Sultana's 'Bangabandhu', Anisuzzaman's 'Bangabandhu O Bangladesh', Atia Islam Anne's 'Bangabandhu', Rezaun Nabi's 'Bangladesh', Zahid Mustafa's 'Kando Bangladesh', Dewan Mizan's 'Light House', Abdul Gaffar Babu's 'National Identity', Abdul Manna Akash's 'Chiro Shreastho Bangali', Shahjahan Ahmed Bikash's 'Bangabandhu Poribar', Manjur Rashid's 'Bangabandhu O Bangamatar Alapon', Ariful Islam's 'Nirjone Ekaki', Sahid Kaji's 'Amar Din Katche Jail-e', Manik Chandra De's 'Karagare Anoshonrata Bangabandhu', Abdul Mannan's 'Gopalganje Bangabandhu 1938' and others have been displayed at gallery 1.
Nearly 150 watercolour paintings depicting different stages of Sheikh Mujibur Rahman's life, his role in the liberation war and his political ideology have been displayed at gallery 2.
Among the works, a watercolour painting titled 'Nature and Bangabandhu and Bangamata' shows Sheikh Mujibur Rahman sitting amid nature along with Sheikh Fazilatunnesa Mujib, while an untitled watercolour work depicts Sheikh Mujibur Rahman delivering speech at the United Nations.
Besides, nearly 250 photographs from the archives of BSA and other government organisations portraying the political and personal life of Sheikh Mujibur Rahman have been displayed at gallery 3.
The exhibition will remain open till September 6. The event can also be viewed online at http://shilpakala.gov.bd/.
Want stories like this in your inbox?
Sign up to exclusive daily email
More Stories from Exhibition