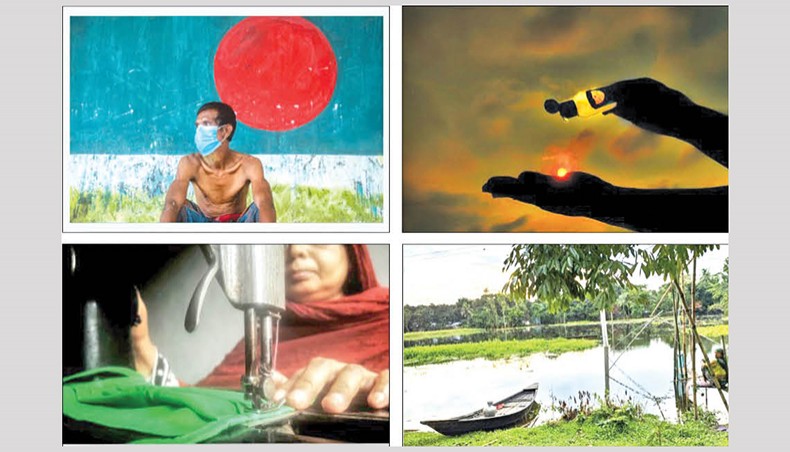 A 3D online exhibition titled 'COVID Diaries' displaying photographs and drawings portraying life amid the general holiday has been organised by journalism and media studies department of Stamford University Bangladesh.
The government declared general holiday from March 26 to April 4 to curb the spread of coronavirus. Later, the holiday was extended till May 30.
The week-long exhibition, curated by Jrn Visuals Club, a visual creative platform of Stamford University Bangladesh, features photographs, drawings and a photo story by the students of journalism and media studies department.
The works depict importance of using masks to contain spread of COVID-19, life of the marginalised people in society, rustic life, scenic beauty and others. Viewers can visit the event at artspaces.kunstmatrix.com/en/exhibition/2142041/covid-diaries.
To mention a few works, Yeamin Mazumder's photograph, titled 'Rugna Bangladesh', shows a man wearing a mask sitting on the ground. The background shows a brick wall containing the image of the national flag.
Md Al-Amin Tushar's photograph, titled 'E Banditwa Proyojaner', shows a lock and two white papers with the slogans – 'stay home' and 'stay safe'.
Shams Maskara Zitu's photograph, titled 'Triptir Thas Bunet Chirayata Japita Jiban', shows a woman making Nakshi Ka(n)tha staying at home.
Sakline Pritom's photograph, titled 'Shaishab Aj Quarantine-ey', shows a boy wearing a mask sitting in front of his house with his cricket bat.
Israt Ahmed Adity has displayed a sketch, titled 'Mayer Akor-2', which portrays the bond between a mother and her child.
Tanvir Siddik Tipu's photograph, titled 'Shaishobei Phona Tole Jiboner Srot', shows a child catching fish at sea.
Dilshad Hossain Dodul, assistant professor of journalism and media studies department at Stamford University Bangladesh, said, 'We have been offering courses on photography, videography and audio visual content. The aim of the exhibition is to give the students an opportunity to narrate their experiences and observations of general holiday. All the works were produced by the students amid the general holiday.'
The exhibition, which commenced on August 21, will end on August 27.
Want stories like this in your inbox?
Sign up to exclusive daily email
More Stories from Exhibition