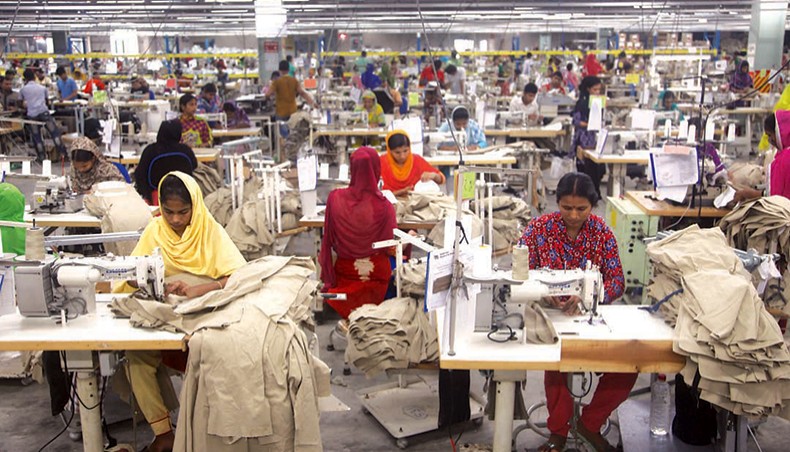 URINARY tract infections are among the most frequent bacterial infections among women of reproductive age. In general, younger women of lower socioeconomic status have been described to be at a higher risk of experiencing UTI. Risk factors for UTI include pregnancy, reproductive age, catheter use, diabetes, neurogenic bladder, stones, urine reflux, sexual activity and diaphragm or condom use. One etiology of UTI is possibly incomplete bladder emptying, which allows the residual urine to be infected by presence and accelerated growth of bacteria: urinary reservoir is formed from chronic urine retention after being subjected to an irregular emptying schedule. Urinary retention also raises the risk of urine reflux into the kidney increasing the risk of swelling of kidney, inflammation of kidney, and chronic kidney or bladder injury may follow. This health problem is thought to be quite prevalent among women garment factory workers in Bangladesh because of the stresses on their urinary tract system and from the unhygienic working conditions.
High work stress and difficult working environment have been identified previously as risk factors for UTI and related symptoms. Prolonged sitting posture often in awkward positions at work and access to infrequent and unclean toilet conditions may contribute to higher UTI and related symptoms among the garment workers. However, little is known about the prevalence, burden, risk factors and medical management options and provisions of urinary tract related health conditions among garment factory workers in Bangladesh.
In addition to causing pain, suffering, and increasing the risk of other non-communicable and infectious diseases, UTI and related symptoms cause excessive economic burden for the garment workers by increasing their out-of pocket spending on treatment as well as causing them to miss working days and lose corresponding wages. Many cannot afford missing the wages and may keep on reporting at work.
Access to toilets is a challenge for many in Dhaka particularly for women in public places. The World Bank data show that from 1990 to 2015 there was an increase in the urban population with access to improved sanitation facilities in Bangladesh (from 46.7 per cent to 57.7 per cent). However, the access rate is still below compared with all of South Asia (64.6 per cent), middle income nations (78.9 per cent), and high-income nations (97.2 per cent). The UNICEF/WHO sanitation monitoring programme reported that at least 40 per cent of urban Bangladeshi population was troubled by their limited access to shared or 'unimproved' toilets.
A recent research study was conducted to assess the risk and prevalence of UTI among young female garment workers in Bangladesh. It was hypothesised that the overall unhygienic working conditions in factories, poor health awareness and inadequate access to clean toilets would predispose this population to adverse urinary health outcomes. This study aimed at raising awareness on an important yet ignored health issue among female workers who spend their days making clothes for the Western markets and consumers.
In terms of toilet access and usage patterns, according to this research, about half of the workers could not take more than three toilet breaks a day. Inadequate toilet access at home as reported by many of these workers (20–30 per cent) reflects the general poor living condition of lower socioeconomic status in Bangladesh. The fact that a large segment of garment workers reported not to have adequate toilet access at home is a very important finding itself and deserves attention and further discussion. However, the study did not ask further questions on cleanliness or how many people were using the same toilet.
UTI was determined in this study by a conservative method-only by using urine dipstick tests: 7.45 per cent of garment workers were found to be suffering from UTI. Expanding the detection method beyond using dipsticks would likely find higher rates of UTI. Factory owners need to be cognizant of the fact that these workers work for very long hours and should have unlimited access to toilets and there should be provisions of toilet tissue, towel, and plenty of water. For young women who are going through menses, are pregnant, are nursing mothers, and who may have UTI and other related symptoms, this need is likely to be higher. Majority of the garment workers reported to be sexually active and thus were expected to be at higher risk of UTI.
About 9 per cent garment workers reported having vaginal discharge, 7 per cent reported having dysuria, 2 per cent having malodorous urine, and 1 per cent having blood in urine (as reported in this study). This highlights either their unawareness or negligence of these health issues or a lack of time or resources for them to seek medical attention. Untreated illnesses like these can develop into additional complexities or are suggestive of other underlying conditions. The garment factories need to pay more attention to basic health screening and provide better health education for their predominant female workforce.
The World Health Organisation states that about 2.4 billion people in the world were living without a toilet in 2015 and reaffirms that sanitation, or the lack of it, can have impact on livelihoods. The International Labor Organisation states that all sanitary conveniences should be provided and maintained with adequate facilities including toilet tissue. A lack of toilets at work and at home has consequences on businesses and workforce, for example, poor health, absenteeism, attrition, reduced concentration, exhaustion, and decreased productivity.
The Bangladesh Labour Acts do have recommendations on safe sanitation conditions and hygienic practices. Recommendations have been made to provide separate toilet facilities for men and women at employment sites. The updated Bangladesh Labor Act of 2006 states that establishments should provide clean working toilets with available detergents, designated restrooms for women, and at least a half hour daily break. In 2010, the United Nations General Assembly recognised safe sanitation as a human right.
Each garment factory must provide pure drinking water, sufficient light and air, and separate toilets for its male and female workers. Education on UTI and associated symptoms, regular health screening and medical check-ups on women's health issues can be relatively inexpensive and effective interventions for the factory management to undertake. Continuous health surveillance and more research on the prevalence and burden of health conditions that preferentially affect women will help create awareness among the stakeholders — Western companies, consumers, donor agencies, health care providers, health advocacy groups, non-governmental organisations, factory owners, the government, and worker groups. It will allow them to create cost-effective worksite based health education and promotion programmes. There should be continuous evaluation of health status of female garment factory workers and monitoring of any programmes taken to address the concerns raised above.
Hasnat M Alamgir is a professor at the department of pharmacy, East West University, Dhaka, Bangladesh.
Want stories like this in your inbox?
Sign up to exclusive daily email
More Stories from Opinion