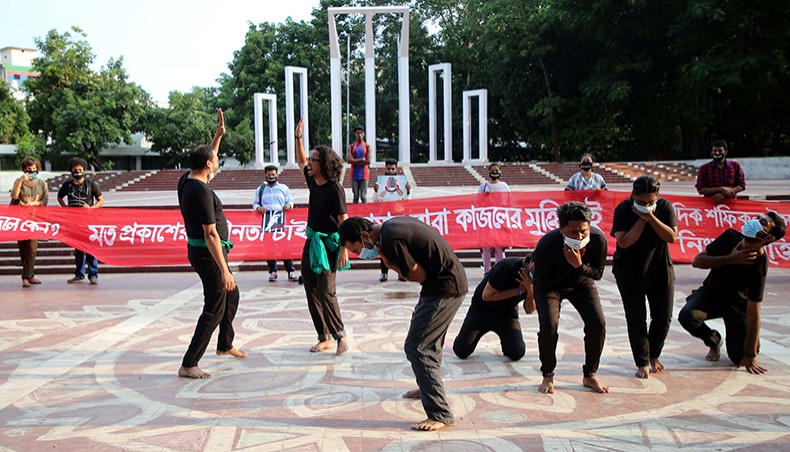 Photojournalist Shafiqul Islam Kajol's family, colleagues, rights activists and theatre activists demanded his imamate release at a human chain and cultural programme on Sunday.
Journalist Kajol's son Monoram Polok alleged at a human chain at Shaheed Minar in the capital that though the journalist fell sick in jail amid coronavirus outbreak, the government did not give him bail.
Meanwhile, human rights organisation Ain O Salish Kendra in a statement on the day expressed concern over the deteriorating health condition of Kajol.
ASK also demanded immediate release of the journalist who was a victim to enforced disappearance for 53 days and then has been in custody in cases filed under Section 54 of the Penal Code and Digital Security Act for nearly four months.
Journalist Kajol's son Polok organised the human chain and cultural programme.
Theatre groups Prachyanat and Theatre 52 joined the protest with their performances.
Some more visual artists also participated in the programme.
Polok told New Age that they were not allowed to meet his father in jail for last one month.
Earlier, they had opportunities to talk to him but for last few days that were stopped, he said.
'When we talked with him (Kajol), he complained about his deteriorating health conditions. In response to a plea, the court ordered Dhaka Central Jail authorities to arrange the treatment of my father, but the authorities were yet to take step for the treatment,' said Polok, who is a student of Jagannath University.
The event was shared live in Facebook page 'Where is Kajol?'
Performance artiste Wali Topu, theatre activist Jayita Mahalanobish and singer Shainur Shuvo, among others, performed in the programme.
Border Guard Bangladesh found Kajol in Benapole on May 3 53 days after he went missing.
He was arrested on charge of trespassing into his own country, but was granted bail after being placed before a Jashore court.
Ruling party member of parliament for Magura-1, Saifuzzaman Shikhor filed a case against Kajol on March 9 under Digital Security Act for sharing a daily Manabjamin news in his Facebook page.
The report was on alleged fraudulent activities of former Juba Mahila League leader Shamima Noor Papia.
Two more cases were also filed against Kajol under Digital Security Act with Hazaribagh and Kamrangirchar police stations on March 10 and 11 respectively.
Want stories like this in your inbox?
Sign up to exclusive daily email
More Stories from Country