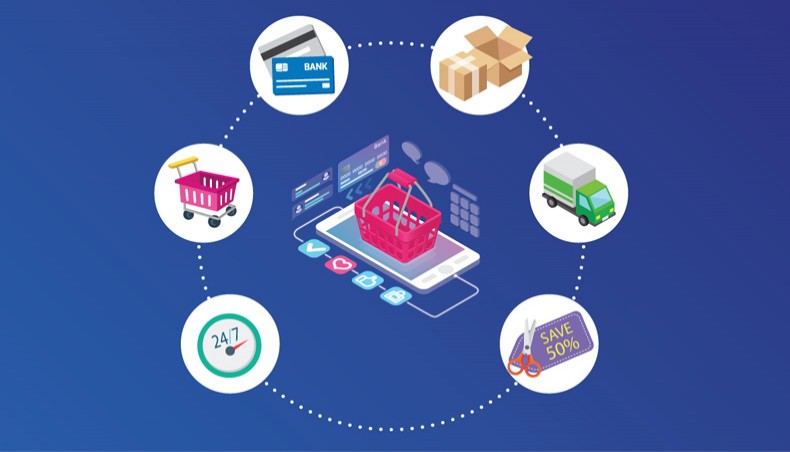 The ongoing pandemic has locked the entire world inside homes but that does not mean the demands have gone from the market. Merely the shoppers have adopted the situation and shop online and for that the e-commerce sector is booming around the world. The sector is also thriving in Bangladesh and expected to hit USD 3 billion mark by 2023, writes Abir Hasan
LOCAL shoppers in the COVID-19 are now online. As a result, e-commerce is booming around the globe. Shopping online is on the rise. Transactions are also increasing manifold. It is known that online sales have increased by 70 to 80 percent compared to the regular time. Millions of people have been employed in this sector. Business is expanding rapidly.
As a result, the e-commerce market in Bangladesh has exceeded one and a half billion US dollars, according to the German-based research institute Statista, expected to reach at two billion dollars this year and three billion dollars by 2023.
Along with hundreds of entrepreneurial organisations, about four lakh women entrepreneurs are also selling products on Facebook and in other online based platforms. In this case, the government has included product delivery as an emergency service. Even in the time of COVID-19 pandemic, we are bringing the cattle market to the digital platform for this Eid-ul-Adha.
Online usage has increased by fifty percent during this time. According to official government statements, five lakh people will be employed in Bangladesh e-commerce in the next five years.
'E-commerce companies are working tirelessly to provide services. Hopefully, e-commerce, the marketplace, logistics services together have created the strong potential for youths,' commerce minister Tipu Munshi said at an online joint press conference between the Ministry of Commerce and the e-Commerce Association of Bangladesh.
Mohammad Abdul Wahed Tamal, general secretary of the E-Commerce Association of Bangladesh (e-Cab), told that business is doing very well now. In a word, e-commerce has revolutionised during the COVID-19 Pandemic. The growth of online sales has increased by 70 to 80 percent compared to the previous time. However, buyers are not buying all kinds of products yet. They are buying more essential products. He also said that the e-commerce or online shopping market across the country has crossed TK 6,000 crore.
It is learned that people are now ordering their favourite products online from home as large gatherings in shopping malls or restaurants can cause serious health threats. Shopping for all kinds of products including medicines, clothes, food are done from different online platforms. Although economically marginalised and lower-middle income families are still market oriented, middle class or upper-middle people are shopping more online.
Merchants are happy to cater to the increased demands. Merchants are constantly giving new discounts to expand the scope of business and retail buyers. Everything from online clothing, jewellery, food, electronics, cosmetics and vegetables. According to the e-Cab, shoppers are mainly city-centric. 80 percent of e-commerce buyers are from Dhaka, Gazipur and Chattogram. Of these, 35 percent are from Dhaka, 39 percent from Chittagong and 15 percent from Gazipur. The other two cities are Narayanganj and Sylhet. Eighty-five percent of e-commerce users are between the ages of 18-34.
Challenges for the development of e-commerce sector in the country include the lack of appropriate national policies to support the system, specific roadmaps for e-commerce development, financial transaction security, slow and expensive internet, delivery channels, inter-operable infrastructure and lack of human resources.
Further challenges are the lack of a trusted e-commerce environment, the lack of public accuracy and fear of online shopping. Absence of proper mechanism for resolving consumer dissatisfactions is another major drawback. Reluctance to include banking facilities in the e-commerce sector, lack of any incentive package for development of the e-commerce sector and lack of adequate publicity are there too.
In this context, the Statista has said that Bangladesh is in the 47th position in the world of e-commerce. However, the challenge is the delivery of goods to outside the cities. In this sector, 90 percent of the products are cash on delivery. However, there is some fraud in the name of pre-order in bringing foreign products. In this case, buyers need to be cautious.
According to the latest data from Statista, the e-commerce market in Bangladesh in 2019 stood at 1,648 million US dollars which will increase to 2 thousand 77 million this year and in 2023, the market size will be 3 thousand 77 million dollars.
According to e-Cab sources, the growth of this sector in Bangladesh over the last three years is about one hundred percent. In other words, this sector is almost doubling every year. The number one position of e-commerce in Bangladesh is already occupied by Alibaba of China. Amazon, the world's largest e-commerce company, is also showing interest in Bangladesh. Big foreign companies have suddenly become interested in Bangladesh.
Because about TK 700 crore are being transacted every month in this sector now. In other words, the annual transaction is now more than 8000 crore TK. It is known that about 1,200 organisations are associated with e-commerce in Bangladesh at the moment. Alibaba has already entered the e-commerce of Bangladesh by buying Daraz. All types of products are now bought and sold online in Bangladesh.
However, compared to developed countries, Bangladesh's e-commerce is still in its infancy. Although orders can be placed through online, there are still more transactions in cash. This is called cash on delivery. Even if the order is placed online, it is confirmed again by calling from the call centre. The e-commerce company delivers the product to the customer and brings it in cash. Therefore, completely e-commerce has not yet been introduced in Bangladesh.
It is learned that Daraz is the largest e-commerce company in Bangladesh at the moment which is an organisation formed with 100 per cent foreign investment. After them, other Bangladeshi companies like Evaly, Ajkerdeal, Bagdoom, Priyoshop, Rokmari, Pikaboo and Othoba are doing well. Amazon is working very actively to come to Bangladesh. But it may not be entering the market of Bangladesh directly now.
In the final analysis some companies are taking advantage of this opportunity with the passage of time to increase the online promotion and dissemination by opening fake online pages and cheating the customers. They must be brought under law enforcement agency to cement consumer's trust on online shopping.
Abir Hasan is a student of the University of Dhaka.
Want stories like this in your inbox?
Sign up to exclusive daily email
More Stories from Mindspeak