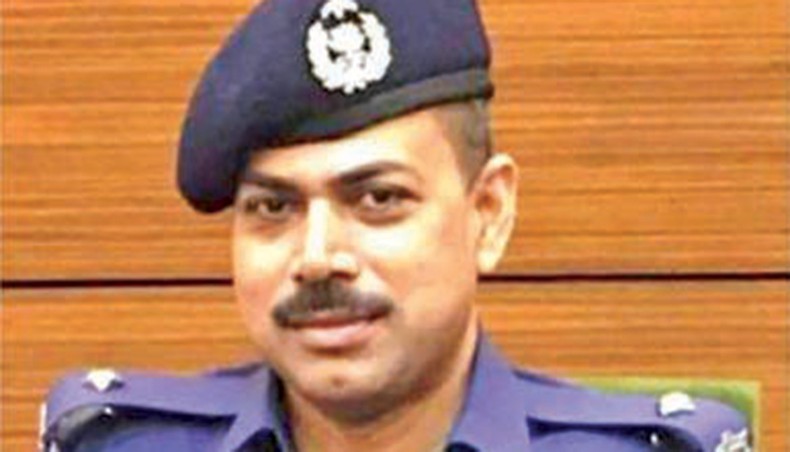 The mother of a victim of extrajudicial killing on Tuesday filed a complaint with the court of a senior judicial magistrate in Cox's Bazar against suspended Teknaf police station officer-in-charge Pradeep Kumar Das and 27 others.
Senior Judicial Magistrate Mohammad Helal Uddin accepted the complaint and asked the Criminal Investigation Department of Police to investigate it by an officer ranked no less than assistant superintend and report within seven working days.
Gol Seher, mother of victim Saddam Hossain, who was killed in a reported 'gunfight' on July 7, 2020, alleged in her complaint that police killed her son despite taking Tk 5 lakh as bribe.
Her lawyer Insafur Rahman confirmed the matter to reporters while the Cox's Bazar pubic prosecutor Faridul Alam said the court would finalise its decision on whether to record it formally as a case depending on the inquiry report.
Whykhong police outpost's former in-charge Mosiur Rahman was mentioned as the prime suspect in the complaint followed by Pradeep and Nurul Ameen Dafadar of Hinllha union parished under Teknaf police station.
The other suspects named in the complaint are - sub-inspectors Sujit Chadra Dey, Arun Kumar Chakma, Nazim Uddin Bhuiyan, Nazim Uddin and Kamruzzman, assistant sub-inspector Ariful Islam, Amir Hossain, Kazi Saifuddin, Nazim Uddin, Mayeen Uddin, Mazharul Islam, Nainul Haque, Mishkat Uddin and Ramchandra Das, and constables Sagar Dev, Rubel Sharma, Abu Hanif, Shariful Islam, Mohammad Aziz, Deen Islam, Mohammad Borhan, Md Jashim Uddin, Abdus Sukkhur, Sekandar, and Mahi Uddin.
In her petition, Seher alleged that Mosiur and his associates held her two sons Saddam Hossain and Jahid Hossain of Moulavi Bazar village of Hinllah union on July 4.
On hearing the news, she went to the Whykhong police outpost begging for their release.
Mosiur demanded Tk 10 lakh, she alleged, adding that she paid Tk 3 lakh to Mosiur on the same day and another Tk 2 lakh through Dofadar Nurul Ameen on July 6.
She said Mosiur produced Jahid before the court as an accused of drug-peddling on July 6 but killed Saddam in a 'gunfight' on July 7 at about 10:00 pm just 300 yards away from their house along with one Abul Jalil.
Police took his bullet-hit body to the hospital, but duty doctors said her son died before he was taken there.
Saddam's father Sultan Ahmed was also killed by Teknaf police in the name of gunfight earlier, she said in her complaint.
She claimed in her complaint, her son and her husband were killed by police with the advice of the then Teknaf police station officer-in-charge Pradeep.
Pradeep is now in jail as an accused of retired army major Sinha Mohammad Rashed Khan killing.
Sinha, 36, who took early retirement from the Bangladesh Army in November 2018, was shot dead at a police check point on Cox's Bazar-Teknaf Marine Drive at Shamlapur under Teknaf upazila in Cox's Bazar on July 31.
Want stories like this in your inbox?
Sign up to exclusive daily email
More Stories from Country