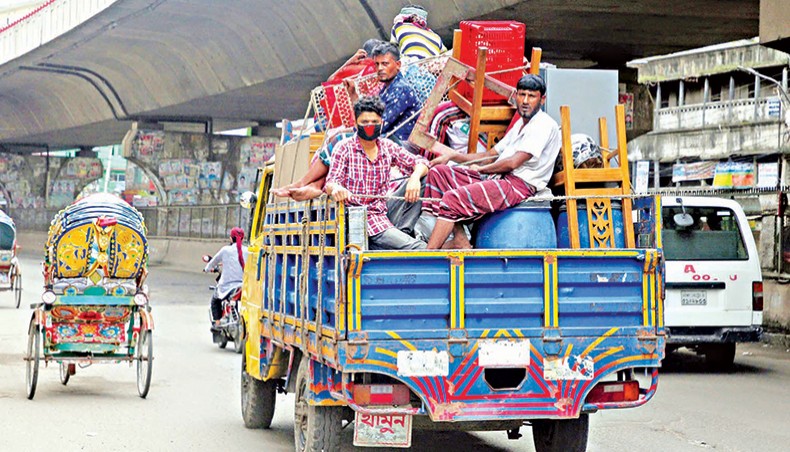 Income recovery of people is still very fragile despite a resumption of economic activities as household income in June-July has remained on average 42 per cent below the pre-COVID-19 level, according to survey findings.
Urban slum dwellers experienced the highest income drop — 43 per cent — followed by rural people 41 per cent in June-July though 84.18 per cent of urban households and 83.05 per cent of rural households came back to economic activities in the period, said the findings released at a virtual press briefing on Tuesday.
The Power and Participatory Research Centre (PPRC) and the BRAC Institute for Governance and Development (BIGD) jointly conducted the survey titled 'Livelihoods, Coping and Recovery during COVID-19 Crisis: Phase II' during June-July, a follow-up survey of the first one conducted in April.
In April, a month after the pandemic started, only 50 per cent households in rural areas and 32 per cent in urban slums had any economic activity.
'After the lockdown was lifted, the rate of economic recovery substantially improved in June but this revival has so far not really be translated to income recovery,' PPRC executive chairman Hossain Zillur Rahman said.
Only a fraction of the per capita income lost due to the pandemic was recovered in June and the total income remained far below the poverty line, he said.
Around 17 per cent households were still out of work in the month while around 7 per cent employed people shifted to another job while 76 per cent remained in the same job, according to the survey.
The survey also found that 15.6 per cent people left Dhaka while 1.26 per cent moved to the city from other districts till June due to COVID-19 fallout.
The rate of reverse migration from Chattogram was 8.35 per cent.
The overall out-migration from cities, driven by four types of expenditure burdens — house rent, cost for health, transport and utilities — was 13.3 per cent in June which was only 6 per cent in April.
The survey also found that 15.17 per cent of poor in Dhaka, overall 11.35 per cent urban poor with 6 per cent rural residents, did not manage three meals a day in June while 30 per cent reduced their consumption to cope with the decline in income.
A vast majority of the households were not having meat or milk since the pandemic.
'This has created a situation of hidden hunger, which can be detrimental to the physical and mental development of infants and children,' it said.
At the briefing, BIGD executive director Imran Matin presented the findings of the survey conducted on 7,638 rural and urban people through telephone interviews.
Of the respondents, 4,241 individuals were from urban slums, 3,304 from rural areas and 93 from the Chattogram Hill Tracks.
He said that individuals continuing in same occupations experienced a severe earnings drop between February and June with the highest 53.79 per cent for rickshaw pullers and 49.53 per cent for small businesses, 48 per cent for unskilled labour and transport workers, 40 per cent for skilled workers, 39 per cent for agriculture workers, 37 per cent for housemaids, 18.28 per cent for salaried people and 16 per cent for factory workers.
There is also a broad-based pessimism and uncertainty about immediate future as 86 per cent of rural extreme poor and 81 per cent urban extreme poor, and 64 per cent of rural and urban non-poor were found pessimist and uncertain about income future.
He said that the dynamics of new poor had not changed despite the resumption of economic activities due to a poor earnings recovery.
In June, proportion of new poor was 21.7 per cent, a small declined from the April rate of 22.8 per cent, taking the overall poverty rate to 42 per cent.
The country's poverty rate was 20.5 per cent in 2019.
More than 44 per cent of the respondents received supports in the forms of money, rice and food package from the government, community and non-government organisations.
But only 15.68 per cent urban population, 3.54 per cent rural and 9.68 per cent CHT people got financial support while the rate was higher for rice and multiple food package support.
Recipients got on average Tk 1,767 in cash support, according to the survey.
The amount of cash support stood at Tk 272 for urban household and Tk 68 for rural household.
Want stories like this in your inbox?
Sign up to exclusive daily email
More Stories from Miscellany