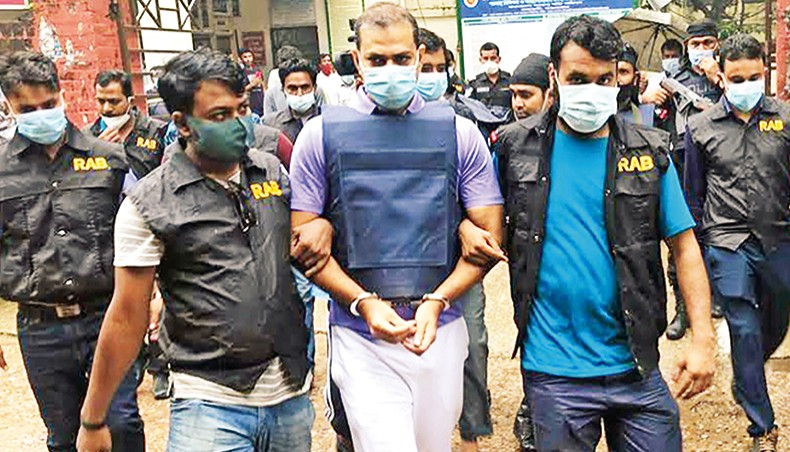 The government-instituted high-powered inquiry committee on Tuesday interrogated the Cox's Bazar police superintendent ABM Masud Hossain could not interrogate Teknaf police station suspended officer-in-charge Pradeep Kumar Das as the Rapid Action Battalion took him and two others to their custody.
The four-member committee chair additional divisional commissioner Mizanur Rahman Mizanur told New Age that they were scheduled to interrogate Pradeep in jail custody but in his absence they spoke to police superintendent Masud to uncover the facts related to the ex-major killing.
During interrogation the SP of Cox's Bazar detailed how he was informed about the incident and to whom he had shared the information, the officials said.
The Rapid Action Battalion, at about 10:30am, took prime suspect Pradeep and Baharchara police investigation centre in-charge Inspector Liyakat Ali and his sub-inspector Nanda Dulal Rakshit in their custody for seven days following an order passed on August 6.
Cox's Bazar jail superintendent Md Mokammel Hossain told New Age that the government committee was scheduled to visit to interrogate Pradeep in the afternoon while RAB took him and two others in the morning.
The committee on Monday interrogated Liyakat and Nanda Dulal for eight hours inside the district prison on Monday over the shooting death, keeping the interrogation of Pradeep pending till Tuesday.
Mizanur said that the committee already wrote to a judicial magistrate court seeking interrogation of Predeep. 'We want to interrogate him only under our custody. Let the court decide whether he will be interrogated in jail or not,' he added.
The committee comprising three representatives from public administration, police and army was initially given seven working days to complete its work, but now it was extended until August 23, according to the home ministry.
The court of Senior Judicial Magistrate Tamanna Farah, meanwhile, allowed interrogation of three more members of Armed Police Battalion who were on duty on Marine Drive on July 31, the day when Sinha was shot dead. The APBn assistant subinspector Shahjahan, and constables Rajib and Abdullah.
The APBn-16 commanding officer Mohammad Hemayetul Islam said the three members were suspended from the services on Tuesday.
The RAB detained them on Monday night for interrogation and later produced them before the court seeking remand in the killing case.
So far, 10 policemen were in custody over the shooting death of former Major Sinha along with three other local villagers.
Sinha Mohammad Rashed Khan, 36, who took early retirement from the Bangladesh Army in November 2018, was shot dead at a police check point on Cox's Bazar-Teknaf Marine Drive at Shamlapur under Teknaf upazila in Cox's Bazar on July 31.
On August 6, a judicial magistrate court allowed interrogation of the three suspects — Teknaf police station's suspended officer-in-charge Pradeep Kumar Das, Baharchara Investigation Centre suspended in-charge Inspector Md Liyakat Ali, who reportedly shot Sinha, and their sub-inspector Nanda Dulal Rakshit — in custody for seven days in connection with the case filed on August 5 by the victim's eldest sister Sharmen Shahria Ferdush.
The Bangladesh Retired Police Officers Welfare Association, meanwhile, in a statement on Monday night termed the incident on July 31 as 'unexpected' and 'undesirable'.
It also said that each of the members of the police was saddened by the incident.
The statement also read that the association noticed with grave concern that a group having a vested interest was hampering the legal proceedings by their continuing propaganda on Facebook, YouTube and other social media as well as through selected print and television channels.
Want stories like this in your inbox?
Sign up to exclusive daily email
More Stories from Country