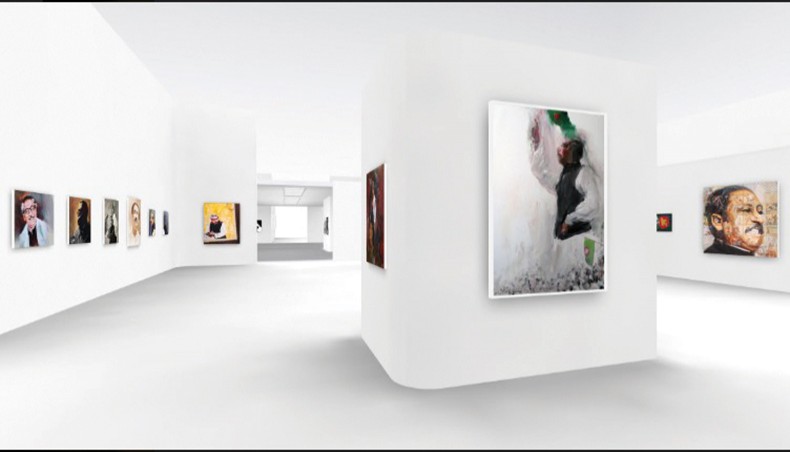 Gallery Cosmos has organised an online group art exhibition to pay tribute to the country's founding president Sheikh Mujibur Rahman on his 45th death anniversary, which was observed on Saturday.
The 17-day event, titled 'Brave Heart', features a total of 50 artworks by 42 artists along with photographs, multimedia works and others. The exhibition can be viewed at gallerycosmos.org.bd.
Liberation War Museum trustee Mofidul Hoque and professor of economics at the Joseph Korbel School of International Studies, University of Denver, USA, Haider A Khan were present as guests at the online inaugural ceremony held on August 14 while the event was presided over by the chairman of Cosmos Foundation, Enayetullah Khan.
The exhibition is showcasing works by both emerging and acclaimed artists — AH Dhali Tomal, Abdul Guffar Babu, Abdullah Al Bashir, Afrozaa Jamil Konka, Ahmed Shamsuddoha, Alakesh Ghosh, Aloptogin Tushar, Amirul Momanin Chowdhury, Amit Nandi, Anisuzzaman Anis, Anukul Chandra Mojumder, Azmeer Hossain, Azmol Hossain, Biren Shome, Bishwajit Goswami, Dheeman Kumar Biswas, Dilip Kumar Karmakar, Farhad Hossain, Hamiduzzaman Khan, Iqbal Bahar Chy, Jamal Ahamed, Jayanta Mondal, Jayanta Sarkar John, Kamruzzoha, Kuhu Plamondon, Maneek Bonik, Md Azmal Uddin, Md Jashim Uddin, Najib Tareque, Nasim Ahmed Nadvi, Nasir Ali Mamun, Nazia Andaleeb Preema, Nisar Hossain, Proshanta Karmakar, Ratneshwar Shutradhar, Ruhul Karim Rumee, Shahabuddin Ahmed, Shahjahan Ahmed Bikash, Sheikh Afzal Hossain, Sohel Pranon, Sourav Chowdhury and Tajul Islam.
Artists have displayed paintings of historic March 7 speech by Sheikh Mujibur Rahman, Sheikh Russel, Seikh Mujib along with incumbent prime minister Sheikh Hasina, Sheikh Mujib along with his father and mother and others.
Besides, photographs showing Sheikh Mujib spending time with his parents, family members and others have been displayed at the event.
Hamiduzzaman Khan's acrylic painting titled 'Bangabandhu' depicts Sheikh Mujibur Rahman speaking over phone against a yellow ochre background.
Shahabuddin Ahmed's oil painting titled 'Bangabandhu' depicts Sheikh Mujib delivering a speech. The background shows two versions of national flags of Bangladesh.
A photograph by Rashid Talukder shows Sheikh Mujibur Rahman releasing pigeons at a programme organised by Bangladesh Chhatra League at Suhrawardy Udyan in 1973.
A collected photograph shows Sheikh Mujibur Rahman smiling while standing in between his father Sheikh Lutfar Rahman and mother Sheikh Shahara Khatun.
A collected portrait of Colonel Jamil Ahmed, who was the military secretary to Sheikh Mujibur Rahman and was killed trying to save Mujib on the morning of August 15, 1975, has been displayed at the event. He was promoted posthumously to the rank of Brigadier General and was awarded the Bir Uttam in recognition of his valour in 2010.
Besides, the exhibition features a video titled 'A Tribute to Sheikh Mujibur Rahman', which depicts some historic and memorable moments of Sheikh Mujibur Rahman's life.
United News of Bangladesh and Dhaka Courier are the media and knowledge partners of the event.
The exhibition will remain open till August 31.
Want stories like this in your inbox?
Sign up to exclusive daily email
More Stories from Exhibition