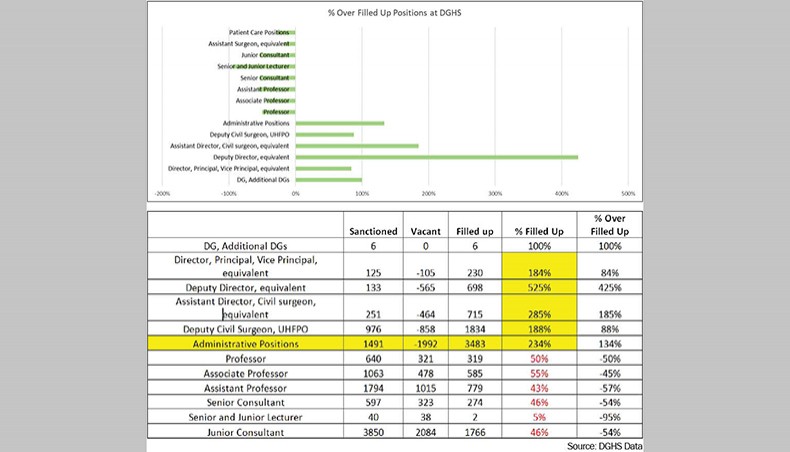 THE government has initiated making some changes at the Directorate General of Health Services. Even though long overdue, this is a very good sign. The DGHS has been a major embarrassment for the government, being the most critical branch of bureaucracy that was supposed to steward the government in its fight against the COVID-19 outbreak which has wasted, if not butchered, a lot of our social and economic achievements by now. Bringing in a new face as the director general, however, should be only a start since the directorate is reported to be laden with ineffectiveness, sluggishness, anomalies, mistakes and indecisiveness and all of these are supported by hard evidence, compiled and reported by almost all major media outlets. However, will only altering a few key people at the top bring the much-needed changes, if the directorate retain the same old structure, jurisdictions, modus operandi, resource support and the mix and level of staffing?
The Directorate General of Health Services is not like many other government agencies as it is entrusted with, like the social welfare programmes, the responsibility to ensure quality health services to people through necessary intervention and supervision.
Considering its logistics, manpower and outreach activities, the directorate is enormous and, along with some other directorates and departments, directly helps the health ministry to set health policies and protocols, develop and implement health programmes, and then supervise, regulate and monitor the services delivered by both the public and private healthcare sector.
There are six tiers of healthcare set-up under the directorate: national, divisional, district, upazila, union, and ward. At the national level, there are several highly specialised institutions to offer postgraduate medical education and training as well as providing tertiary level care and treatment.
Given its gigantic size, complexity of functions, criticality of service provisions, and outreach of activities across the country, DGHS is a very difficult bureaucratic structure to fund, man, manage and operate. To make matters worse, the directorate runs, like most other government departments, on a highly centralised organogram and even trivial field-level decisions come all the way to Dhaka at the head office to be made. Management of the lower tier structures and operations at the upazila, union and ward levels could be done better by giving the field-level staff more autonomy that would free up time at the head office to focus on national level agenda such as setting and implementing policies. But the age-old public sector work culture in the country encourages the superior officers in Dhaka to interfere in everything including the purchasing of an X-ray machine for a small remote hospital to the taking of disciplinary actions against an MLSS at a field office. At the end, it is about exercising the authority that many public servants enjoy the most.
Now, whenever a crisis transpires in Bangladesh — the public and the government express their disappointment with the performance of one of its important functionaries, the senior officials almost always come up with a series of endless excuses to defend their lacklustre performance that often include a lack of manpower, scarcity of logistics and other resources, an absence of authority and often an undue influence by exterior quarters. Was this the case this time for the Directorate General of Health Services that they did not have the required level and mix of manpower to act decisively and timely?
The directorate's Annual Health Bulletin 2018 provides detailed accounts of the healthcare workforce in the public sector in Bangladesh. With 103,743 sanctioned positions, the directorate is definitely one of the largest government agencies. While digging deep about its workforce, interesting patterns arise: out of the sanctioned positions, 28,758 positions were lying vacant in 2018. Now, without having exhaustive knowledge of the vacancy ratio in other comparable government departments and ministries, this 27.72 per cent vacancy in DGHS looks quite high. How can a directorate run with almost one-third positions open? Among 7,920 positions of medical technologists, 2,736 remained vacant, 35 per cent that is. Among sub-assistant community medical officers and domiciliary staffs (including health inspectors, assistant inspectors and health assistants) 6,435 — about 24 per cent — remained unfilled among the 26,538 approved positions. Yet, the story does not end here.
After investigating deeper to know if this vacancy ratio was consistent across all types of positions within the directorate, strange patterns came out. Among Class I, II, III, IV employees, there are groups of occupations that are directly related to providing patient care services and there are others that are largely administrative in nature. After categorising these occupations in these two categories, it was found that there were 134 per cent positions filled up in the administrative group compared to the patient care group where 29 per cent positions remained vacant (Figure 1). At the deputy director level, there were 425 per cent more people working than were allowed (698 against 133), at the assistant director level, there were 185 per cent people placed (715 against 251), and for the director level, 230 were working against 125 approved slots. At the deputy civil surgeon and UHFPO level, there were 1,834 working against 976 allowed. What does it all tell?
To compare the above findings with the patient care providing positions (including assistant professors, associate professors and professors, junior and senior consultants, junior and senior lecturers and assistant surgeons), there were noticeably fewer people working in these critical categories (ranged between negative 95 per cent to negative 18 per cent). The 2018 bulletin did not provide detailed data on nurses — a very critical profession that provides important and direct patient care — to know further about their occupancy and vacancy situation.
Overburdened by administrative and supervisory staff, can the directorate claim that they could not develop, implement, supervise and monitor all the vital health service programmes and ensure patient care delivery activities, which is so much needed in this time of crisis? How can they fail so miserably in selecting and overseeing credible COVID-19 testing sites, checking registration and necessary approval processes of hospitals and other diagnostic centres, and ensuring health and safety of the frontline healthcare professionals and workers by offering them effective and adequate personal protective equipment? How were their monitoring and regulatory performances so underwhelming when several hundred positions were filled up with redundant administrative staff? What were these several hundred assistant, deputy and senior directors doing while being on government payroll and enjoying countless benefits and perks?
So many vitally important patient care delivery positions remained vacant at the directorate whereas it was laden with hundreds of more than needed and approved assistant, deputy and full-fledged directors.
Can a good-natured medical professor or a learned physician, if given to head the directorate, alone overhaul the system? Business process re-engineering experts and change management specialists need to be brought in by the government to bring real and radical changes in operational strategy and processes of DGHS so that it can function efficiently and effectively. Through careful rearrangement of its organogram by shedding off unnecessary positions, providing more decision making latitude to a handful of mid-level, skilled executive staffs and creating a transparent and more direct reporting mechanism for them to the top, some advances can be made. In addition, the hundreds of healthcare professionals assuming administrative titles need to return to care providing positions to appropriately utilise their medical and health training and degrees. Not all healthcare professionals need to become administrators just because they have been in the service for long enough. They may not have the required skills, experience or even the motivation beyond providing patient care. Let them do what they are good at.
The business process re-engineering experts and change makers, if assigned by the government, can go through the process of managerial decision making at DGHS and identify all the nodes and hotspots where lapses happen and where the loopholes are rampant, they can then help to re-design the processes so that the organisational barriers and operational impediments are eliminated; they can help to realign the priorities, loosen up the rigid hierarchy, and unclog the convoluted and muddy reporting channels.
The DGHS top jobs are unlike other ministerial jobs and these positions need to be filled with well-credentialed and seasoned professionals, and the hiring process can be contracted out. The country has a large number of high performing and very large private sector enterprises that have groomed international calibre cadre of healthcare management professionals and administrators. Effective leaders from these large private hospitals, pharmaceutical companies or healthcare NGOs can be tapped via a competitive hiring process to lead the directorate. Having advanced medical training is not good enough credential to run DGHS. The DGHS administrator needs to have proven skill-set in securing and managing monetary and non-monetary resources, experience in managing a very large workforce, superior negotiating skills with the government and external stakeholders as well as bargaining experience with the private sector vendors. The top DGHS positions must be declared fixed-tenured, performance-based, and these vacancy announcements should be made public on global platforms.
The directorate needs major fixing and the government looks ready now to take on the challenge. Many other underachieving directorates can then follow the suit.
Hasnat M Alamgir is a professor at the department of pharmacy, East West University, Dhaka, Bangladesh.
Want stories like this in your inbox?
Sign up to exclusive daily email
More Stories from Opinion