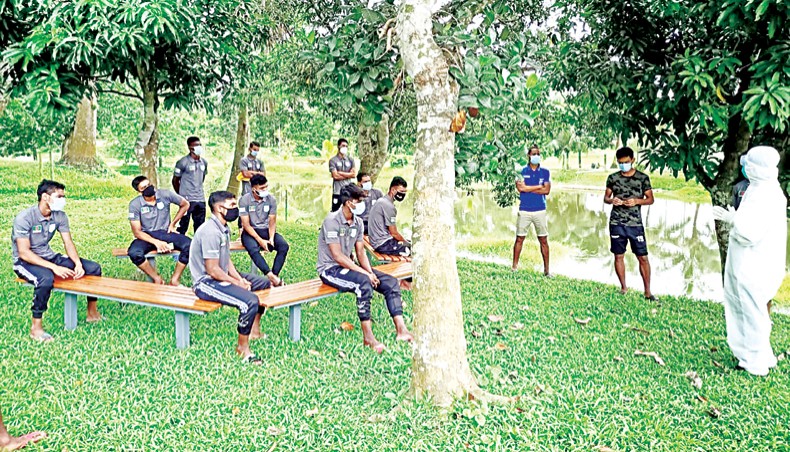 Bangladesh national team footballers were left dejected by the cancellation of their camp for the 2022 FIFA World Cup and 2023 AFC Asian Cup joint qualifiers and were left wondering about what's next for them.
Bangladesh Football Federation suspended the camp on Wednesday; couple of hours after FIFA-AFC jointly announced that Asian region's qualifiers had been deferred for a year due to the COVID-19 pandemic.
Bangladesh's head coach Jamie Day expressed his disappointment for the camp's cancellation but still upheld the decision as a wise one, as the players' health and safety came first.
'Obviously it's disappointing with the games are being cancelled after the BFF preparing for the last couple of days. I do feel, it's a wise decision going forward with coronavirus situation,' Day told New Age through WhatsApp from London.
Football in Bangladesh has been on a hiatus since March, when BFF decided to postpone Bangladesh Premier League due to health risks and later declared the league null and void in May.
Starting the next season of BPL could be a way to restart the game in the country but the federation was now more focused on its imminent election, scheduled to take place on October 3, making it highly unlikely, felt former national team skipper Mamunul Islam.
'Since the BFF announced the election date in October, now we can't force them to begin the premier league. That means we can't expect any games until November and presumably, the league would be starting in December this year or January 2021,' Mamunul told New Age.
However, national team committee chairman Kazi Nabil Ahmed assured the players that they won't have to worry and said that BFF will soon take a decision regarding starting the league.
'We have not taken any decision yet. We are thinking about it. We will soon sit to make a decision,' he said.
Maintaining fitness during this extended break will be a huge challenge for the footballers felt Day and said that he had already given a month long individual training plan to his charges.
Mamunul said that he had received the coach's instructions and planned to train every day to keep fit.
'Coach [Day] sent a plan through WhatsApp. He suggested for one-month individual training…Now we have no other way but to practice in the afternoon every day for the next three months,' said the Abahani Limited midfielder.
Bashundhara Kings, who were still scheduled to compete in the AFC Cup in October-November, were planning to hold a camp for their players, giving their players a good opportunity to stay in shape, felt defender Topu Barman.
'We the Bashundhara Kings players will have no problems as our camp for AFC Cup will begin from this month…I will join the camp but it's frustrating for other clubs players. I think, it would be helpful for us, if the domestic league starts soon,' Topu said.
The national team's camp, which was scheduled to begin from August 7, was thrown into chaos when 18 of 31 players were found to be carrying the deadly virus.
BFF later retested the all players at two institutions, from which 21 players were tested negative for the virus.
The federation had planned to start the camp with the COVID-19 negative players, but FIFA-AFC's decision to postpone the qualifiers forced them to suspend the camp.
Nabil informed that the infected players were now at the camp venue in Gazipur and the rest were sent back home.
Want stories like this in your inbox?
Sign up to exclusive daily email
More Stories from Football