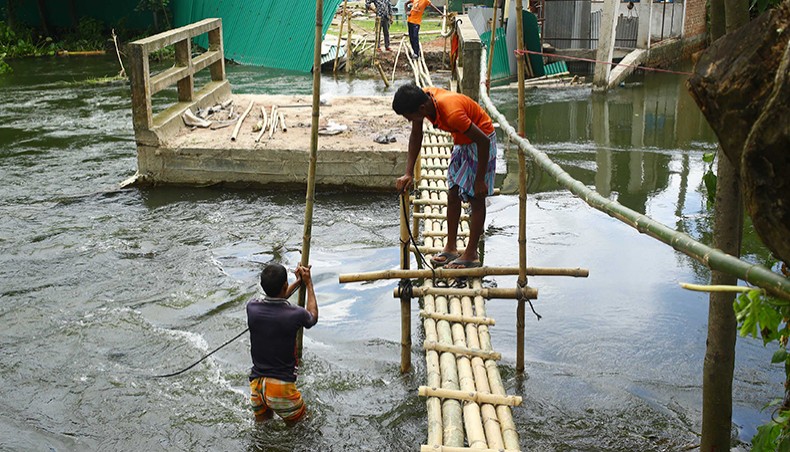 Parts of low-lying north in Bangladesh went under water overnight on Wednesday, less than a week after they came out of over a month-long flooding, as India opened three barrages causing major northern rivers to swell rapidly.
The sudden release of water caused embankments to collapse in four districts of Rangpur division where many villages got flooded overnight, affecting 51,000 people.
Over a third of the inhabitants of Challish Shal Char at Gangachara of Rangpur have evacuated their houses while the rest were preparing to leave as major northern rivers such as the Teesta, Dharla and Brahmaputra swelled up to more than half a metre over the last two days.
'The rise in the rivers is temporary but might extend flooding in parts of northern and central Bangladesh,' Flood Forecasting and Warning Centre sub-divisional engineer Sarder Udoy Raihan told New Age.
Central Bangladesh districts including Dhaka are still experiencing flooding of six rivers with hundreds of thousands of people still stranded in their houses and over 30,000 people at flood shelters.
Many of the 654 chars or shoals in the north were still under water while others surfaced less than a week ago revealing a trail of destruction left behind by receding rivers.
Draining much of the vast Ganges-Brahmaputra-Meghna river basin experiencing an unusually wet summer, flooding in Bangladesh already entered 47th day on Wednesday because of a steady onrush of huge amount of water from upstream that caused the rivers downstream to swell.
Water Development Board north zone chief Jyoti Prashad Ghosh said that India passed 4,200 cusecs of water through the Gazaldoba Barrage, 12,074 cusecs through the barrage in upstream on the River Karatoa and 12,704 cusecs through the Deonai barrage.
'The situation is likely to worsen for the barrages are likely to stay open for a few more days,' said Jyoti Prashad.
Since June 27, the Gazaldoba barrage was opened more than six times and the other ones multiple times, causing the rivers to rapidly rise and burst their banks over a vast area. Official estimate shows over 23,000 families lost their houses to erosion largely around the time the rivers swell and fell.
'I was home just for four days before witnessing the river rising again,' said Shahidul Islam, who along with 2,500 others left his Challish Shal Char home to seek shelter on an embankment.
The shoal has 6,000 inhabitants and all of them are preparing to leave their houses.
'What wretched life we are living here,' quipped Rabeya Bewa, another displaced inhabitant of the Challish Shal char. In Rangpur, Gaibandha, Kurigram and Panchagarh embankment collapsed at four points, flooding vast areas.
The Teesta eroded river banks so badly in Gangachara it threatened the integrity of a bridge in Rangpur connecting four Lalmonirhat upazilas with their divisional headquarters.
In the 24 hours, until 9:00am on Wednesday, the Dharla swelled 30cm, while Jamuneshwari 65cm, Teesta 9cm, Punarbhaba over 1 m, Atrai 68cm, Jadukata 2.55m and Bhugai 3.27m.
A Flood Forecasting and Warning Centre bulletin showed that the Brahmaputra and the Jamuna swelled across all gauging stations over the same time. The bulletin issued Wednesday morning said that the rivers might continue to swell over the next two days.
The bulletin said that the Padma might keep receding through Thursday but the rivers in Meghna basin might swell during the same time.
Floodwater might recede from flood-affected Dhaka city through Thursday, said the bulletin.
The health emergency control room said that four people died because of drowning and snakebite in as many districts in the last 24 hours until 8:00am on Wednesday taking the death toll from flood-related causes to 202.
Boat still remained the only means of communication for thousands of people in central districts including those living in the flood-affected Dhaka city areas.
Some of them were even using banana raft to move for the offices resumed fully operating as the government lifted lockdown restrictions enforced because of the coronavirus crisis.
Those who returned their houses from where floodwater receded found that floodwater not only washed away their houses but also dumped tonnes of mud there and on the field they cultivated many crops.
Waterborne diseases became a source of worry for the extensive flooding contaminated thousands of tube wells destroying the source of drinking water for many.
The flood had affected 5.5 million people at its peak and swept away vast lands.
Amid continued heavy rain upstream and inside Bangladesh, forecasters already warned about further flooding at the end of August, just two weeks after they predicted the ongoing flood to end.
In northern Bangladesh the FFWC recorded up to 168mm of rains in the 24 hours until 9:00am on Wednesday while heavy rain continued in upstream areas across the border as well.
Want stories like this in your inbox?
Sign up to exclusive daily email
More Stories from Country