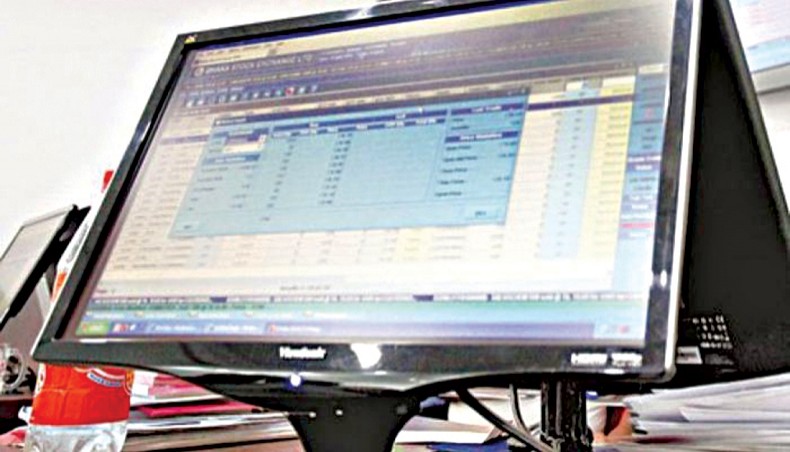 Dhaka stocks soared on Wednesday after a slight fall in the previous session as investors continued buying shares, especially those of financial and large-capitalised scrips amid their growing confidence in the market and the gradual reopening of economy despite the coronavirus outbreak in the country.
DSEX, the key index of the Dhaka Stock Exchange, gained 2.21 per cent, or 100.32 points, to close at 4,633.37 points on the day after losing just 12.09 points in the previous session.
Wednesday's index was the highest after February 24 when it was at 4,650.89 points.
The DSEX gained 556.5 points in the last 13 day with just a one-day fall.
After a negative trend on profit-booking selling pressure, the DSE key index started bouncing back and finished the session with a massive gain as investors resumed share buying, market operators said.
They said that the index witnessed a sharp rise in recent days that lured some large-scale investors to come back to the market.
Market analysts said that the country's economy was improving as export earnings and remittance had soared in recent times that also created fund flow to the financial market.
The media reported that the country's economy grew by 5.24 per cent in the last fiscal year 2019-2020 despite the coronavirus outbreak.
EBL Securities in its daily market commentary said that investors took up an optimistic outlook due to a rise in the GDP and per capita income during existing extraordinary circumstances.
Investors turned their focus to financial companies.
Out of 30 traded banks, 28 advanced, one declined and one remained unchanged.
The average share prices of non-bank financial institutions, telecommunication and bank sectors advanced by 5.1 per cent, 3.9 per cent and 3.3 per cent respectively.
Investors' confidence started growing as the Bangladesh Securities and Exchange Commission has recently taken some initiatives to develop the market, market operators said.
It also punished some offenders and cancelled a number of IPO proposals for financial flaws in recent days, they said.
The expansionary monetary policy for the fiscal year 2020-2021, unveiled the Bangladesh Bank on July 29, is also expected to increase fund flow to the financial market.
Share prices of Grameenphone, Square Pharmaceuticals and Beximco advanced most on the day.
Turnover on the bourse advanced to Tk 1,120.38 crore on Wednesday compared with that of Tk 1,048.08 crore in the previous trading session.
Of the 354 scrips traded on the DSE on Wednesday, 199 advanced, 115 declined, and 41 remained unchanged.
DSE blue-chip index DS30 also gained 2.41 per cent, or 37.32 points, to close at 1,581.46 points on the day.
Shariah index DSES also added 2.29 per cent, or 24.42 points, to settle at 1,088.32 points.
Beximco Pharmaceuticals led the turnover chart with its shares worth Tk 57 crore changing hands on the day.
BRAC Bank, Bangladesh Export Import Company, Square Pharmaceuticals, British American Tobacco, Nahee Aluminium, Grameenphone, Fu-Wang Foods, LafargeHolcim Bangladesh and Nitol Insurance were the other turnover leaders on the day.
Want stories like this in your inbox?
Sign up to exclusive daily email