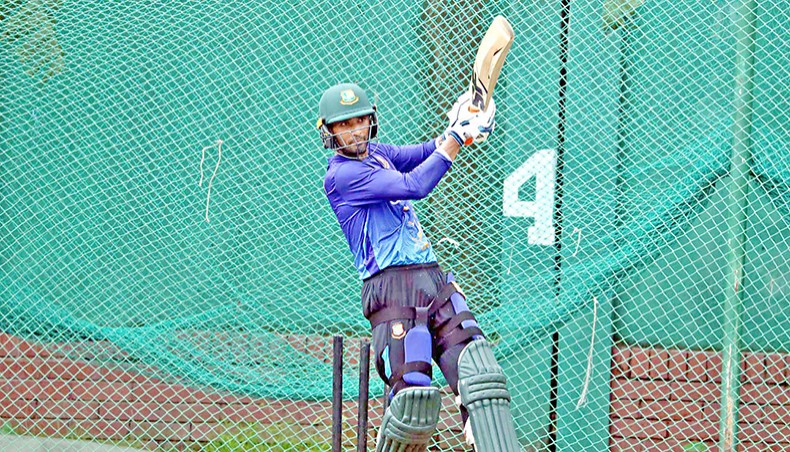 Cricketers of Bangladesh national team and High Performance unit will travel to Sri Lanka together on September 23 for a training camp before playing their respective series', a Bangladesh Cricket Board official informed on Wednesday.
The announcement was made after a meeting between national selectors, representatives from cricket operations officials, HP program officials and the medical wing of BCB.
Both the national and HP team will travel to the island nation together on the same date after completing a short residential conditioning camp at home which will start from mid-September, confirmed BCB chairman of cricket operations Akram Khan.
'Most probably from the middle of September, we will start a residential training camp for 10-12 days, after that we will travel to Sri Lanka with the HP team. There both the teams will train together for 20-25 days. Then from October 24, we will play matches,' Akram said.
BCB came up with the plan of sending both teams together after Sri Lanka Cricket refused to provide local players for practice due to health concerns.
After training along with the national team, the HP team will also play a series against their Sri Lankan counterparts.
'If the situation remains the same or improves, we will start the camp in the middle of September and in 23rd we will fly for Sri Lanka, maybe the date could change by one or two days,' said the former Bangladesh captain.
The issue of Shakib Al Hasan's probable comeback in the Sri Lanka series was also discussed but Akram said that they needed to check a few more aspects before reaching any conclusion.
'Regarding Shakib's return, we have to clear every single detail from ICC. He will be free to play from October 29. As far as we know before that he can't train with the team. We have to consult the matter with coach, Shakib and also the board president,' Akram said.
Akram also hoped to fly in all foreign coaching staffs before the residential camp begins.
'We will try to bring them back here in the early September. So far the plan is everyone will be staying in hotel, we will do the COVID-19 test before the start of training. Then finally, 72 hours before boarding, there will be another mandatory COVID-19 test for every team member'.
At present, foreigners have to go through a 14 days quarantine period after landing in Sri Lanka, but Akram felt that by the time of the Tigers' departure, things may change.
'After we land there, they will also run tests on us. But after that how long the quarantine period will be, that's unsure so far.'
Bangladesh was eager to play three Tests and three Twenty20s whereas SLC wanted to drop one Test match from the schedule.
Though the schedule is not fixed yet, Akram said that Colombo was the most likely venue for all of the matches.
'So far, the proposed venue is Colombo, the proposal came from SLC. Colombo has better facilities, high quality hospital etc'.
Want stories like this in your inbox?
Sign up to exclusive daily email
More Stories from Cricket