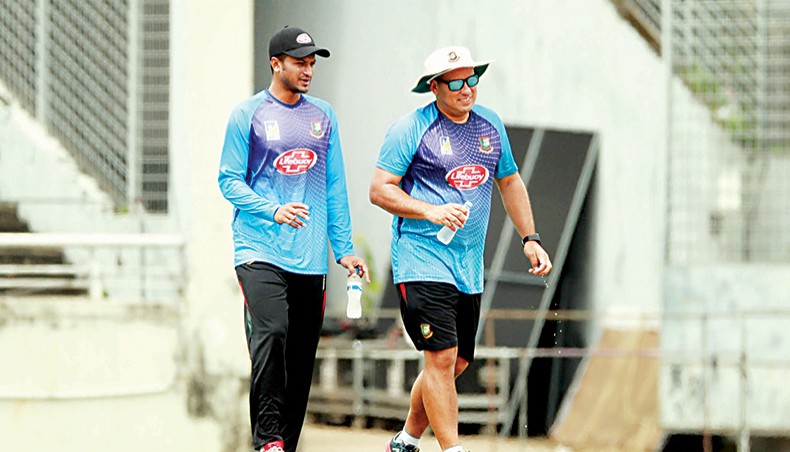 The probable addition of three Twenty20 matches in the Tigers impending Sri Lanka tour presented a chance for Shakib Al Hasan to make his return to international cricket, a prospect that excited Bangladesh coach Russell Domingo.
Shakib is currently serving a sanction for not disclosing contacts with a bookmaker, Deepak Agarwal, but will be free to play international cricket from October 29, 2020.
Bangladesh Cricket Board earlier in June postponed the Sri Lanka series citing lack of preparation but now was eager to play three additional Twenty20 matches beside the scheduled Tests, said Sri Lanka Cricket chief executive officer Mohan de Silva.
'We are actually negotiating. They want to play three T20Is and three Tests. So we are actually negotiating with them to reduce one Test and then play the T20Is. We will be able to confirm it within a day or two,' the SLC CEO told media.
Bangladesh cricket team will depart for Sri Lanka in late September, though the dates of the series were not yet finalised, said BCB chief executive officer Nizamuddin Chowdhury in a video message on Monday.
If SLC agrees to BCB's proposal, then the Twenty20 series was likely to take place at the latter part of October or early November considering the mandatory quarantine period and the Test series takes place first.
This could open up a chance for Shakib to return to the Bangladesh squad, but Domingo wanted to remain cautiously optimistic about it.
'He [Shakib] has to make sure he is fit and that he starts hitting balls and bowling some balls. Once we assemble before heading off to Sri Lanka, when that tour is confirmed, we will get closer to making a decision,' Domingo told a cricket website.
'There's still a while to go. It is only August now. His ban finishes in two and a half months. When he is fit and available, we will cross that bridge', he added.
Domingo thought there will not be gulf of difference between the rest of the players and Shakib as the pandemic has evened the odds in the all-rounder's favour.
'I think Shakib being out for a year is not that much different to the rest of our squad who have been out for six or seven months as well. We are hoping all the players are fit.
'It is very difficult to get into international cricket without any sort of cricket. I think we need to try to find some opportunities for him to play some games. He is a world-class player so I am sure he will get back into it pretty soon,' said the head coach.
Want stories like this in your inbox?
Sign up to exclusive daily email
More Stories from Cricket