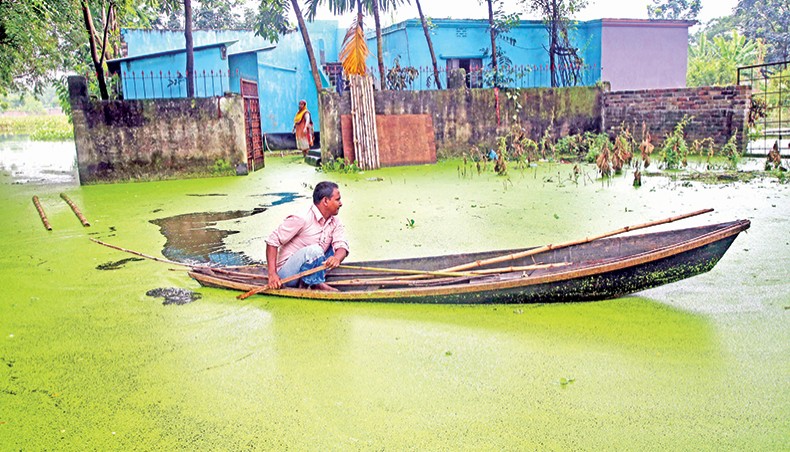 With the worst flood in two decades still wreaking havoc in parts of Bangladesh, the country has already seen the erosion of an area due to the deluge almost double the forecast.
The Water Development Board's North Zone office recorded the loss of 3,745 hectares of land in eight flood-affected districts in Rangpur division alone, among the total 33 affected districts.
But the government forecast had predicted a loss of 2,385 hectares in total along the country's three major rivers.
'The WDB data does not contradict our forecast for it covered more rivers,' said Malik Fida A Khan, executive director, Centre for Environment and Geographic Information Services, the government agency that forecasts erosion.
'The erosion might continue for two more weeks as rivers will continue to recede through the time,' he said.
The CEGIS forecasted probable erosion along the banks of the three major rivers — the Brahmaputra, the Jamuna and the Padma.
The erosion forecast did not include probable erosion along the Teesta, Dharla and Dudhkumar, where severe erosion occurred throughout the flooding, especially after India opened the Gazaldoba barrage upstream the Teesta.
Among the badly erosion-hit districts were Madaripur, Rajbari, Sirajganj, Tangail, Kurigram, Gaibandha and Lalmonirhat.
WDB's central flood information centre said that rivers burst their banks at 600 points in 33 flood-hit districts but a complete picture in terms of losses of land would not be available until the flood is over.
Erosion is the worst side of flooding in Bangladesh because in the land-starved densely-populated country one's becoming homeless overnight means that they mostly end up in city slums.
As many as 222 houses were eroded between Sunday and Monday in Rangpur division alone with 23,351 people permanently losing their homesteads already.
The data discussed in the report did not include erosion in the worst-hit districts of Sirajganj and Munshiganj for the unavailability of information.
The Department of Agricultural Extension's area office in Faridpur, however, confirmed the loss of 130 hectares of agricultural land in Shariatpur, Rajbari, Faridpur and Madaripur districts.
State minister for disaster management and relief Enamur Rahman said that his office was busy dealing with immediate challenges and an assessment of damages caused by erosion was not yet done.
'But I can assure rehabilitation for every single family hit by erosion,' said Enamur.
But the minister's promise brought little hope for the new erosion victims for they already joined the crowd of people living on embankments for a decade or more after rivers gobbled their houses.
'We have accepted it as our fate. We will never have a home in this country,' said Joynal, 67, paralysed father of two daughters, who has been living on an embankment at Gobordhon of Aditmari in Lalmonirhat for 13 years.
There are 400 other families living a life more or less like Joynal's on four Aditmari embankments in Lalmonirhat.
Rahim Goposh came onto the Dharla-Gomti embankment five years ago after losing all his land in seven spells of erosion. With six children, he and his wife live in an eight feet by12 feet teen-roofed house.
'The authorities won't allow us to build another house. They say that they are saving space for future homeless families,' said Rahim.
Matiar Rahman, a resident of Ichhli Char of Gangachara in Rangpur, lost his home Monday morning along with a dozen other families.
He and two other fresh homeless neighbours of his leased a slice of land, each promising to pay Tk 31,000 a year, for three years for building their next home there.
Renting out parts of homesteads to people displaced by erosion is an established practice in the erosion-prone areas.
Immediately after losing their home people try to live close to their birth place by any means before they finally recognise, after losing everything they had, that city slums are their last resort.
'A sense of loss haunts erosion victims for the rest of their life as they always carry in mind the pain of losing their home,' said professor AKM Saiful Islam, who teaches water and flood management at Bangladesh University of Engineering and Technology.
Erosion, he said, may turn worse in the coming days for the worst part of it comes while rivers recede.
'This year erosion went on throughout the flood because of the continuous onrush of water from the upstream,' said Saiful.
CEGIS data shows that between 1973 and 2020 the Jamuna eroded 92,845 hectares of land while the Ganges 30,540 hectares and the Padma 33,140 hectares.
CEGIS officials said that their prediction came of no help in years when India frequently opened and closed its floodgates at various barrages.
India released vast volumes of water in six phases through the Gazaldoba barrage since late June and two other barrages in Uttar Dinajpur in late July and August.
The flood has been there already for 45 days and prime minister Sheikh Hasina at the cabinet meeting on Monday shared with her colleagues the fear that further flooding might occur in the middle of Bhadra, the Bengali month that starts in four days, because of heavy rainfalls upstream.
She asked all the authorities concerned to prepare for the rehabilitation of the affected farmers and other flood victims.
A Flood Forecasting and Warning Centre bulletin said that rivers continued receding through Monday with seven rivers flowing above their danger levels at eight places.
The FFWC predicted that the Brahmaputra water level might remain unchanged through Tuesday but the Padma was likely to keep receding through Wednesday.
Flood waters might continue to recede from Dhaka and other central districts through Tuesday, said the FFWC.
The FFWC has warned about another spell of flood at the end of the month.
Want stories like this in your inbox?
Sign up to exclusive daily email
More Stories from Country