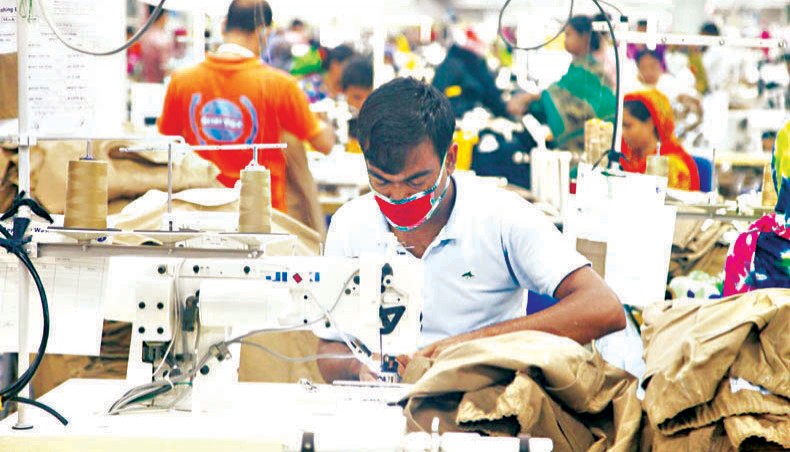 Readymade garment workers in Bangladesh lost wages worth around $501 million (about Tk 4,250 crore) for three months, March to May, due to the coronavirus pandemic, according to a global report published on Monday.
The report 'Un(der)paid in the pandemic: An estimate of what the garment industry owes its workers' said that millions of garment workers around the world had not received their regular wages, or had not been paid at all, for months since the start of the Covid-19 pandemic.
The research estimated a 29.5-per cent wage gap in Bangladesh RMG sector in the three months including 13 per cent in March, 46 per cent in April and 25 per cent in May.
'The only way to reverse the catastrophic loss to workers' livelihoods and prevent such a crisis from ever happening again is for brands to take immediate and lasting action,' the report suggested.
Clean Clothes Campaign and Worker Rights Consortium, with contributions by Solidarity Center, conducted the research on nonpayment of wages to garment workers resulting from order cancellations by apparel brands, unpaid leave, and state-sanctioned wage cuts during the Covid-19 crisis.
The report estimated that 1.47 lakh RMG workers in Bangladesh did not receive any wages in March as 150 factories closed at least temporarily in the month.
'Most likely workers in closed factories received no wages, workers in factories under lockdown generally received 65 per cent, and workers in factories without government support received nothing,' the report read.
Before the pandemic, roughly 4.4 million workers were employed in 4,500 RMG factories in Bangladesh and a worker generally took home $112 (Tk 9,580) at the end of the month in March workers received $101 on average, the report said.
In consequence, the wage gap at the end of March stood at $64.5 million, it showed.
Referring to the report, Bangladesh Garment Manufacturers and Exporters Association president Rubana Huq told New Age on Monday, 'It's absolutely blasphemous to publish such a report when the ultimate responsibility was with the buyers.'
Instead of doing a report based on manufacturing countries, the report should have been based on the sourcing areas, she said.
Rubana said that Bangladesh paid $534 million for the days when the workers did not work in April whereas in all other countries followed 'no work no pay'.
'So, a poor reflection of what they stand for. The idea should not be to malign the manufacturers but to get to the root problem. And the root problem certainly does not lie at our end,' the BGMEA president said.
The report said that under the influence of the combination of lockdown and cancelled orders, 580 factories closed, while 203 factories were under lockdown and 119 factories were under lockdown without access to government support, leading to dire consequences to the workers of these factories.
Despite the extension of the national lockdown into May, most garment factories started to reopen from April 26 with a reduced number of workers, it said.
The report said that the workers in closed factories received no wages and workers in factories under lockdown generally received 65 per cent and workers in factories without government support received nothing for April.
The report estimated that in April a total of $269.12 million in wages was paid, which was $226.95 million less than two months earlier.
The wage payments increased substantially in May as half of the 580 closed factories as well as factories that were under lockdown during March and April reopened, the report said.
Workers working in May received 80 per cent of their average wages and the gap was estimated at $124.75 million, it showed.
The report assumed that only 80 per cent of workers received bonus that added an estimated $85.15 million to the wage gap for May.
The CCC conducted the research on seven countries in South and Southeast Asia including Bangladesh, Cambodia, India, Indonesia, Myanmar, Pakistan and Sri Lanka.
The report showed 33 per cent wage gap in Cambodia RMG sector, 56.9 per cent in India, 39.8 per cent in Indonesia, 32.6 per cent in Myanmar, 46.6 per cent in Pakistan and 40.8 per cent in Sri Lanka.
Want stories like this in your inbox?
Sign up to exclusive daily email
More Stories from Apparel