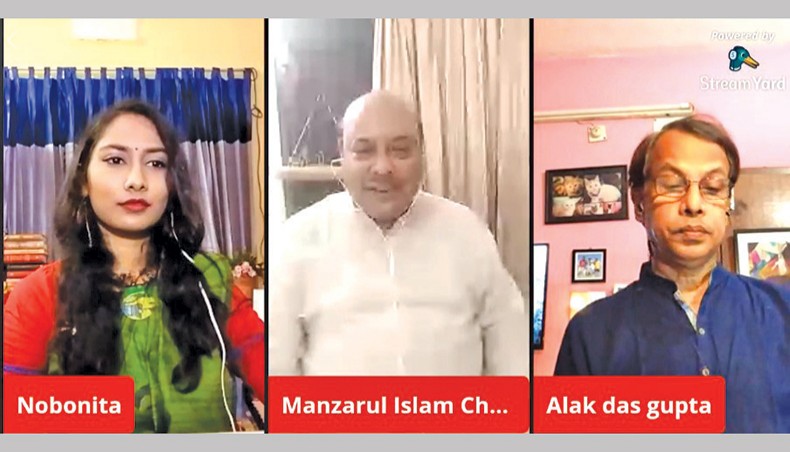 Artistes of Satyen Sen Shilpi Gosthi and cultural organisation Uthan entertained the audience rendering people's songs at an online music show held on Sunday.
The event was organised by Bangladesh Ganasangeet Samannay Parishad and streamed on its Facebook page at 9:00pm.
Satyen Sen Shilpi Gosthi artiste Nabanita Jahid Chowdhury Ananya and Uthan artiste Alok Das Gupta performed at the programme, hosted by Manjar Chowdhury Sweet, general secretary of Bangladesh Ganasangeet Samannay Parishad.
Nabanita Jahid Chowdhury Ananya commenced the programme rendering Satyen Sen's song Aji sapta sagar uthe uchhaliya. She also sang Hey shyamalo dhan ho, Rakto shimul tapto palash, Tora sob jayadhwani kor, Shono ekti Mujibarer theke and others.
Alok Das Gupta rendered his self-penned song Sujala sufala shashya shyamala ma bangla, Shanti aso lakshmi aso, Amra milechhi aj mayer, Amra ei matir santan, Kado manobata kado and others.
Alok Das Gupta said, 'We humans are social beings. We depend on each other for our survival. The COVID-19 outbreak has forced people to change their lifestyles. Online programmes can help artistes connect with the audience and provide must-needed respite and recreation in this time of crisis. I thank Bangladesh Ganasangeet Samannay Parishad for arranging this online event.'
'Music can inspire people during crises. The COVID-19 outbreak has forced us to practice hygiene and maintain social distancing. As programmes at public venues have been cancelled, we are organising online events to help artistes connect with the music lovers amid this crisis. Besides, online programmes provide aspiring artistes a platform to showcase their talent. We will organise more shows in the future,' said Manjar Chowdhury Sweet.
Want stories like this in your inbox?
Sign up to exclusive daily email