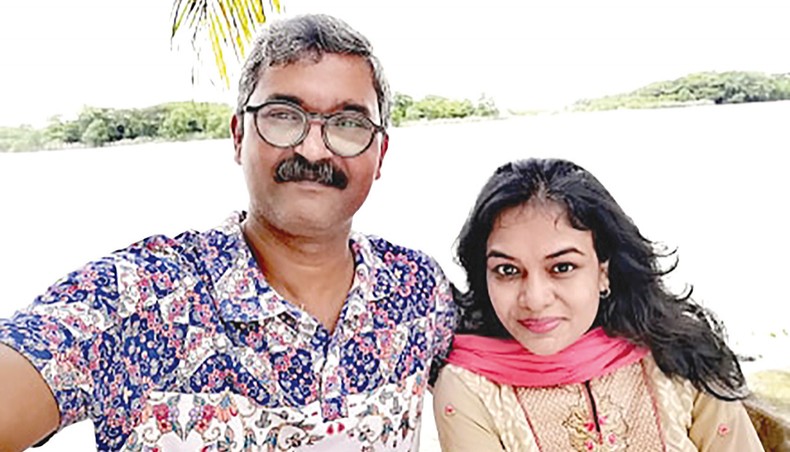 The current health crisis has affected countless artists and writers — both physically and mentally. But many have also found a way to grapple with deaths and disrepair in their own creative terms. Literary couple Shakhawat Tipu and Gazi Tanzia has penned a number of works portraying the sufferings of the people amid the COVID-19 crisis.
Tipu penned the poem 'Corona Phuler Bish', which has received huge response from poetry lovers at both home and abroad while Tanzia penned short stories depicting discrimination faced by COVID-19 infected individuals in society.
This correspondent caught up with the couple who shared what motivated them to pen their works on COVID-19, how they support each other and more.
Shakhawat Tipu was driven by two things — the COVID-19 crisis, which is one of the most serious and uncertain crises humanity has faced in recent history, and the conflicts happenings across the world — to pen 'Corona Phuler Bish'.
'I have been watching the news about coronavirus outbreak in Wuhan, China since February. The virus later spread to other countries of the world and claimed thousands of lives. I could not accept the deaths of innocent children from the virus. I began reading about the pandemics that have ravaged civilizations throughout history as I wanted to put my thoughts down on paper in the context of time. My realisation is this: If we want to survive, we would have to awaken compassion within us,' said Shakhawat Tipu.
One day when the poet was leaving home, he suddenly saw a hibiscus flower falling off a plant. It reminded him about those who died from the virus before their time. He sat at his desk at night and began writing. However, he stopped after the third stanza.
'As days passed, the whole city became silent, which was occasionally broken by loudspeakers at mosques announcing deaths of people. After many sleepless nights, I started writing again and finally finished the poem that contains nine stanzas. It has been translated into three languages including English, Greek and Italian. It was published in Italian magazine L'Altrovetranslator and Greek magazine Exitirion,' added Tipu.
Gazi Tanzia has written three short stories on the current crisis, including one on COVID-19-related stigma in society, one on the plights of the destitute and one on the rising poverty due to COVID-19-induced economic downturn.
'After the first COVID-19 patient was detected in Bangladesh, people panicked. In many places people protested against establishment of hospitals for treating virus-infected patients and even obstructed burials of those who died of COVID-19 in their localities. The infected were pushed to isolation. Many lost jobs and the poor and the destitute were hit hard,' said Gazi Tanzia.
'I was saddened by what I saw. So I decided to put my feelings down on paper. Besides the stories, I also wrote a few columns for newspapers portraying what was happening in society,' she added.
When they are not writing, Tipu and Tanzia spend their leisure hours reminiscing family stories and discussing about literature.
'We are a literary couple. We try our best to support each other, create space for free thinking and spend as much time as we can with our children. When we are free, we explore a lot of topics including literature, politics and philosophy. However, I like listening to songs but Tanzia loves to watch films. Life is a journey and we enjoy it as much as we can,' Tipu ended.
Want stories like this in your inbox?
Sign up to exclusive daily email
More Stories from Literature