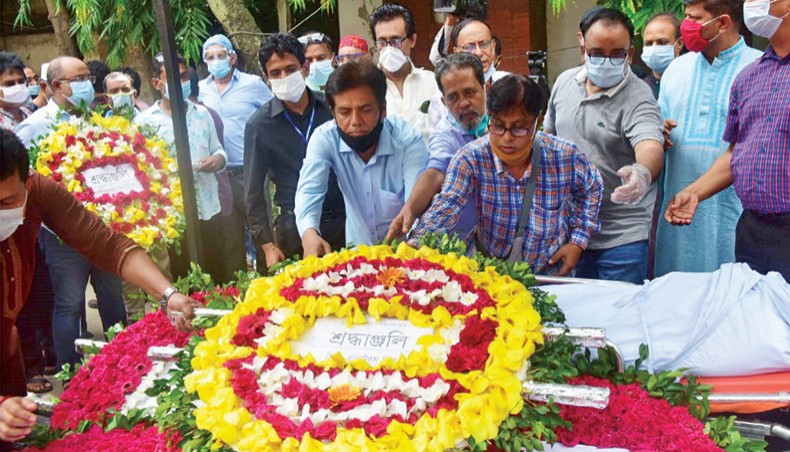 People from all walks of life paid their last respects to late eight-time National Film Award-winning music director-composer Alauddin Ali at Bangladesh Film Development Corporation on Monday.
Cultural activists, singers, musicians and different organisations including cultural affairs ministry, Music Composers' Association of Bangladesh, Bangladesh Film Directors' Association, Bangladesh Film Artistes' Association and others paid tributes to Alauddin Ali on BFDC premises where his second namaz-e-janaza was held at 2:30pm. Alauddin Ali's son Shawkat Ali Rana and daughter Alif Alauddin were present there.
'My father always greeted everyone with a smile. He dedicated his entire life to music. He cared deeply about the young generation singers. I urge all to pray for his departed soul,' Shawkat Ali Rana told New Age.
Alauddin Ali died on Sunday at the age of 69. He was earlier treated for pneumonia, cancer and other health problems. He went to Bangkok for cancer treatment in 2015 and 2019. His first namaz-e-janaza was held at Noor-E-Bag Masjid in the capital's Khilgaon area. He was buried at the Martyred Intellectuals' Graveyard at Mirpur on Monday.
Colleagues and peers of Alauddin Ali have expressed deep shock at his death.
Sheikh Sadi Khan said, 'I met Alauddin Ali shortly after the liberation war. He enriched our music scene composing many timeless songs.'
'It is a matter of deep regret that artistes never get the recognition they deserve when they are alive. I urge the government on behalf of all artistes to stand beside us in dire times. An artiste cannot survive on appreciations and accolades alone but also needs money to sustain himself and his family,' he added.
Runa Laila said, 'Alauddin Ali won hearts of thousands of music lovers with his creations. I met him for the first time when he was working as an assistant for music director Anwar Parvez. After he became a music director, I lent my voice to many of his songs.'
'I have rendered a number of playback songs under his direction including Bandhu tin din tor barit gelam dekha pailam na, Buke amar agun jwale, Ishtishaner rel garita and others. I also sang songs under his direction for the radio and TV channels and recorded his songs in India under the banner of CMV. The last song I rendered under his direction was a duet with late singer Subir Nandi,' added Runa Laila.
Gazi mazharul Anwar said, 'Alauddin Ali was a multitalented person. We were really close and he was like a younger brother to me. He loved to visit me and we dined together a lot. A music director like him is not born every day.'
'When I wrote the song Bandhu tin din tor barit gelam dekha pailam na, Alauddin Ali agreed to compose it. The song, recorded by Runa Laila, is still popular among music lovers. People will never forget his creations,' added Gazi Mazharul Anwar.
SI Tutul said, 'Alauddin Ali was an extremely talented lyricist, composer and music director. I had known him since my childhood. He has been one of my greatest inspirations. He always motivated younger generation singers. I consider myself very lucky to have had the opportunity to work with him. Many of my songs have been composed by him.'
Cultural affairs ministry additional secretary Md Abdul Mannan Ilias said that the government will take the initiative to preserve Alauddin Ali's works.
'His death has left a huge void in country's music scene. It is our responsibility to preserve his works for the upcoming generation. We will soon take the initiative to collect and archive his works,' said Md Abdul Mannan Ilias.
Want stories like this in your inbox?
Sign up to exclusive daily email