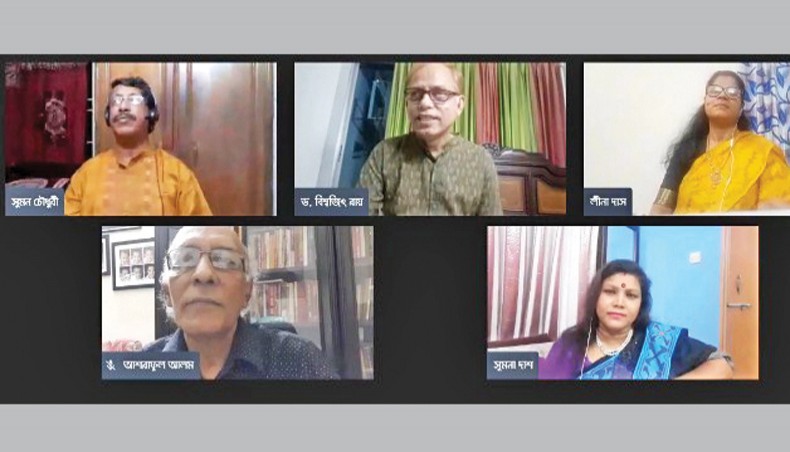 Artistes paid tribute to the late renowned lyricist, composer and poet Pranab Ray in an online programme organised by cultural organisation Nibedon on Sunday.
The programme, titled 'Emoni Barasha Chhilo Sedin', was arranged marking the 45th death anniversary of Pranab Ray.
Artistes rendered Pranab Ray's songs addressing patriotism, human relationship, devotion and others at the programme which was streamed live on the Facebook page of Nibedon at 7:30pm.
Noted singers namely Sumon Chowdhury, Lina Das and Sumana Das performed Pranab Roy's songs at the programme, anchored by Bishwajit Roy.
Swadhin Bangla Betar Kendra artiste Ashraful Alam attended the programme and discussed on the life and works of late Pranab Roy.
Sumon Chowdhury commenced the event rendering the song Tumi aaj kato dure. He later sang Naiba ghumale priya, Ghumer chhaya chander chokhe, Kotodin dekhini tomay and others.
Lina Das sang Tumi bina e-phagun, Natun surjo alo dao, Ar deko na sei modhu namey, Moner duar khule and others.
Pranab Ray was born on December 5, 1911, in Barisha, 24 Parganas district in West Bengal, British India.
He died on August 7, 1975 at the age of 64.
Besides, artistes shared their thoughts on Pranab Ray.
Sumana Das pointed out, 'Pranab Ray has portrayed different issues using a wonderful combination of words and ragas. It's our responsibility to promote his works. I am very happy to be invited to this programme. I hope the audience enjoyed it.'
'We organised this programme observing the 45th death anniversary of Pranab Ray. His works continue inspire us even today. His works should be promoted among the younger generation,' Bishwajit Roy, president of Nibedon, told New Age.
He was passionate about literature since his childhood. He started penning poetry at an early age. His first poem 'Comrade' was published in 'Bishwadoot' magazine.
He wrote the first song for the film 'Panditamashai'. He was inspired to compose songs by Kazi Nazrul Islam and Nazrul composed many of his songs.
Pranab Ray also directed films namely 'Mandir', 'Anuradha', 'Prarthana', 'Rangamati' and others.
Want stories like this in your inbox?
Sign up to exclusive daily email