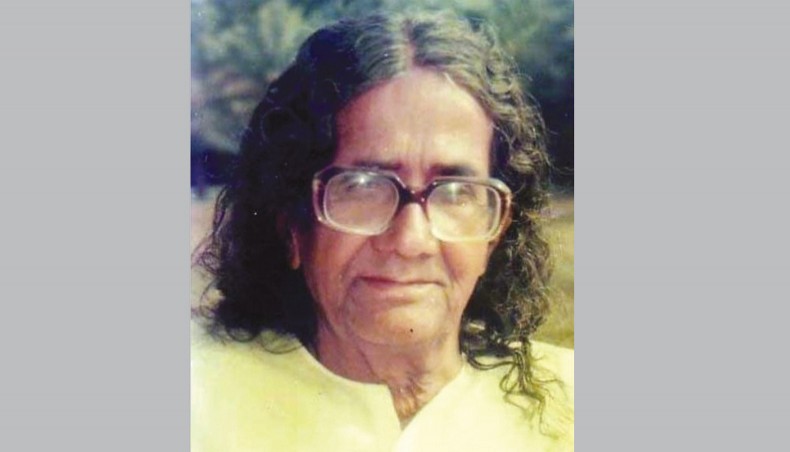 Painter and visionary SM Sultan, also referred to as a worldly sage by many, lived among the majority people — villagers, to be precise. He lived the second half of his life, which was also the most active, in his childhood village following independence of Bangladesh in 1971.
The narrative paintings he became famous for drew their inspiration from the bucolic life around him. They also foreground a social 'utopia' he envisioned to de-alienate the man from himself and from his environment.
His return to simple life may appear to some as an echo, or an extension, at best, of those turn-of-the-nineteenth-century Parisian moderns who sought refuge in primitive societies looking for primitive innocence, or simply seeking respite from the hubbubs of the modern city. But, it is the utopia — the unique vision spun around the rise of the peasantry — which gives Sultan a clear edge over all his predecessors.
The bucolic life he depicted and the protagonists he so endearingly exaggerated — making them physically and spiritually robust in a vague reference to Michelangelo's Sistine Chapel murals — also turned Sultan into a larger than life painter of his time. Although Sultan's was a strikingly indigenous vision, his human figures were assigned a symbolic function akin to that of a religious one.
The images he created rest on the border between their creator's lived reality and an imaginary site of reorganisation he envisioned, which, perhaps, was a way for him to liberate a colonised people. The detour he thought up as he himself lived a marginal life was attached to a 'communistic vision' unscathed by modernisation. One can call it or a 'worldly Eden'.
In sum, it is by straddling the real and the imaginary that Sultan, aka Lal Miah, had developed his artistic idiom which still resonates with artists and art lovers alike.
Today is the 96th birth anniversary of this great painter, who earned the epithet of 'indigenous modernist' from none other than Burhanuddin Khan Jahangir, eminent academic and art writer. Sultan was born on August 10, 1923, in Narail and died on October 10, 1994.
In a book written on Sultan, Burhanuddin points out that among many other achievements, one was that the artist inserted the idea of 'ownership' into the landscape which is usually perceived as nothing more than an 'image'.
Though each of Sultan's landscape turned panoramic, they articulated his will to transcend the given. His landscapes are peopled by imaginary peasants, those who have toppled the hierarchy of the pre-industrial society by reclaiming the land from the rentier class. These inhabitants eternally exist in harmony with one another in a pre-colonial rural setting, evidently negating chronological time as they do not belong to a past. Rather they allude to a future the artist envisaged.
His vision, where the atavistic meets the communistic, thus, works as a critique of progressivism driven by industrialisation/urbanisation. In many a painting, large and small, brawny women and men engage in tilling the land, completing the household chores (mostly women), fishing, as if in festive mood, while in few panoramic vistas the oversized peasants are even seen launching a battle to reclaim the land. Sultan's people till the land with traditional agricultural implements. When fishing they use traditional fishing nets. In their moment of resurgence, as in the works where they rise against the zamindar where the opponent is forever absent, the rebels are only equipped with spears and battle shields.
If Sultan's paintings, mostly oil on canvas which he used to prepare using indigenous ingredients, make labour visible, they harp on the theme of a collective life lived in communion with nature. Nature, in his work, is never reproduced to beguile the eye.
Does all this make him a Luddite? Was it an effort on his part to reawaken in the community the will to return to Eden, or the brain of Eden, to refer back to, at least, to the neurochemistry of relocating the primordial relation between individuals as well as the nature-human complex, the 'originary' setting?
These are just thoughts. In reality, Sultan always sought to re-emphasise what seems 'eternal' in human — the will to live in communion with nature. At a young age, he went to Kolkata to study art sponsored by a local zamindar, met poet and critic Hasan Shahid Suhrawardy and had been exposed to the treasure trove in the latter's library. But the maverick that he was, he left the government art college after couple of years without completing his study to travel round the then undivided India and beyond.
Sultan, the painter, laid the ground for us to veer away from the romantic tradition of looking at villages in terms of pretty landscape. By striking at more than a century-old habit of treating nature as a material for romance, his works withdraw from mere retinal pleasure. They place the viewers along the axis of the life he depicts, the gamut of struggles involved in it, and most of all, the necessity for a unifying vision — a utopia — to sustain life. The word utopia thus easily alternate for 'meaning' in his domain.
So, one can say that the modernist master's greatness lies in his ability to frame a progressive vision by showing an apparent attachment to some atavistic elements that refer to a pre-colonial state of existence.
An interview taken around mid-1980, gives some obvious clues to the working of his mind. At one point, Sultan says that he preferred not to depict the tin-roof houses that have replaced the hamlets with straw thatching. His vision of an ideal society, agrarian and communistic, after the landowning gentry have been removed from the scene affords a post-colonial reading.
Want stories like this in your inbox?
Sign up to exclusive daily email
More Stories from Miscellany