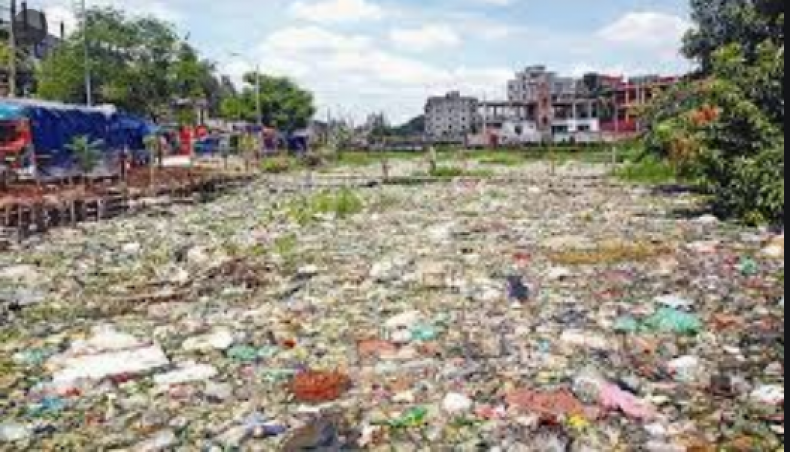 Dhaka Water Supply and Sewerage Authority has failed to meet the city people's need for safe water, an effective sewer system and drainage though a huge amount of public money has been spent over the past decade.
Residents in the capital have been decrying WASA's poor services for years while charges for the amenities have went up significantly in the period.
Both the city mayors echoed the residents and admitted WASA's failure while rights groups and corruption watchdogs smelt a rat in the utility agency.
Their opinions came as WASA's work went down the drain after it completed several mega projects worth Tk 7,205.49 crore in the last 10 years since it took a turnaround programme in 2009.
As the projects failed to improve the services, the mayors and the rights activists also expressed doubt about the success of WASA's other mega projects in progress.
Former Anti-Corruption Commission chairman and incumbent Consumers Association of Bangladesh president Ghulam Rahman said that the corruption-ridden WASA failed to provide services under its mandate.
'Without reducing corruption and improving services, the agency kept on increasing tariff,' he said.
The present tariff for WASA's 1000-litre water for domestic consumers is Tk 14.46 while it was Tk 5.99 in 2008.
WASA's recently completed projects costing Tk 7,205.49 crore for developing plants, deep tube wells and distribution lines could not produce water as per the plans, project documents show.
The agency's 11 other ongoing projects costing Tk 25,640.91 crore too had little progress in the past 10 years, according to the documents.
Of the completed work, the Tk 3,670.49 crore Padma Treatment Plant and Tk 537 crore Savar well-field projects produce one-sixth of their total capacity of producing 60 crore litres of water per day, WASA engineers said.
Services did not improve even after the agency spent Tk 612 crore to install 500 deep tube wells, Tk 2,350 crore to replace 27,00km pipelines and Tk 338 crore for drainage development, they said.
Five major canals in the capital, including Jirani Khal and Digun Khal, turned into narrow concrete drains for faulty planning and designing, they added.
For delays in implementation, they said, the costs of the Saidabad Water Treatment Plant Phase 3, Gandharbpur Water Treatment Plant and Dasherkandi Sewerage Treatment Plant projects have almost doubled.
Besides, their physical progresses indicate that those would not be completed even by the extended deadlines, they said.
They also said that WASA was waiting for government approval for six more projects worth Tk 6,291.26 crore.
The ACC has detected corruption in all the projects moving at a snail's pace while the World Bank has withdrawn a portion of its fund from a drainage project after it saw undesired delay.
The ACC in its report on WASA, handed over to the Local Government Division in June 2019, found graft in the Padma plant, the Gandharbpur plant, the Saydabad phase 3 project, and deep tube well and pipeline installation and other projects.
The commission found that projects were extended to increase their funds to create room for corruption.
In many cases, the report said, WASA did not carry out its work as per project designs and specifications, wasted money and made advance payments to contractors who were appointed through nepotism.
Commission chairman Iqbal Mahmood told New Age that it would soon monitor progresses of the execution of their recommendations to reduce corruption in WASA and 23 other government departments.
ASM Feroz, chairman of the parliamentary standing committee on public undertakings, said that in its October 20, 2019 meeting the committee asked WASA and the LGRD ministry to take measures to rid the agency of corruption following the ACC recommendations.
World Bank spokesperson Mehrin A Mahboob on Wednesday said that the bank in 2013 withdrew $60 million (Tk 48 crore) allocated for the sewerage component from the $141 million Dhaka sanitation improvement project as WASA could not complete it within the scheduled time.
Transparency International, Bangladesh also found irregularities in the WASA projects.
A TIB study, carried out in April 2019, also detected cases of corruption and irregularities in WASA.
The study showed that about 91 per cent of households in Dhaka burnt gas worth Tk 332.37 crore each day to boil the low-quality WASA water to make it drinkable.
Rahman, general manager in a private office, however, said that his office required spending an additional Tk 15,000 a month to buy water in jars from a private company and maintain a purifier to provide drinking water to its 70 employees.
Dhaka South city mayor Fazle Nur Taposh and North city mayor Atiqul Islam said that WASA completely failed to fathom people's demand and being the elected representatives they had to face criticism for the city's waterlogging and faulty sewerage system, for which WASA was responsible.
WASA engineers said that even after commissioning Tk 3670.49 crore Padma Plant and Tk 535 crore Savar well-filed projects last year, the water problem was not solved in target areas of Old Dhaka, Jatrabari, Mirpur, Mohammadpur and Uttara.
For not developing distribution lines simultaneously to the development of the Padma plant, WASA can produce only eight crore litres of water per day though the plant has the capacity of producing 45 crore litres, they mentioned.
WASA was getting 20 per cent less service from its newly installed Savar well-field project having the production capacity of 15 crore litres of water per day, they said.
The agency had to limit its production amid protests by locals following adverse impact of the project on their life and nature, they said.
For delays caused for inefficiency and corruption of the WASA top management, they said, the revised cost of Gandharbpur treatment plant rose to Tk 8,151 crore from the original budget of Tk 5,248 crore in 2013.
The revised cost of the Saydabad phase 3 project has gone up to Tk 7,714 crore from the original budget of Tk 4,597.36 crore in 2015.
The deadlines of the projects have already expired though they have seen little progress, they added.
The Tk 3,317.77 crore Dasherkandi Sewerage Treatment Plant project, they said, will not provide the expected benefit for not developing service lines in the catchment areas — Gulshan, Banani, Badda and Rampura.
But, they went on, Bangladesh University of Engineering and Technology, while developing the Hatijheel beautification project in 2012, gave a plan to install the plant with the service lines at the cost of Tk 1,600 crore.
But WASA awarded the project, designed by a local architect firm, to a Chinese firm under an unsolicited suppliers credit loan, they said.
At present, they added, the city has only 15 per cent of the required sewerage line coverage based on the sole plant installed in 1995 at Pagla.
WASA authorities, they said, manipulated data regarding the production of water, development of projects and reduction in the system loss to present a positive image to the government and donors.
For instance, they said, WASA's present dependence on underground water is 78 per cent of its total capacity of producing 258 crore litres of water per day.
But the agency has claimed that its capacity has increased to 265 crore litres of which only 66 per cent came from tube wells, they said.
The capital's groundwater table is depleting by two to three metres per year for over-mining, they said, adding that many pumps extracted unexpected level of iron.
TIB executive director Iftekharuzzaman demanded fully independent financial and performance audits of the Dhka WASA projects.
The government as well as the ACC should take account of the wealth within and outside the country of all senior WASA officials, he said.
WASA deputy chief public information officer AM Mostafa Tarek claimed that the agency increased its production capacity to 265 crore litres of water against the daily demand for 240 crore litres while in 2009 it had a deficit of 24 crore litres per day.
WASA's water supply system will depend on surface water for 70 per cent of its production by 2025 after the inauguration of Gandharbpur plant and Saidabad phase 3 plant, he said.
During the period WASA will install more tube-wells and develop the distribution lines of the Padma plant, he added.
Besides, he claimed, projects were going on in full swing for developing the sewage and drainage systems in the capital by 2030.
Tarek claimed that the implementation of mega projects was delayed for not getting funds from donors as per their pledge, problems in buying land and the city corporations' reluctance to give road-cutting permission and for increasing prices.
He also claimed that WASA significantly reduced corruption and system loss in the past 10 years.
Want stories like this in your inbox?
Sign up to exclusive daily email
More Stories from Country