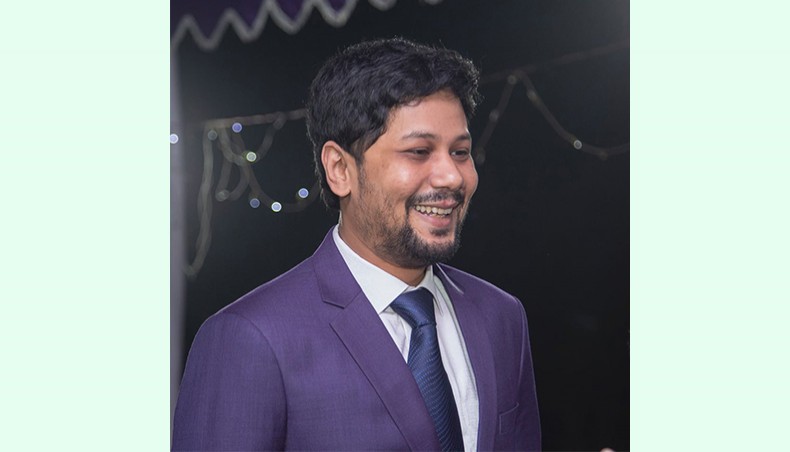 Ovinu Kibria Islam is a young researcher and assistant professor of Jashore University of Science and Technology. Recently, the research team of JUST has successfully decoded genome sequences of three COVID-19 samples. During an interview with Nasir Uz Zaman for the New Age Youth, Ovinu Kibria Islam talked about their research

New Age Youth: How do you get involve in the research of the genome sequencing of COVID-19?
Ovinu Kibria Islam: Actually, since the COVID-19 outbreak started spreading outside of China, as microbiologists, we were concerned about the nature of the outbreak. We could imagine, Bangladesh may suffer a big blow if the outbreak turns into a pandemic. I and my colleagues of Jashore University of Science and Technology, especially the department of microbiology, started thinking about the preparations for COVID-19's response. We organised seminars, prepared hand sanitisers, published leaflets to raise public awareness.
We are very lucky that our honourable vice chancellor, professor Md Anwar Hossain, is himself a renowned microbiologist. He developed a vaccine against Foot and Mouth disease virus in his lab at the University of Dhaka. We had the opportunity to work with him and we had some practical experience in dealing with RNA viruses. Moreover, he played the pioneer role in establishing the genome centre of JUST. The facility modern and sophisticated instruments like genome sequencing system, scanning electron microscope, RT PCR et cetera. He also arranged trainings on them.
When the outbreak started in Bangladesh, we thought that we need to play our role here. We informed the authority that we can do coronavirus test in our genome centre if the sample and test kits are provided. On April 9, we got the permission from the Health Ministry and we started corona virus testing from April 17 as the first public university of this country.
So far we have tested around 8000 samples from nine districts and our teachers and students are relentlessly working day and night to test the samples. Sometimes we worked 16 hours a day in 14 day shift. We are doing this voluntarily while the university is providing us the accommodation and food during working and quarantine period. While doing coronavirus testing, we were also preparing for conducting other researches on COVID-19. Genome sequencing is a part of our research projects on SARS CoV-2.
New Age Youth: Why is the genome sequencing of COVID-19 important?
Ovinu Kibria Islam: Well, genome sequencing has become a very powerful tool these days for tracking the nature of the outbreak caused by the pathogenic microorganism.
Whole genome sequencing helps the researchers worldwide to deal with a lot of research questions. It can give us insights into the nature and spread of the virus and an idea on the possible transmission route. From the genome sequences we can identify the changes that occur in viruses circulating through the population. We can also find out the genetic variation or mutation that may contribute in pathogenicity and disease severity. Genome sequence can also help to find out the origin and mutation rate of the virus, identify the infection hotspots and formulate the strategies required for public health intervention. Most importantly, the sequences also help to design drugs or vaccines targeting a particular population.

New Age Youth: You are a member of Jashore University of Science and Technology's coronavirus genome sequencing research team. How you are conducting your research works?
Ovinu Kibria Islam: We are very thankful to the graduates of our university who volunteered for this corona testing. As more and more volunteers get involved into corona testing, we got the opportunity to focus on the research. As we had the genome sequencing system, from the beginning we had plans to sequence the genome of COVID-19 circulating in the southern part of Bangladesh. You know, the genome sequencing requires expensive reagents and highly trained and expert personnel. We had a very little experience on genome sequencing except some hands on training, so it was not easy at all.
Moreover, it is challenging to conduct this type of research in a place which is located in the periphery. Besides, we were occupied with the load of samples for testing and it was difficult to collect the reagents and manage the necessary funds. We also needed to troubleshoot some technical problems and improvise the methods according to the reagents we had purchased earlier for other research purposes.
We are very happy as we could successfully sequenced the genome of SARS CoV-2 as the first public university without taking any help from other institutions or companies. Under the supervision of our VC, professor Iqbal Kabir Jahid, assistant professor Hassan Al-Emran and two very young lecturer of microbiology department, Rubayet Ul Islam and Md Shazid Hasan played very important role in this sequencing project.
The other faculties and researchers of our team, especially Selina Akter, Shireen Nigar, Nazmul Hassan, Tanvir Islam, Pravas Kumar Roy and Shovon Lal Sarkar helped us with their thoughtful suggestions and contributed in the extraction of viral RNA. I should say, we have a very young and energetic research team and our team members have expertise on diverse research fields such as biotechnology, vaccine development, bioinformatics et cetera.
New Age Youth: Recently, your team have successfully decoded genome sequences of three COVID-19 samples. Would you tell us more about your findings?
Ovinu Kibria Islam: We are still analysing the genome sequences and comparing these sequences with other sequence from Bangladesh and other countries. So far, we can tell that, our sequenced virus contain characteristic mutations in Spike and Rdrp protein which were also found in the viruses during early outbreak in Europe and the United States of America. We also found a mutation is NSP2 protein, which is prevalent in Bangladesh and found over 75 per cent of the sequences of Bangladesh. We also found some unique mutations in our sequences. We are investigating the impact of these mutations.

New Age Youth: What should be the next step of your research?
Ovinu Kibria Islam: We will try to sequence the viruses circulating in different districts of the southern Bangladesh. We are also analysing the sequences of different countries that are already submitted in the global database. We already published an analysis about first Bangladeshi SARS CoV-2 genome sequence in the Journal of Medical Virology.
We have already submitted a research article on the viruses circulating in Southeast Asia and also working with around 37,000 genome sequences from different parts of the world. We are also planning conduct research on epidemiology of the circulating virus in this region, protein-protein interactions, immunological responses against the virus et cetera.
As we found genome sequencing is very costly, we are also trying to establish an easier method to identify important mutations that are separating viral clades all over the world.
Moreover, I would also like to inform that, under the supervision of our VC, a peptide vaccine against SARS-CoV-2 was designed and this design has already been accepted for publishing in the renowned Peer J journal. Some of our team members also worked on this project.
New Age Youth: As a teacher and young researcher do you think the authorities should allocate more budget for quality researches?
Ovinu Kibria Islam: Obviously, it is very important to allocate more funds in the researches. The importance of research in dealing with this type emergency situation is now easily understood by all.
For example, unless we had a specialised BSL-2 laboratory we could not conduct coronavirus test or genome sequencing. Still, we need to establish a BSL-3 level laboratory if we want to carry out our research further. If we had a BSL-3 lab, we could have conducted research on vaccine development against the virus.
Besides, our government should include researchers and experts, specially microbiologists or biotechnologists in health sector and take suggestions from them in order to handle this type of situation in future.
Nasir Uz Zaman is a member of the New Age Youth team.
Want stories like this in your inbox?
Sign up to exclusive daily email