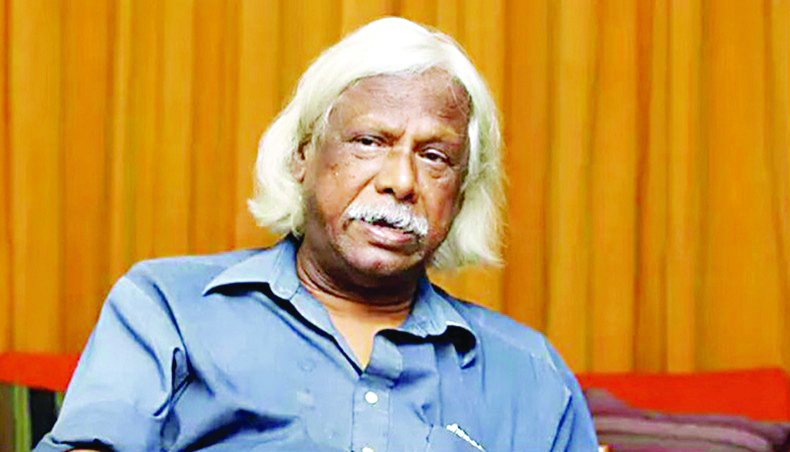 Dr Zafrullah Chowdhury, Gonoshasthaya Kendra founder and one of its trustees, has urged the people not to be afraid while facing the challenges induced by the new scourge — COVID-19.
The public health activist in Bangladesh urged people not to opt for high-price medicines or hospitals that charge hefty fees. He also said that people should shun acquiring oxygen cylinder or other medical devices.
'Take treatment at home and keep taking ginger tea until physical complications emerge,' the veteran doctor suggested.
The Independence Award winning freedom fighter physician Zafrullah in an exclusive interview with New Age on Saturday at his hospital in the city also suggested going for testing COVID-19 infection if anyone developed any physical complications symptomatic of the disease.
'Maximum 5 to 6 per cent people may need ICU facilities but most of the people rush for it,' he said.
Ramon Magsaysay Award winner for Community Leadership, Zafrullah asked people to help each other in this moment of crisis.
The physician who treated injured freedom fighters during the Liberation War in 1971 at the then Bangladesh Field Hospital, said that an 80-year-old COVID-19 patient like him did not need any ICU for his treatment.
'A nebulizer, a pulse oximeter and a caregiver was all I needed to ensure treatment in a normal cabin at the Gonoshasthaya Nagar Hospital while none of the medicines were high-priced,' he said explaining how treatment commenced after he had contracted COVID-19 on May 24.
The rural health care facilitator Zafrullah suspected that Bangladesh might go through a difficult time grappling with the coronavirus situation in the upcoming days.
'But the way forward is never impossible,' he observed.
To fight the hard time, Zafrullah suggested that the government should opt for planned, cooperative management.
'Approaching the crisis in a haphazard manner may bring disaster,' he warned.
Right Livelihood Award winner Zafrullah asked the government to keep doctors, nurses and medical staff happy by providing them stipend at least Tk 50,000, free treatment and other facilities instead of giving money to the hotel owners and others.
'It is now very important to motivate the doctors and nurses to face patients with a smile,' he said.
Zafrullah, author of a number of books on public health and essential medicine, said that GK would start plasma supply in the next three weeks as plasma therapy is very much effective in treating the corona patients.
'I took plasma therapy too after my COVID-19 infection,' he pointed out.
The people's doctor said that the private hospitals doing unethical business with plasma therapy as they charge over Tk 35,000, while Dhaka Medical College Hospital charges Tk 5,000.
Zafrullah, who formulated the Bangladesh National Drug Policy, said, 'Antibody test was an important issue now, besides building a plasma bank, but the government is yet to give GK permission for that.'
He criticised the government saying that Bangladesh's entire COVID-19 response strategy was wrong.
Earlier in June 24, in a discussion, when asked about the government response to the COVID-19 outbreak he said, 'The government is chasing a black cat in a dark room.'
On the reopening of businesses and markets at present, he said, 'The government may open businesses even when the number of infections was rising, but it should ensure countermeasures first.'
Zafrullah, former general secretary of the DMCH central student union, said, 'Doctors are now highly polarised in Bangladesh due to their political affiliations as is the case with other professionals.'
'Partisan politics has destroyed professional bodies. The people who resort to such politics destroyed themselves, the nation and the health system a well,' he observed.
'I am against partisan politics of all professionals but not against politics. One may like any party,' he said.
Bangladesh Medical Association suspended his membership without giving him any right to explanation as they were aggrieved over the formulation of Bangladesh National Health Policy in 1990, Zafrullah said.
He said that he tried to protect the rights of all — doctors, patients and businesses, but the doctors did not realised it as they had no vision.
'Most doctors are myopic — they are unable to see the future,' he said.
Zafrullah said that he did not regret the incident anymore as he is the only Bangladeshi who is a fee-free member of the British Medical Association.
He requested doctors to read the medicine and health policy of Dr Zafrullah with a cool head.
'The policy solved the crises prevailing in this time,' he said.
Zafrullah said that he had been a man engaged in politics since his student life. He believes in socialism and considers himself a follower of Maulana Bhashani and Ismail Benarjee.
'I am a socialist, I do not have a single piece of land anywhere in the world,' he replied clarifying his own political position.
Zafrullah said that national unity was needed to fight the ongoing crisis.
He urged prime minister Sheikh Hasina to visit Khaleda Zia again as he felt it would also be a gesture of greatness.
Want stories like this in your inbox?
Sign up to exclusive daily email
More Stories from Interview