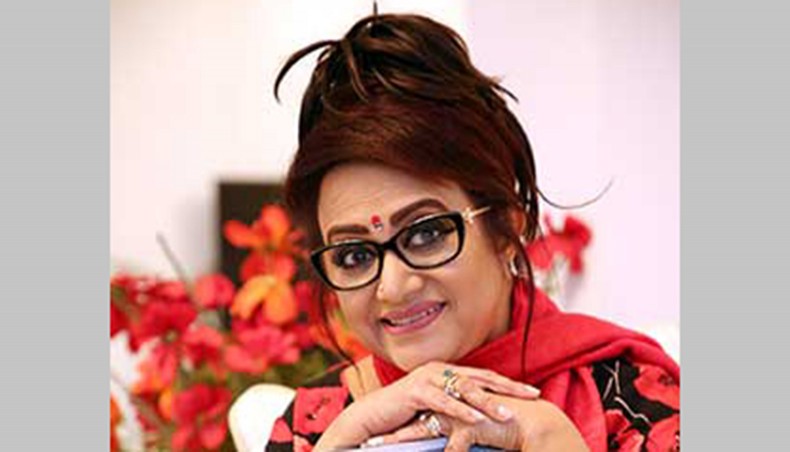 Renowned actress Farida Aktar Babita, who reigned the silver screen in the 1970s and 1980s, the most successful period of the local film industry in terms of popularity and commerce, observed that the contemporary industry was facing multi-dimensional problems and there was no easy way out.
She said that the turmoil that the film industry was now going through was the result of negligence of over two decades from the government, scarcity of talents in the industry, absence of big producers, industry's failure to adopt with the advancement of technology, adverse impact of cable TV network, and absence of adequate quality theatres.
'The government could not intervene accordingly to facilitate the film industry despite demands from the industry insiders of modernising the state-run service provider Bangladesh Film Development Corporation, developing quality shooting parks, inception of institutes for practical knowledge of the directors, artistes and technical crews,' she said.
Farida Aktar, better known as Babita, felt that there had been no timely step to save the industry. 'The government didn't even intervene when big producers started to withdraw from the industry and one after another cinemas stopped operation and converted into shopping malls,' she lamented.
Comparing the state of the movie industry during her time with the contemporary period, Babita said there were many talented and well-trained directors, artistes, cinematographers, editors, script writers, dialogue writers who always tried to give their best efforts to prove their pre-eminence. 'For which the viewers used to get numerous of quality productions and thus the producers and cinema owners could make handsome profit,' she said.
'Now a producer assigns a director to make a film copying and compiling scenes as well as playbacks from Indian films of his choice. There is no well-developed plot in those and no question arises of their artistic merit for they clearly lack talented directors, artistes and crews,' she said.
'I doubt whether these people really love the industry or have passion for their jobs. I feel it will not continue in this way for long,' she argued.
Her contention was clear, 'Why would a viewer go to a cinema to watch such a poorly made film which is nothing more than a compilation of scenes and insertion of songs of foreign films spending several hundred taka and wasting time on roadschoked with heavy traffic when they can easily watch the original foreign films online at home or even at the workstations?'
Add to that the fact, said Babita, that the condition of the cinemas was not good either. 'They are not comfortable inside our cinemas for lack of ventilation and quality seats. It is impossible to go to the washrooms even because of their condition. And outside there is this gathering of stalkers who make it difficult for any woman to visit the cinemas these days,' she explained.
She says that the middle class, the main viewers of films, could not be attracted even after the release of foreign Bangla, Hindi and English films in such cinemas.
Babita posed the basic question,'Why should people go to cinemas to watch films?'
As fora way out, she stuck to her initial line of argument: I want to be optimistic as I love the industry but there is no quick fix in sight, no easy solution.
Want stories like this in your inbox?
Sign up to exclusive daily email
More Stories from Interview