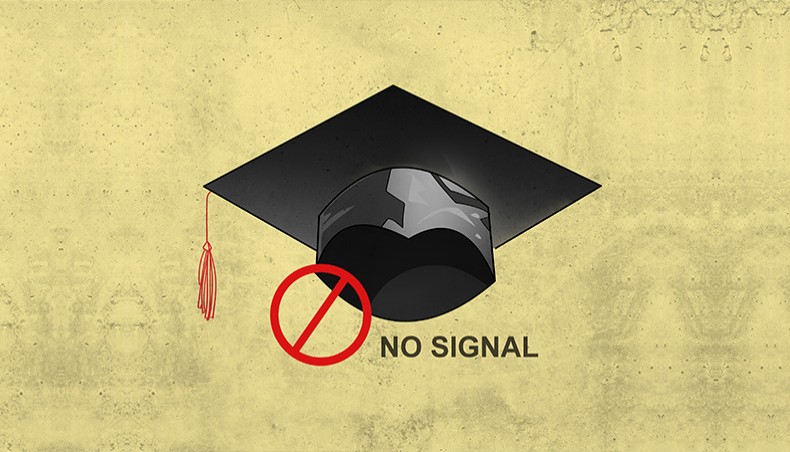 In mid-March, all educational institutes in Bangladesh were declared close to prevent the spread of COVID-19 among the students. Since then uncertainty prevails in our educational sector. Some institutes have attempted online education, but without a national policy they ran into many obstacles. Nasir Uz Zaman talked to educationalists, psychologists, IT experts and others involved in the education sector to get their perspectives on a possible policy on online education in Bangladesh.


We are yet to meet infrastructural requirements of online class for all students.
Koushik Chandra Howlader
Assistant professor, Noakhali Science and Technology University
FOR conducting online classes, some basic requirements must be available to the students and teachers. The first three primary requirements are digital devices, high-speed internet and a platform. Devices mean a personal desktop computer, laptop or at least a smartphone. Uninterrupted high-speed internet is also a primary necessity for online class as the users have to stream online videos or live videos. Without high-speed internet we might browse on the internet and use Facebook or WhatsApp but cannot stream live videos. The third necessary facility is a user-friendly platform or learning management system. There are many platforms available on the internet such as Google Classroom, Zoom, Moodle, et cetera. With a short training, students and teachers can use these platforms. This short training is also important for remote learning as it requires a little bit of digital literacy of the users. Actually, if these three things can be ensured for both teachers and students then online class could be started.
But the main point is that whether these basic requirements are available to the students and teachers or not. The Bangladesh Bureau of Statistics' Multiple Indicator Cluster Survey 2019 shows that only 37.6 per cent of households in the country have access to internet. It also found that only 5.6 per cent of households have a computer. I have already said that only internet connection is not adequate for remote learning. It requires uninterrupted high-speed internet. Truly, we are yet to meet infrastructural requirements of online class for all students. The policy makers need to address these issues to accommodate all the students or a large number of students will be left outside of the system.
Without proper student-teacher interaction, the learning will remain incomplete.
JainabTabassum Banu Sonali
Lecturer, Premier University
DUE to the outbreak of COVID-19, educational institutions had to start online classes in order to remain connected. Teachers are habituated mostly to physical classrooms where they have a direct connection to the students. It is the interactivity which turns a classroom into a lively place for learning. However, in the case of online class, it requires proper orientation and expertise. In Bangladesh, arranging a communicative virtual class is far from a reality.
There are two major ways of conducting online classes: live class and recorded class. The second one is not interactive but easy to access. They can easily set their own schedule and watch or listen to the recoded lectures anytime. But the main problem of this form is that teachers-students interact is off-limit. As a result, the learning process remains incomplete.
On the contrary, live class can facilitate teacher and students interaction. Teacher gives lecture, students take note and then ask questions. However, it requires proper orientation and expertise of a teacher besides an uninterrupted internet connection and adequate technical support to have interactive online class.
Besides technical support, proper grooming for online education is needed. In many cases, teachers are not tech-friendly and digitally well-versed. There are other factors like shyness and fear of being publicised which also obstruct teachers to be confident and interactive in online classes. If the teachers do not overcome these shortcomings, online classes cannot be interactive and engaging. Conducting online classes, therefore, requires professional grooming. It is high time to take proper steps to ensure interactive online classes. Highly comprehensive materials, proper time management and positive motivation can create an interactive environment in online classes too.
Authorities must need to address how the practical classes and lab works could be conducted through online classes.
Shamsun Nahar
Associate professor, Jahangirnagar University
MOST of the science based subjects — microbiology, pharmacy, chemistry, biochemistry, physics and many more are practical or laboratory oriented. It will be a real challenge to complete the courses without practical classes and lab works. Through online classes, it is not practically possible to conduct these mandatory requirements of the courses.
To talk about my department, department of microbiology, it is compulsory for the students to attend lab works. Let me give some examples to explain why it is unavoidable for the students. Identification, culture, preservation and isolation of bacteria are the basics of the microbiology. Students could not learn about the basics with only theoretical lessons and they must have access to laboratory demonstrations. Particular environment and equipment are needed to grow bacteria which is also dangerous to do outside the laboratory. To learn about the equipment and its usage, students must have practical knowledge. Most of the equipment is also costly for students to afford individually. Now, if a student completes her/his degree without these practical knowledge, how can they perform at their microbiology related workplace in the future? In professional life, they cannot work in the laboratory. It is said that a person cannot swim with theoretical lessons only, s/he must need practical lessons. Metaphorically, it is also applicable for most of the science based subjects including microbiology.
As the theoretical and practical lessons are equally required, authorities must need to address how the practical classes and lab works could be conducted through online classes. If it is about a short period of time, then we can complete the theoretical lessons through online classes and continue the practical classes when the university will open. But if the situation persists long-term, the authorities have to come up with possible solutions addressing this problem as it is not possible to conduct lab works through remote learning. Most importantly, we cannot skip practical classes.
For short-term, online class is a way to keep the learning process rolling for children, but it will not be constructive for special needs children in the long run.
Anjuman Parvin
Child development specialist and founder director of Honey Bees Preschool and Kindergarten
ONLINE class for children, particularly for preschool, kindergarten and special needs children, is not an alternative to traditional class. In the physical classroom, teachers can follow the fun learning approach and it is possible to ensure the required setting in the school. It is also important to make the learning process interactive so that children would not feel anxiety or fear of attending classes. But it is not practically possible to ensure such environment in online class.
When it comes to online class for special needs children, one must realise that they are not just like the regular students and they need special attention and care. Their learning process is different. Special needs children's require specially trained teachers. For example, it is easy for a regular student to hold a pen to write but it is not an easy task for special needs children to do. They do not know how to hold a pen and teachers have to repeatedly teach them the ways of holding a pen practically. Motor development is very much necessary for the physical development of special needs children. Motor development means the movement related activities or physical activities. For these activities, online classroom is not a suitable space.
Inferiority complex grows among the students.
Helal Uddin Ahmed
Associate professor, National Institute of Mental Health
ONLINE class is a new method of learning for the students of Bangladesh. During the COVID-19 outbreak, when physical distancing is recommended, remote learning is a welcome. But there are some major challenges ahead of us. First of all, in the present context of Bangladesh, online class is creating a new division in the education system. Our education system is already divisive with English medium, Bangla medium, Madrasa education and so on. Such division also shows our social and economic inequalities. For example, generally only the rich can avail private and English medium schools. There is a tendency to debate about the superiority of the different streams of education. Generally, people consider English medium as a better choice for child's future. As a result, inferiority complex grows among the students of other streams.
Now, the same thing is happening around online class. A particular section of students who are especially from the well-off families can avail the online class. Moreover, the feelings of anxiety are not only working among the students who cannot avail it but also working among the students who can avail it. The students who do not have the opportunity are in mental pressure about their academic future. Besides the students who are doing online class are in mental pressure to adjust themselves with this new method.
Another aspect of remote learning is about the integrity and quality of education. We have already heard of cases in which integrity was not maintained in online classes. Sometimes, parents are doing the home works or quizzes and examinations which will be a barrier for students' moral development in the future. Last but not the least, a physical classroom is not only a place for studying but a space to do different activities for development. Here students have the opportunities to do physical activities and social mixing. But when they are confined at their homes, they will not have these opportunities which will increase their anxiety further and create mental health issues.
In the present phase of online class, there is no doubt that online classes will increase educational expenses.
Md Niamot Ali
Lecturer, Daffodil International University
IN TERMS of engaging students in online classes, I have couple of observations. Online classes have started during the COVID-19 outbreak in the country. For Bangladeshi students, online class is quite a new phenomenon though it is practiced globally. If students and institutions have basic infrastructural facilities, then it would be easy to conduct online class on a regular basis.
In the present phase of online class, when it is just started and most of the students, teachers and the institutions are not well prepared for it, there is no doubt that online classes will increase educational expenses and will be an extra pressure on the students to buy basic necessities for online classes — devices, high-speed internet data packages, et cetera.
Online classes in Bangladesh will be costly unless the university authorities and the government take proper steps to provide basic infrastructural support to the students. Students are already paying their tuition fees. So, the institutions should distribute the required devices to reduce extra pressure on the students. Moreover, the government should work to arrange the infrastructural requirements for the online education. Raising the allocation of budget in the education sector is a must. If the university authorities and the government, ensure the basic tools for online classes then the cost of it might not become an extra pressure on the students. The University Grand Commission has a role to play here. Online education must be made economically viable for all.
Nasir Uz Zaman is a member of the New Age Youth team.
Want stories like this in your inbox?
Sign up to exclusive daily email