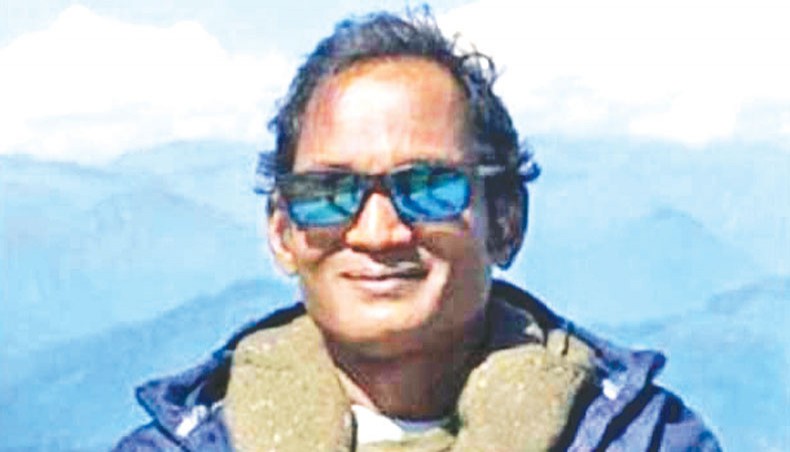 Cartoonist Ahmed Kabir Kishore's left ear was seriously damaged from custodial tortures as doctors said that the injury might take a long time to heal, said Kishore's relatives.
The cartoonist is now under treatment at a private hospital in the capital.
Not wanting to disclose the name of the hospital, the family said that he was in a trauma from the months in detention.
Kishore was released from the jail custody on Thursday, 10 months into detention following his arrest in a case under the Digital Security Act lodged against him with the capital's Ramna police station in early May 2020 for criticising the government.
Kishore's brother Ahsan Kabir said that the attending doctors had observed him and prescribed some primary tests.
Senior doctors will examine Kishore today and give their opinion about his physical condition and treatment, he added.
The tests he has been advised include check-up of his eyes, ears and legs that are in pain, Ahsan said.
He said that Kishore narrated his horrifying custodial torture experiences to them and that he was shown arrested three days after he was picked up from home.
The High Court on Wednesday granted the cartoonist a six-month bail as another accused in the case writer Mushtaq Ahmed died in Gazipur's high-security Kashimpur jail on February 25 after being denied bail six times.
Kishore was arrested on similar charges as writer Mushtaq that included propagating disinformation against the government on the social media in a case under the Digital Security Act.
Mushtaq, Kishore, Rastrachinta organiser Didarul Islam Bhuiyan and Dhaka Stock Exchange director Minhaz Mannan Emon were shown to be arrested on May 5, 2020 also on charge of tarnishing the image of the country's founding president Sheikh Mujibur Rahman.
The Rapid Action Battalion filed the case on the charges against 11 persons, including Mushtaq, Kishore, Didar, Emon, Netra New's journalist Tasneem Khalil, US-based journalist Shahed Alam, Saer Zulkarnain, administrator of 'I am Bangladeshi' Facebook page and Germany-based blogger Asif Mohiuddin.
Didarul received bail on September 14, 2020 and Minhaz Mannan on September 7 the same year.
Asked about whether they would take any legal move against the custodial torture on Kishore, his brother Ahsan said that their lawyer Jyotirmoy Barua had already appealed before a Dhaka court in this regard.
The family will give its consent to whatever steps the lawyer takes, he added.
About the custodial torture allegation, RAB legal and media wing director Ashique Billah told New Age that they were not taking these allegations into consideration and did have no plan to investigate the claims.
He said that the RAB followed all the legal requirements when Kishore was in their custody.
Want stories like this in your inbox?
Sign up to exclusive daily email
More Stories from Country