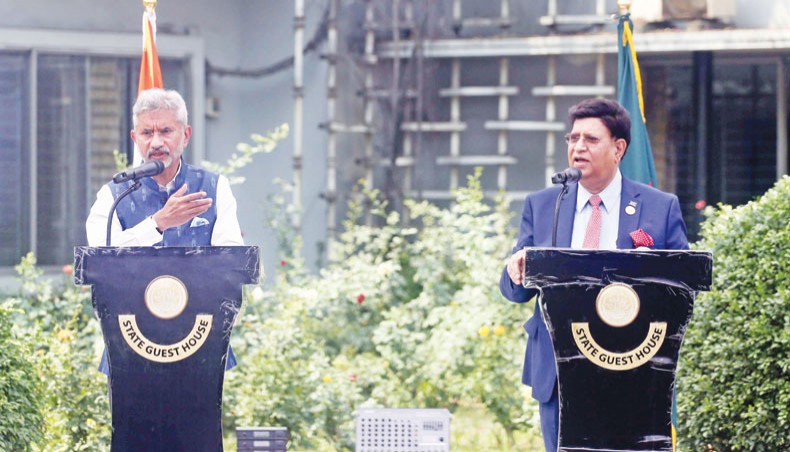 Indian external affairs minister S Jaishankar on Thursday emphasised making the border with Bangladesh free from criminal activities in order to stop deaths on both sides of the border.
Prime minister Sheikh Hasina said that the problems between neighbouring countries should be resolved through discussions and negotiations when Jaishankar called on her, according to state-run Bangladesh Sangbad Sangstha.
'Every death is regrettable,' Jaishankar said at a press conference in Dhaka, adding that many of the deaths 'are fairly deep inside India.'
The deaths along the border happened due to crimes and the two sides have discussed the matter, he said about his meeting with his Bangladesh counterpart AK Abdul Momen at the state guest house Padma.
'We discussed it as neighbours and friends and agreed that our objective should be "no crime, no death border",' he said, adding, 'If we can get it right, we can address the problem effectively.'
Jaishankar said that various issues between the two countries were still to be worked out.
Momen, however, did not say anything at the press conference about border killing.
Replying to a question on the possibility of signing an agreement on sharing waters of the Teesta River, Jaishankar said that the Indian government had not changed its position on the matter.
India on several occasions said that they would take steps to bring down the number of border killings to zero, assuring that their border force would not use lethal weapons on unarmed civilians.
India had backtracked in 2011 from signing an agreement on sharing waters of the Teesta mentioning 'domestic compulsions' in spite of concluding negotiations on signing the instrument in 2010.
According to insiders of the meeting on Thursday, the two ministers also discussed engagements on issues, including a framework agreement on six other rivers.
A technical committee of the Joint Rivers Commission exchanged data and information and prepared a draft framework of interim sharing agreements for the six rivers, Manu, Muhuri, Khowai, Gumti, Dharla and Dudhkumar, out of the 54 common rivers, officials told New Age.
The water secretaries of the two countries would meet soon to discuss the matters, said a Bangladesh official.
Describing Bangladesh as a key neighbour as regards to broader connectivity in India's 'neighbourhood first' and 'look-east' policies and also in the Indo-Pacific region, Jaishankar said that India felt that they should even involve third countries, including Japan, with which both Bangladesh and India have good relations.
Japan is involved in connectivity projects in the Bay of Bengal, he mentioned.
'Let's look at connectivity. If we get connectivity right between India and Bangladesh, I can tell you, the entire logistics and whole geo-economics of the region will change, Bay of Bengal we look will be very different,' he said.
The Indian minister said that the two countries were engaged to expand relations on all dimensions encompassing security, trade, transport, connectivity, culture, energy, joint development of shared resources and defence.
The two sides also discussed scopes for showing flexibility and shortening the bureaucratic processes in using the lines of credit extended by India to Bangladesh, said an official.
Jaishankar inaugurated a new cultural centre to be operated by the High Commission of India in Dhaka.
He called on prime minister Sheikh Hasina before leaving Dhaka on Thursday evening.
The PM's press secretary, Ihsanul Karim, quoted her as saying, after the meeting with Jaishankar at her official Ganabhaban residence in the capital, 'There might have problems among the neighbouring countries. We believe that the problems should be resolved through discussions and negotiations.'
At last least 48 Bangladeshis were killed by India along the border in 2020.
Over the past 10 years, the two countries have signed memorandums of understanding opening four lines of credit worth $ 8 billion, mostly loan, by India to Bangladesh to implement various projects and procurement plans in the areas of connectivity to improve networks of roads, railway, inland waterways, ports, shipping, power and energy, telecommunications, defence, ICT, education and health.
Want stories like this in your inbox?
Sign up to exclusive daily email
More Stories from Foreign affairs