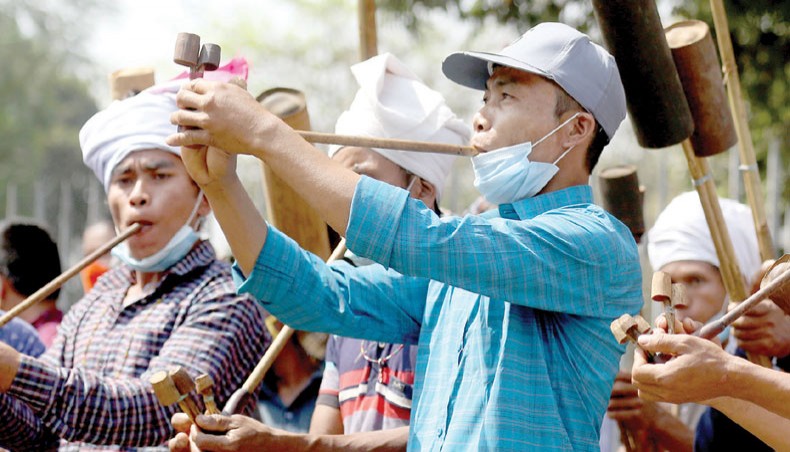 A dozen of Mros played a single note on their ploong, a traditional musical instrument, over and over again as they walked down the streets of Dhaka on Tuesday protesting against their potential eviction to make way for the construction of a five-star hotel in Bandarban.
About 70 Mros travelled all the way from Naitong hill in Chimbuk of Bandarban to participate in the protest organised under the banner of 'Movement to protect Mro land in Chimbuk pahar' at Shahbagh in the morning.
'We never thought we would have to come to Dhaka to play our flutes to protest against such a move,' said Men Ching Mro, one of the Mro protesters on their maiden visit to the capital.
Men Ching gave his speech in his mother tongue which was later translated in the solidarity rally before the protest procession.
'It would be far better an option if you (the government) kill us all rather than driving us away from our homes, thereby taking away our sources of livelihood and life,' said Men Ching.
Bangladesh Adivasi Forum general secretary Sanjeeb Drong said that it was the first time in more than three decades that he heard a Mro deliver speech in Dhaka in Mro language.
'We are not in the habit of listening to the members of our minority communities. Let us listen to them carefully and spread the word that The Mros are fighting to protect their habitat, their forest,' said Sanjeeb Drong.
The Mros said that they face water scarcity half the year because of the draining of water from fountains by the authorities to facilitate tourists in Nilgiri, only three kilometres from where the five-star hotel and the amusement park have been planned.
Protesters alleged that the hotel would displace six Mro villages and affect the livelihoods of 10,000 Mros in 116 other villages.
The hotel — Marriott Hotels and Resorts — is being built by R&R Holdings Ltd, a subsidiary of Shikder Group, in association with the help of a security force.
BELA chief executive Syeda Rizwana Hasan, who hoped that the authorities would heed people's voices, said that there is no shame in surrendering to public demand for a democratic government. 'The state is constitutionally bound to protect the environment and ecology, which is also the demand of the Mros,' she said.
Lawmaker Fazle Hossain Badsha, the convener of the parliamentary caucus on indigenous affairs, said that Bangladesh slipped into the grip of 'neo-Rajakars' who are grabbing ethnic minority lands and looting banks.
'Bangladesh is not anybody's zamindari and looters and grabbers will not be tolerated,' said Badsha.
The protest was also attended by former National Human Rights Commission member Nirupa Dewan, writer Rahnuma Ahmed, Communist Party of Bangladesh leader Ruhin Hossain Prince, Chittagong Hill Tracts Citizens' Committee president Gautam Dewan, Manusher Jonno Foundation executive director Shaheen Anam and ethnic minority leaders Rabindranath Soren and Reng Young Mro, among others.
Want stories like this in your inbox?
Sign up to exclusive daily email
More Stories from Country