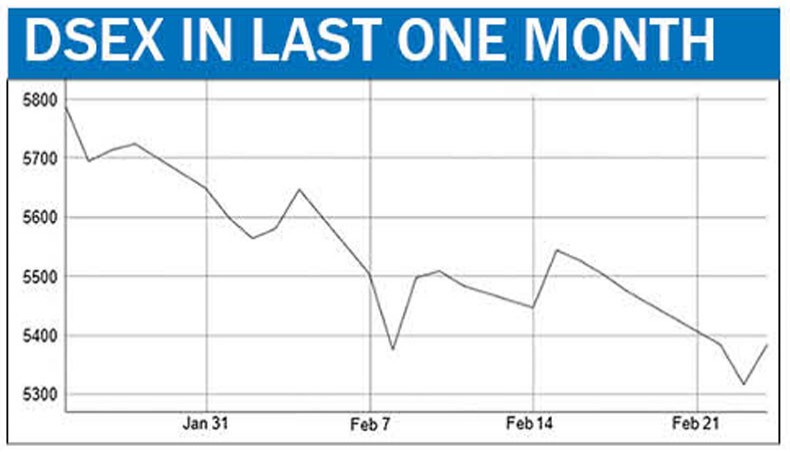 Dhaka stocks on Wednesday snapped a five-day losing streak as a section of investors went for bargain hunting.
DSEX, the key index of the Dhaka Stock Exchange, soared by 1.27 per cent, or 67.92 points, to close at 5,385.64 points on Wednesday after losing 127.5 points in the previous five sessions.
The market started gaining from the very beginning of Wednesday's session and climbed more firmly as the session progressed as a section of investors went for bargain hunting after the recent rout, market operators said.
They said that share prices of many companies dropped sharply in the recent downward trend that attracted some investors to invest in the market.
Though the DSEX finished on a high note, the investors' participation on the trading floor remained low.
Turnover on the DSE declined to Tk 530.35 crore on Wednesday compared with that of Tk 591.81 crore in the previous session.
Market operators said that many investors were doubtful about making any investment move amid the downward trend and preferred to observe the market movement from the sidelines.
The market has been in the doldrums for more than a month due to a host of reasons, including the setting of ceiling on margin loan rate, approval of a number of companies' initial public offerings in a short period of time, dependence on a few companies and repeated changes in regulatory policies.
Only six companies accounted for 51 per cent of Wednesday's total turnover while BEXIMCO alone logged 23.44 per cent with its shares worth Tk 124.3 crore being traded on Wednesday.
Share prices of around 85 companies have got stuck in their floor prices, affecting the market badly, market operators said.
The Bangladesh Securities and Exchange Commission on March 19, 2020 introduced the floor price system to bar companies' share prices from falling below a certain level amid the COVID-19 outbreak.
EBL Securities in its daily market commentary said, 'The market opened higher with reviving spirit and the upbeat trend persisted till the closure as investors desired to take afresh position on low-priced scrips since most of the stocks observed price erosion in the past few trading sessions.'
Share prices of eGeneration Limited, which made its debut on Tuesday, shot up by the maximum limit allowed on on Wednesday to close at Tk 22.5 a share.
Share prices of all the sectors increased on the day.
Average share prices of engineering, miscellaneous, general insurance and pharmaceutical sectors advanced by 3.5 per cent, 3.1 per cent, 2.4 per cent and 1.8 per cent respectively.
Of the 339 scrips traded on the DSE on Wednesday, 35 declined, 190 advanced and 118 remained unchanged.
DS30, a composition of 30 large capitalised companies, advanced by 1.92 per cent, or 38.83 points, to close at 2,056.37 points on the day.
Shariah index DSES also shed 1.15 per cent, or 13.97 points, to settle at 1,220.69 points.
Robi, British American Tobacco, Beximco Pharmaceuticals, LankaBangla Finance, Walton Hi-Tech Industries, Beacon Pharmaceuticals, Square Pharmaceuticals, Summit Power and Energypac Power Generation Company were the other turnover leaders on the day.
Want stories like this in your inbox?
Sign up to exclusive daily email