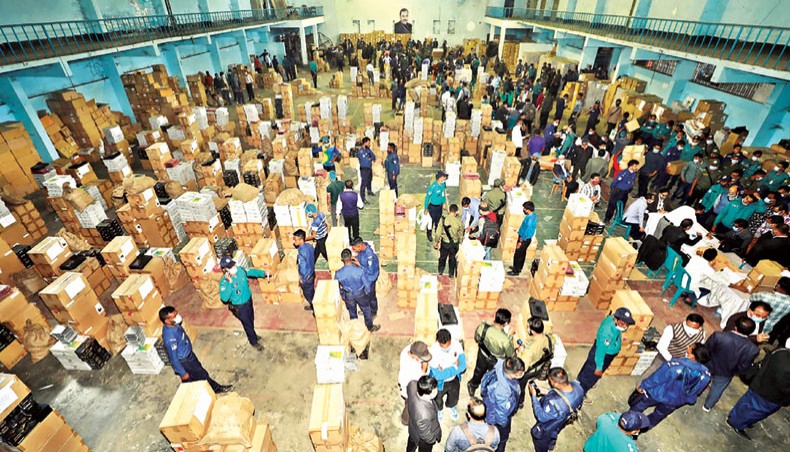 The Chattogram City Corporation is set to hold its mayoral election today amid continued arrests of opposition activists, allegations of threat by opposition polling agents and fear of violence.
The fear of violence increased as in the last few days there have been several incidents of clashes between the activists of the ruling Awami League-backed councillor candidates and its rebel candidates.
The law enforcement agencies already marked 429 polling centres among 735 as important or risky.
These polling centres have been marked as important due to the previous history of violence and adversity among the contesting candidates, said police.
Addressing a press conference in Dhaka, Election Commission secretary Md Alamgir told reporters that the commission has already taken necessary steps to ensure a free and fair election in the port city of Chattogram.
He said that the commission ensured a level playing field for all candidates.
Seven candidates are running for the mayoral post including Awami League's Rezaul Karim Chowdhury, Bangladesh Nationalist Party's Shahadat Hossain, Bangladesh Islamic Front's MA Matin, National People's Party's Abul Manzur, Islamic Front Bangladesh's Wahed Murad, Islami Andolon Bangladesh's Jannatul Islam and independent candidate Khokon Chowdhury.
There are 172 councillor candidates for 41 general wards and 57 reserve seats for women candidates.
A returning officer of the election, Mohammad Hasanuzzaman, said that all preparations have been completed and all electoral equipment, including electronic voting machines, have been sent to polling centres.
He urged voters to exercise their voting rights without any fear.
On Tuesday, BNP mayoral candidate Shahadat Hossain alleged that the police arrested 56 polling agents on the day before the election and threatened others not to go to the polling centres.
Shahadat Hossain also filed a complaint to the Election Commission in this regard.
In the evening, AL-backed mayoral candidate Rezaul Karim Chowdhury said, 'The BNP candidate is making a last attempt to thwart the election by raising baseless allegations. They wanted to disrupt the election by creating a chaotic situation.'
'I am hundred per cent optimistic about winning. I am sure people will vote for me today,' Rezaul added.
Addressing a press conference in Dhaka, BNP senior joint secretary general Ruhul Kabir Rizvi Ahmed on Tuesday said that police had filed at least 1,000 cases against BNP leaders and activists before the election.
He said that 69 leaders and activists of the BNP were picked up by the law enforcers in the electoral area though no Awami League leaders or activists were arrested for violating the electoral code of conduct.
Chattogram Metropalitan Police commissioner Saleh Mohammad Tanvir dismissed the BNP candidate's allegations.
At a briefing on Tuesday afternoon, the CMP commissioner said that the allegations made by the BNP about the arrest of their leaders and activists are not at all correct.
'We are conducting regular police activities. I have come to know that those who were arrested are accused in one or more cases or there were warrants against them,' he added.
He said that a total of 18,000 law enforcers were working in the elections.
'No outsider will be allowed near the polling area. No one can influence the polls. We will not tolerate that as there is no holiday on Wednesday,' he said.
The Election Commission has decided not to declare any general holiday on the Election Day on Wednesday.
A total of 25 platoons of Border Guard Bangladesh troopers were deployed in Chattogram city along with 9,000 police personnel ahead of the mayoral polls.
The BGB troopers have been patrolling the city since Monday night.
A total of 177 factories under the EPZ and KEPZ will remain shut on the election day. About 300,000 workers of those factories will enjoy a holiday, said the managing director of CEPZ.
Earlier on Monday, addressing a press conference at the Nirbachon Bhavan in Dhaka, election commissioner Mahbub Talukdar said that the commission could not avoid the responsibility for any untoward incidents during the polls.
'I fear violence in Chittagong city because two lives have already been lost there. I have said it before and would say it again that life is worth more than any election,' he said.
He also added that the Chattogram city polls were the most important election for the rest of the tenure of the current Election Commission.
'If a conducive environment does not exist, free, fair, lawful and acceptable elections are not possible,' he said.
According to the Election Commission, 19,36,606 voters will vote, of which 9,46,673 are female and 9,92,033 are male.
The voting will start at 8:00am and it will continue till 4:00pm without a break.
EVM voting will be held in 4,886 polling booths of the total 735 centres in 41 wards.
Want stories like this in your inbox?
Sign up to exclusive daily email
More Stories from Politics