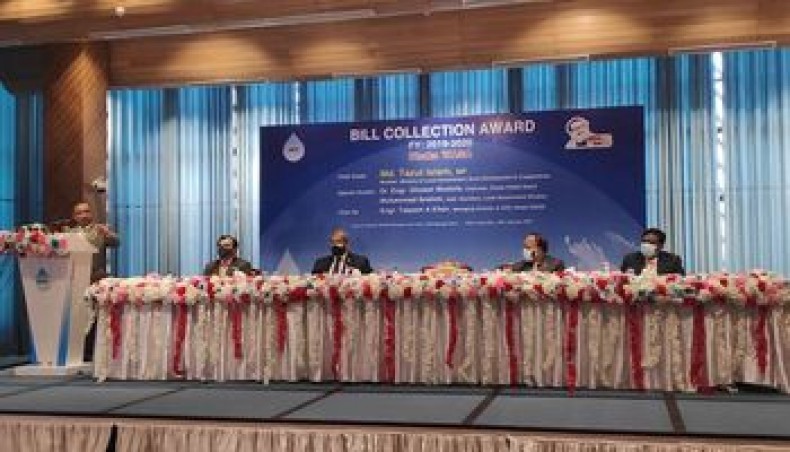 Dhaka Water Supply and Sewerage Authority is assigned to supply drinkable water, not drinking water, said local government and rural development minister Tazul Islam at a programme at WASA building in Dhaka on Saturday.
He claimed that no water supplying agency of the world supply drinking water to the clients.
He was addressing a Dhaka WASA programme, which was organised to distribute awards among top water bill collector banks.
Addressing the programme as the chief guest, Tazul Islam said that the lone water supplying government agency supplies drinkable water.
'City dwellers can drink WASA supplied water after boiling or filtering it; so it is drinkable water,' he explained.
'Dhaka WASA water is not drinking water, rather drinkable,' he added.
He said that it was not the responsibility of the agency to supply drinking water, rather supplying usable water was its responsibility.
He said that they didn't advise their customers to drink the Dhaka WASA supplied water directly as the water reached them after travelling thousands of kilometres of underground pipes.
He said that Dhaka WASA produces surplus quantity of water and ensures water supply to all.
'Dhaka WASA has improved the quality of its water a lot and it is producing water maintaining quality,' he said.
Dhaka WASA managing director Taqsem A Khan said that Dhaka WASA is producing 264 crores of litres of water every day with only 5 per cent system lose.
WASA board chairman Gholam Mostofa said that Dhaka WASA would pay its employees according to its own pay scale.
First Security Islami Bank Ltd won the first prize, Premier Bank Ltd won the second prize and Southeast Bank won the third prize in collecting water bills.
Dhaka WASA, however, awarded all 34 banks for collecting water bills from customers.
Want stories like this in your inbox?
Sign up to exclusive daily email
More Stories from Country