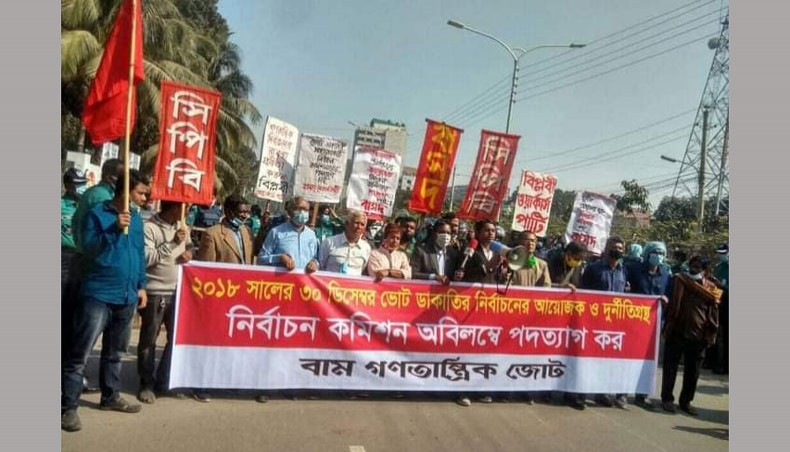 Left Democratic Alliance on Wednesday called on president M Abdul Hamid to dissolve the Election Commission and forming a supreme judicial council.
The call came from a rally in front of the Nirbachan Bhaban in Agargaon area hosed by LDA, a combination of seven left leaning political parties.
Communist Party of Bangladesh presidium member and a coordinator of LDA Abdullah Kafee Ratan said that the EC had failed to hold free and fair elections in Bangladesh. 'It is also involved in alleged corruptions,' he said.
So, they had lost their moral rights to continue the commission, he said.
Chaired by Abdullah Kafee Ratan, the rally was addressed, among others by CPB central leader Ahsan Habib Lablu, Socialist Party of Bangladesh leader Khalequzzaman Lipon, SPB, Marxist, central leader AKM Zahirul Islam, Ganosamhati Andolan central leader Bacchu Bhuiyan, United Communist League central leader Nazrul Islam and Democratic Revolutionary Party central leader Shahidul Islam Sabuj.
LDA also held protest rallies in front of the EC offices in district levels across the country.
Want stories like this in your inbox?
Sign up to exclusive daily email
More Stories from Politics