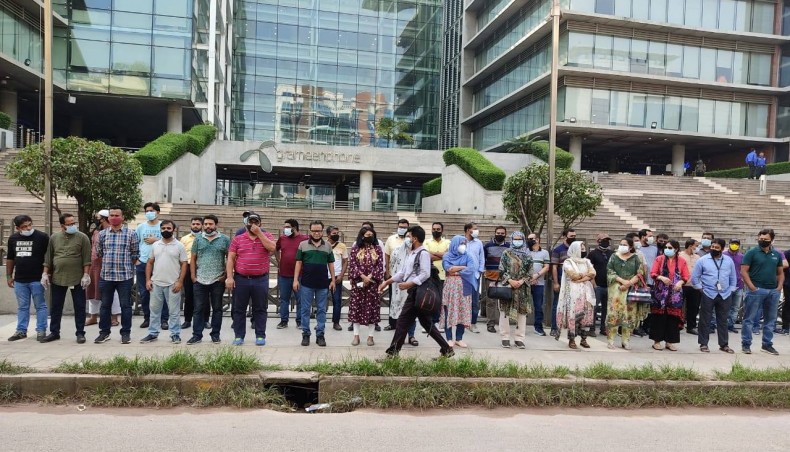 A section of employees of the country's leading telecom operator, Grameenphone, formed a human chain in front of the company's headquarters in the capital on Wednesday to protest against the termination of GP Employees Union general secretary Mia Mohammad Shafiqur Rahman Masud.
GP employees who participated in the human chain said that the termination was ill-motivated and a testament to the misuse of Section 26 of the labour act.
They also said that Masud had been playing a vital role in preventing GP from acting on its plan to terminate a huge number of its employees by sending them to home offices.
Masud was identified as the main obstacle to the implementation of GP's plan to sack employees in large numbers and that is why the authorities have fired him first for smooth implementation of its ill‑motivated termination plan, they said.
In a letter to Masud issued by GP's chief human resource officer Syed Tanvir Husain on Tuesday, the telecom operator said, 'This is for your kind information that your service is no more required in Grameenphone Limited.'
'Therefore, your employment with the establishment is hereby terminated with immediate effect from the date of this notice,' it said.
GP also stated that the termination notice was issued in line with Section 26 of the Bangladesh Labour Act, 2006.
It further added that the legal dues would be paid within 30 working days from the effective date of termination.
'GP maintains employment terms and conditions following the applicable laws of the land,' said a statement on Wednesday.
It said that the separation of the employee had taken place in accordance with the terms of employment and the applicable laws of the land.
Want stories like this in your inbox?
Sign up to exclusive daily email
More Stories from Telecom