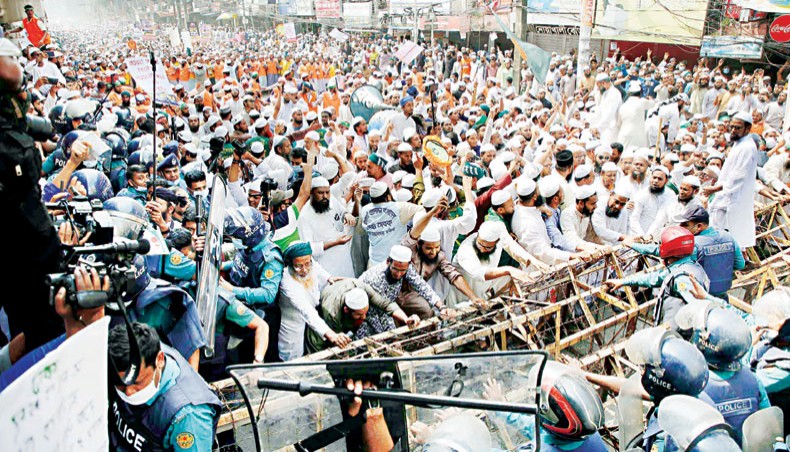 Thousands of leaders and activists of Islami Andolan Bangladesh on Tuesday demonstrated in Dhaka against the French president following his backing for the Charlie Hebdo caricatures on the Prophet Muhammad.
The Islami party protesters brought out a procession from the Baitul Mukarram National Mosque around noon and carried posters and chanted slogans against France and its president and called for boycott of French products if the French president Emmanuel Macron failed to apologise for his comments and withdraw the caricatures immediately.
The protesters brought out the processions in a bid to lay siege to the French embassy at Baridhara Diplomatic Enclave in Dhaka, which is about 10 kilometres from Baitul Mukarram National Mosque from where they began their procession.
The police barred the protesters' way at Shantinagar after they advanced about one kilometre,
stopping their procession there.
The protesters held a brief rally at the spot before ending their day's protest.
Addressing the rally, IAB amir Syed Muhammad Rezaul Karim urged the Bangladesh government to issue a strong official protest against what they dubbed as 'blasphemous acts' of France and demanded that a motion be adopted in the Jatiya Sangsad condemning the recent acts.
He alleged that France had engaged itself in a serious uncivilised game against Islam in the name of freedom of speech and that their aggressive activities proved that the French government had announced war against Islam and Muslims.
If otherwise, he warned, France and its products would be boycotted.
He announced countrywide demonstration for tomorrow and protest processions from mosques of the country on October 30 to protest against the republishing of the cartoons on the prophet and the French Government's extending its support to it by not condemning it in the name of freedom of expression and a rally against statues and idols at the capital's Dholaipar on November 13.
In Chattogram, Hefazat-e-Islam Bangladesh brought out a procession from Hathazari Madrassah which ended in a short rally at the same place after parading adjacent roads in the afternoon.
Addressing the rally, the organisation secretary general Zunayed Babunagari announced countrywide protests for Friday.
In recent weeks, French president Emmanuel Macron accused Muslims of 'separatism' and described Islam as 'a religion in crisis all over the world,' coinciding with the republication of cartoons on the Prophet Muhammad and Islam by Charlie Hebdo, a French satirical weekly magazine, according to international media.
The French president defended Charlie Hebdo's right to publish the cartoons which led to an outcry among the Muslims across the world.
Want stories like this in your inbox?
Sign up to exclusive daily email
More Stories from Foreign affairs