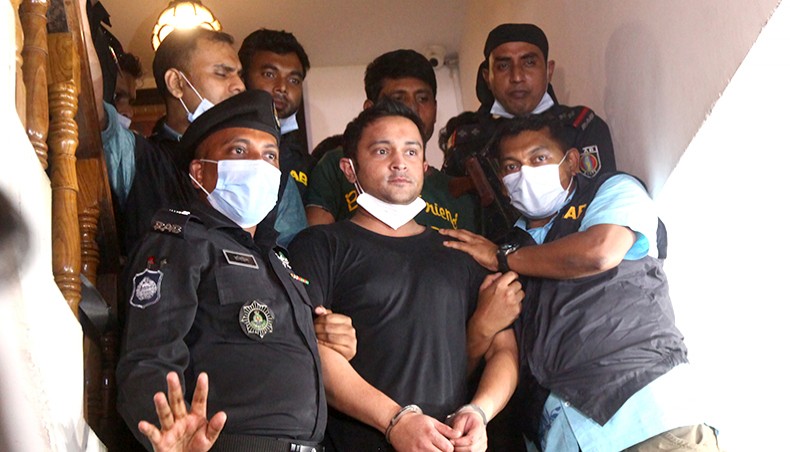 A Rapid Action Battalion mobile court on Monday jailed Irfan Selim, son of ruling Awami League's Dhaka-7 lawmaker Hazi Selim, and his bodyguard Zahidul Islam for one year each hours after they were prosecuted for assaulting a navy officer in the capital.
They were jailed for six months each for alcohol consumption, and another six months each for illegally possessing walkie-talkies, said RAB spokesperson Lieutenant Colonel Ashique Billah
RAB carried out an over nine-hour-long raid from 12:30pm on Haji Selim's nine-story building in Debidas Gath Lane at Chawkbazar in Old Dhaka where they seized at least 38 walkie-talkie sets, three Very High Frequency sets, two pistols, two handcuffs, a router, six bottles of alcohol, a shooter gun, and 400 Yaba pills.
Irfan and his bodyguard were sent to Dhaka Central Jail in Keraniganj later, said RAB executive magistrate Palash Kumar Bosu who was in the raid.
Earlier on the day, home minister Asaduzzaman Khan said that those involved in the attack on the navy officer in the city would not be spared.
'None will be spared. Those who will commit crimes must be punished, no matter who they are. Public representatives or anyone committing crimes will be brought to justice,' the minister said while talking to journalists at his Dhanmondi residence in the morning.
The RAB also filed two cases against Irfan on charge of carrying illegal firearms and possessing narcotics, Ashique said.
The raid came after a case was filed against them for assaulting a navy officer and his wife on Sunday.
Navy Lieutenant Wasif Ahmed filed the case with the Dhanmondi police station against Irfan, also the councillor of Dhaka South City Corporation ward 30, and several others for assaulting him after a spat at Kalabagan crossing in the capital.
The Dhanmondi police arrested Mizanur Rahman, driver of Irfan, who allegedly beat Wasif and his wife as his motorbike crashed with the car of lawmaker Selim.
Selim was not in the car, which carried the sticker of a Member of Parliament.
In the case, the navy officer said that he was beaten indiscriminately on Sunday night by associates and bodyguards of Irfan Selim near the Kalabagan crossing during an argument over his motorbike crashing with the car of lawmaker Selim.
The officer faced further torture and oral abuses when he gave his identify.
Irfan Selim, his bodyguard Zahidul, AB Siddique Dipur, driver Mizanur were named accused in the case and two to three other unnamed were charged in the case statement as well, said police.
Meanwhile, a Dhaka court on Monday placed Mizanur on a one-day remand in a case over the assault of the Navy official.
Dhaka Metropolitan Magistrate Abu Sufiyan Mohammad Noman passed the order when Dhanmondi police station inspector Ashfaq Rajib, also investigation officer of the case, produced him before the court in the afternoon, seeking a five-day remand.
The VHF sets are connected to repeaters using which one can talk on a 5-10km network without being tracked, said RAB executive magistrate Sarwoer Alam, who led the raid.
The seized handcuffs attached to a briefcase are usually used by the Special Security Force in the county, he added.
Irfan, who is also son-in-law of Awami League's Noakhali-4 constituency lawmaker Mohammed Ekramul Karim Chowdhury, might have been using these for criminal purposes, said Sarwoer, adding that his associates might abduct people or extort money from them posing as members of law enforcement agencies.
The RAB mobile court also unearthed an alleged torture cell of Irfan at the top floor of Madia Ashique Tower, which is owned by Haji Selim and his family, in the area.
The raid was continuing on the cell when this report was filed at 9:30pm.
Completing the raid on the nine-storey Chan Sarder Dada Bari, the RAB mobile court conducted another raid on the top floor of 16-storey Madina Asique Tower in the adjacent area where they unearthed an alleged torture cell of Irfan and recovered more walkie-talkies, knives, ropes used to tie people, and handcuffs.
Sarwoer said that there were walkie-talkie bases in the Debidas Ghat Lane building which Irfan might have been using for establishing his unauthorised communication network in Old Dhaka.
The RAB team also found a control room on the fourth floor of the nine-story building from where Irfan allegedly monitored his illegal activities.
There was a big-screen LED TV in the control room which was connected to some close-circuit cameras in the Chawkbazar area and other parts Old Dhaka and Irfan carried out his monitoring activities from his control room, said Sarwoer.
In a media briefing, Ashique Billah said that the walkie-talkies seized were banned for public use, only law enforcement agencies and some government offices were authorised to use such walkie-talkies while Irfan imported these illegally and had been using for criminal purposes.
Using VHF sets needs permission from the Bangladesh Telecommunication Regulatory Commission but Irfan did not have any such permission, the RAB officer added.
Establishing such communication networks are also breach of BTRC rules and regulations and the RAB will request the relevant agency to take legal actions, said a senior RAB officer.
When asked whether any legal action would be taken against lawmaker Haji Selim as the narcotics, arms and other illegal items were seized from his house, RAB spokesperson Ashique said that they were acting on a specific allegation and it was against Irfan Selim.
No family members of Haji Selim were available in the buildings during the raids.
New Age tried to reach family members of Irfan, Haji Selim's private secretary and assistant private secretary and his eldest son Sulaiman over cellphone calls and texts, but none responded.
Local Government Division secretary Helal Uddin Ahmed told New Age that Irfan would be suspended as Dhaka south city councillor as per the law.
The division will take a decision after collecting relevant documents from the RAB and the DSCC, he added.
Want stories like this in your inbox?
Sign up to exclusive daily email
More Stories from Country