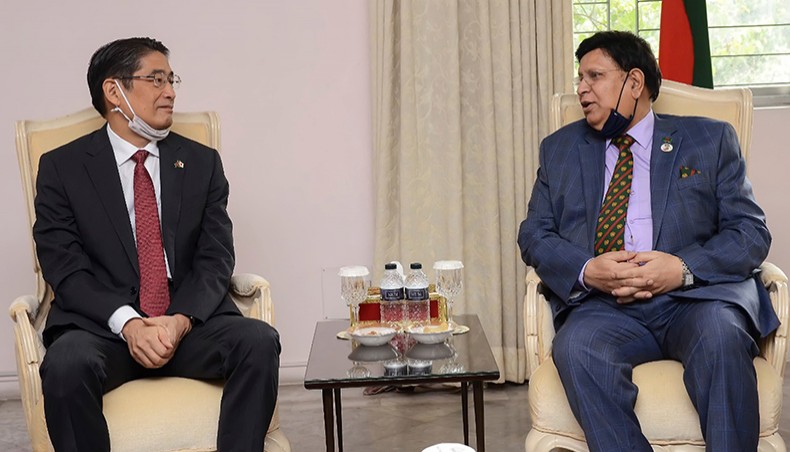 Japan and Egypt on Sunday assured Bangladesh that the two countries would extend their support for ensuring sustainable repatriation of displaced Rohingya people to Myanmar.
Japanese ambassador Naoki Ito and Egyptian ambassador Walid Ahmed Shsmseldin gave the assurances when they separately called on foreign minister AK Abdul Momen at his office in Dhaka.
Stressing the need to ensure peace, stability and prosperity of the region, the minister requested the Japanese ambassador to leverage his country's relations with Myanmar to create a conducive environment for an early, safe, sustainable and dignified repatriation of Rohingyas.
In response, Naoki referred to Japanese foreign minister Motegi's recent visit to Myanmar where he called upon the Myanmar authorities for an early repatriation of Rohingyas.
He assured Momen that the Japanese government would continue to pursue the matter.
The minister also requested Naoki to encourage Japanese entrepreneurs to invest in two special economic zones in Araihazar (Narayanganj) and Gazipur to take advantage of Bangladesh's high corporate profitability, business-friendly policies, massive domestic market and strategic access to key markets across the world.
In his meeting with ambassador Walid, the minister sought Egyptian support for Gambian efforts at the International Court of Justice for making perpetrators of crimes committed against the Rohingya community accountable.
The Egyptian ambassador assured the minister that his country would continue to support efforts for sending back Rohingyas to Myanmar.
Momen also requested the ambassador to encourage Egyptian entrepreneurs to investment in Bangladesh.
They also discussed about the potentials of exchange of business delegation between the two countries.
Some 8,60,000 Rohingyas, mostly women, children and aged people, entered Bangladesh fleeing murder, arson and rape during 'security operations' by the Myanmar military in Rakhine, what the United Nations denounced as ethnic cleansing and genocide, beginning on August 25, 2017.
The latest Rohingya influx took the number of undocumented Myanmar nationals and registered refugees in Bangladesh to over 1 million, according to estimates by UN agencies and the Bangladesh foreign ministry.
Want stories like this in your inbox?
Sign up to exclusive daily email
More Stories from Foreign affairs