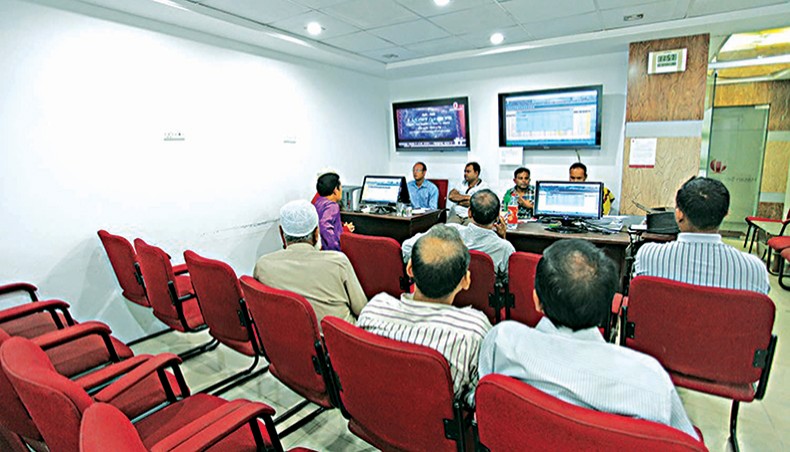 More than 50 per cent of the Dhaka Stock Exchange brokerage houses trade shares worth below Tk 1 crore daily that has led the houses to struggle with poor earnings for years.
Stock market woes, lack of investors' trust, absence of product diversification and rise of business expenses have weighed on the brokerage business heavily, stockbrokers said.
They said that the Bangladesh Securities and Exchange Commission's recent move to issue new Trading Right Entitlement Certificate (TREC), also known as brokerage business licence, would worsen the situation.
Shakil Rizvi Stock Limited managing director Shakil Rizvi said that profits of a brokerage house mainly came from the daily turnover.
But, it can also earn money from dealer investment, initial public offering subscription and trading shares from its own account, he said.
If a brokerage house trades shares worth Tk 1 crore daily, it can earn just Tk 4 lakh monthly on average from the turnover after paying tax, said Shakil, also a shareholding director of the DSE.
He said that the brokerage house had to bear expanses including staff salary and rent from the income that left little money to save.
The brokerage fees on investors for share transactions range from 0.25 per cent to 0.50 per cent.
Out of the 242 brokerage houses in the DSE, the daily average turnover of 133 brokerage houses was below Tk 1 crore and that of 71 houses below Tk 50 lakh, according to the DSE data covering the last two financial years.
The daily average turnover at the market remained around Tk 500 crore for the last nine years.
BSEC chairman Shibli Rubayat-Ul-Islam told New Age that the brokerage business depended on the brokers' capability of increasing turnover.
Asked about the possible adverse impact of new TREC on the brokerage business, the BSEC chairman said that the total number of TREC holders would not exceed 250.
The TREC holders who have lost their licences for various reasons would be replaced with new ones, he said.
DSE Brokers Association president Sharif Anwar said that the investors' confidence was eroding as the market had remained at the same point for a decade.
There was no new product, no IPO of multinational company or state-run good company after bubble and bust in 2009-10, he said.
Share prices of fundamentally weak and non-performing companies are surging while good companies rise at a snail pace that hit genuine investors badly, he said.
Only 38 brokerage houses in the DSE are trading shares worth over Tk 3 crore daily.
LankaBangla Securities Ltd held the first position with the daily average turnover of Tk 35.77 crore in the last two financial years.
The daily average turnover of BRAC EPL Stock Brokerage was Tk 28.93 crore, City Brokerage Tk 24.05 crore, ICB Securities Trading Company Tk 22.37 crore, IDLC Securities Tk 19.70 crore, UCB Capital Management Tk 17.32 crore, EBL Securities Tk 15.65 crore, MTB Securities Tk 9.73 crore, UniCap Securities Tk 9.65 crore, Sheltech Brokerage Tk 9.55 crore, United Securities Tk 8.91 crore, Shanta Securities Tk 8.35 crore, United Financial Trading Co Tk 7.98 crore, Bank Asia Securities Tk 7.93 crore and International Leasing Securities Tk 7.58 crore.
The daily average turnover of AIBL Capital Market Services was Tk 7.3 crore, Commerce Bank Securities and Investment Tk 6.65 crore, Royal Capital Tk 6.5 crore and Shahjalal Islami Bank Securities Tk 5.98 crore, BD Sunlife Securities Tk 5.62 crore, Dhaka Bank Securities Tk 5.33 crore, Apex Investment Tk 4.96 crore, BLI Securities Tk 4.86 crore, SIBL Securities Tk 4.78 crore, AB Securities Tk 4.53 crore, NCCB Securities and Financial Services Tk 4.51 crore, Premier Bank Securities Tk 4.44 crore, BD Finance Securities Tk 4.31 crore, Multi Securities & Services Tk 4.28 crore, Globe Securities Tk 4.18 crore, Phoenix Securities Tk 4.1 crore, Mercantile Bank Securities Tk 3.98 crore, Island Securities Tk 3.96 crore, Moshihor Securities Tk 3.95 crore, IIDFC Securities Tk 3.94 crore, NLI Securities Tk 3.86 crore, Shakil Rizvi Stock Tk 3.42 crore and Mika Securities Tk 3.17 crore.
Want stories like this in your inbox?
Sign up to exclusive daily email