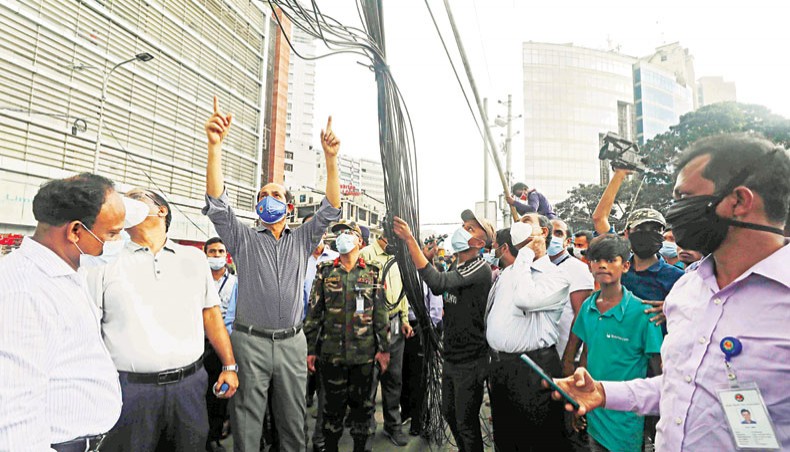 Overhead cables are being replaced at places around Dhaka making the city ugly again soon after the Dhaka South City Corporation cleared off the tangled webs of cables in many areas in the city over the last one month.
Due to a sudden decision by the city corporation to remove the cables, millions of residents in Dhaka faced interruption in television, internet and telephone services for two days but the government action brought no positive result as operators said that there were no underground lines in many areas which they could use to provide connection.
The Nationwide Telecommunication Transmission Network operators, who set the cable lines, said that they have been installing underground lines in many areas in the city for a number of years but the cable operators were not using them.
Amid such claims and counterclaims, the DSCC continued to clear off overhead lines and Dhaka North City Corporation started removing tangles of wires on Thursday at Gulshan-2.
DNCC mayor Md Atiqul Islam said that it would remove the cables in phases within one year.
The mayor rebuked the NTTN operators for not completing network even in 10 years.
'If we cut off cables in the entire city, it would bring sufferings to the city dwellers, so I have decide to remove them in phases,' he said.
SM Anwar Parvez, founding president of the Cable Owners Association of Bangladesh, said that none of the cable and NTTN operators were ready to deal with the issue.
He said that roughly they serve eight lakh holdings in Dhaka but the NTTN operators have less than 20 per cent coverage including areas with partial coverage.
Television cable and internet service providers estimated that the DSCC drives damaged their cables of worth Tk 17 crore.
MA Hakim, president of Internet Service Provider Owners Association of Bangladesh, said that the NTTN have a distribution line at every kilometre.
'To ensure connection to our customers we need running overhead lines,' he said.
Underground lines can only be set up along the main roads as that facility is available there, but not with lanes and by-lanes, where there are no alternatives to overhead lines, he explained.
He claimed that cables worth Tk 15 crore were damaged during the DSCC drives, and added that the operators were compelled to run cables using electric poles again.
On September 1, DSCC magistrates started the drive against overhead cables that made the city look ugly and, thereby disconnecting dish, internet and telephone lines at Jatrabari, Chankharpool, Bangabazar, Postagola, Elephant Road, CR Datta Road, Baily Road and Dhaka Medical College and Dhaka University, Dhanmondi among many other areas.
DSCC chief estate officer Rasel Sabrin said that as per the declaration of the city mayor Sheikh Fazle Noor Taposh they were conducting drives against illegal grabbers and overhead illegal cables.
Abdullah Al Rashed Rana, a resident of Dhanmondi said that he did not understand the outcome of the drives as the DSCC conducted drive costing public money; cable operators replaced cables at the same poles spending their money while people suffered in this time of the COVID-19 crisis when schools, offices and all sorts of communications depended on the internet.
City corporation officials said that as per the declaration of mayors they would implement the order but the cable operators and NTTN operators have a role to play to replace overhead cables by running underground lines and Bangladesh Telecommunication Regulatory Commission were supposed to monitor these.
Officials of BTRC said that they gave licence to run underground lines to three private agencies — Summit Communications Limited, [email protected] Ltd and Bahon Ltd for creating underground connectivity.
Abedur Rahman, general manager of Summit, told New Age that they have roughly 1,200km underground cable lines in Dhaka city, including one that run from Motijheel to Mirpur roads.
He said that cable operators were not willing to use underground lines, for which there is a charge, as they get to run free overhead lines.
He said that DNCC would remove overhead cables in areas starting from Pakistan Embassy in Gulshan to Police Plaza, and this is exactly where Summit has a running underground line, but no operator had ever used it.
Other NTTN operators also said that underground cable lines installed 11 years back remained unused.
[email protected] deputy general manager Sarfuddin Bhuiyan Mahdi said that they started installing underground lines in 2009 and set up over 900 kilometres of fibre lines in the last 11 years, but cable operators did not use those lines.
Want stories like this in your inbox?
Sign up to exclusive daily email
More Stories from Country