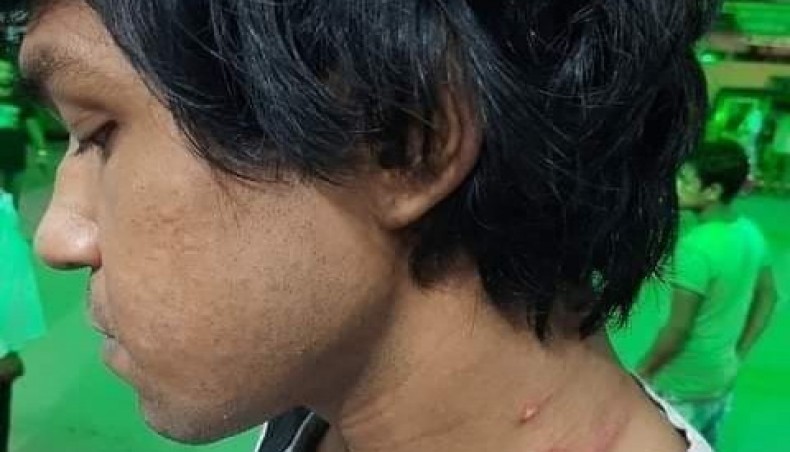 A patrol team of the Dhaka Metropolitan Police briefly detained two leaders of Bangladesh Chhatra Union while they were drawing an anti-rape graffiti on the wall of Viqarunnisa Noon School and College in the capital's Ramna area in the early hours on Tuesday.
The detained student leaders were Chhatra Union Dhaka city unit president Jahar Lal Roy and his unit education and research affairs secretary Sadat Mahmud. The incident happened about 2:30am.
Ramna police station officer-in-charge Monirul Islam said Chhatra Union leaders were released after an hour.
Chhatra Union central committee president Mehedi Hassan Nobel told New Age that his comrades were drawing graffiti near the Viqarunnisa College in Ramna when a police team came and resisted them from drawing the graffiti.
The Chhatra Union activists explained that they were drawing graffiti visualising the recent reports of rape incidents in the country and protested at police action which they said was an obstruction to their political freedom and rights.
In one of the rape incidents, a group of Bangladesh Chhatra League activists allegedly tied the husband of a woman and violated her at the dormitory of Murari Chand College in Sylhet on Friday night while an ethnic minority girl was also raped in Khagrachari recently.
A video of police detaining the Chhatra Union leaders showed an officer asking the student activists whether they took permission from the authorities to draw this graffiti.
In the video, the police were seen dragging them to police van by holding their neck where Jahar was seen saying 'do not beat us. We will get in the car.'
Mehedi said they were picked at about 2:30am and were released at about 5:00am. Photos of the incident that went viral showed Sadat carrying marks of injuries on his neck and hand.
Want stories like this in your inbox?
Sign up to exclusive daily email
More Stories from Politics