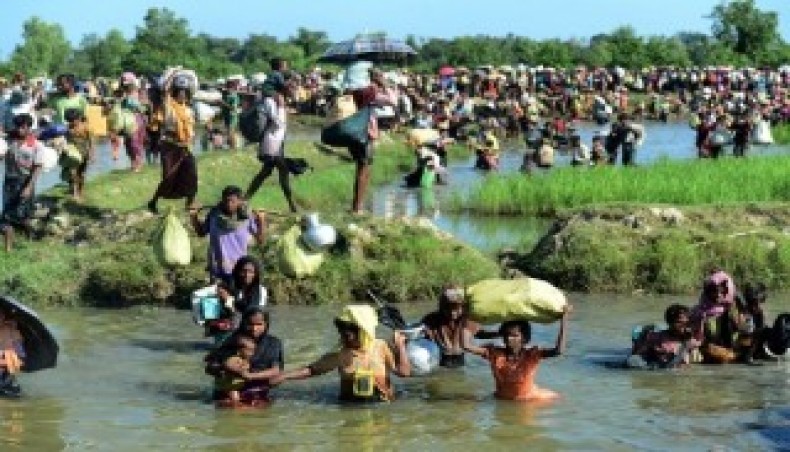 Ambassadors and representatives of six countries and international organisations on Thursday stressed the need for resolving the root causes of the Rohingya crisis in Rakhine of Myanmar.
They said this after concluding a two-day visit in Rohingya camps in Cox's Bazar, according to a press release issued by the Office of the UN Resident Coordinator in Bangladesh.
Holding the perpetrators of the atrocities committed against the Rohingya people in Rakhine state to account would contribute to giving the refugees the confidence to return home, they highlighted.
They also stressed the need for the continuing support of the international community.
'This crisis cannot and will not be forgotten,' World Bank country director Mercy Tembon said.
US ambassador Earl Miller said his country continued working toward solutions and the safe, voluntary, and dignified repatriation of refugees to Myanmar.
British high commissioner Robert Chatterton Dickson stressed the need for ensuring full humanitarian access to the camps, as well as continuing consultations with affected communities.
United Nations resident coordinator Mia Seppo and other diplomats appreciated the Bangladesh authorities for playing a critical role in slowing down the spread of COVID-19 pandemic and ensuring the safety and security of Rohingya settlements and the host communities in Cox's Bazar.
European Union ambassador Rensje Teerink welcomed the 'go and see' visit by a delegation of Rohingya people to Bhasan Char island, and proposed that a separate UN technical and protection assessment should be held for the 306 refugees already relocated there.
Canada's head of humanitarian aid in Bangladesh Phedra Moon Morris said the role of members of the Rohingya community should be fully recognised for playing a critical role in helping their own communities to protect them against COVID-19.
In the course of their field visits, the delegation visited isolation and treatment centres set up to treat COVID-19 patients and temporary learning centres and gave importance to the safe reopening of these and other facilities in a phased manner.
The delegation also discussed and observed efforts to keep the camps and surrounding areas safe and secure in Cox's Bazar.
Bangladesh and Myanmar signed instruments to send some 860,000 Rohingyas to their home in Rakhine.
Most of them entered Bangladesh fleeing unbridled murder, arson and rape during 'security operations' by Myanmar military in Rakhine, what the United Nations denounced as ethnic cleansing and genocide, beginning from August 25, 2017.
The latest Rohingya influx took the number of undocumented Myanmar nationals and registered refugees in Bangladesh to over 1.2 million, according to estimates by UN agencies and Bangladesh foreign ministry.
Want stories like this in your inbox?
Sign up to exclusive daily email
More Stories from Country