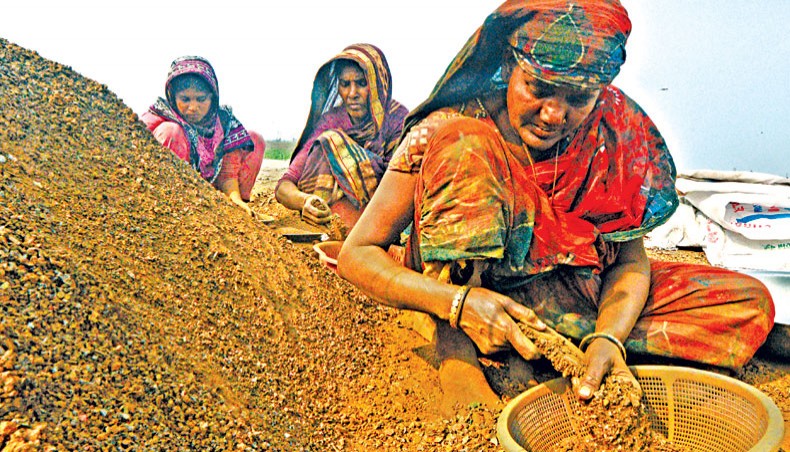 IT IS generally recognised that patriarchal practices and misogyny contribute to the factors that have prevented women from attaining equal foothold as men. They are also among the reasons for women's inability to access justice, seek redress and find empowerment.
In the private sphere, women are actually the powerhouses despite the challenges that they face at the domestic level. A home-maker cannot just switch off after 5:00pm and if she is working outside the house, at the back of her mind she is constantly thinking of what is happening at home and her work does not end even after she leaves the office or place of work. The energy, planning and execution necessary to balance both is a feat that takes stamina and organisational skills that no amount of on-job training can teach. Unfortunately, patriarchy and misogyny are blind to this realisation or choose not to dwell on it. Men tend to think that if women want to do what they think is a 'man's job', they should be treated like men. That is just an excuse for turning a blind eye to the vital contributions that women make both in the public and domestic spheres.
Although we have laws that punish domestic violence and prevent further violence and we have laws that punish dowry violence, we seem not to have the social will to prevent such crimes before they occur. Psychological violence is also not considered a dangerous offence. Domestic violence is not a social issue. it is a legal one that deserves as much efforts in investigation and justice as any other offences. Just because the perpetrator is married to the victim or is her father does not make him any less an offender. It is not his social status that should be of importance. The same goes for the forgotten crime of marital rape. It is rape and a criminal offence.
Then, of course, there are issues of child marriage and education. In most places of the world, child marriages are banned and education for all is compulsory. There may be other socio-economic factors that unfortunately encourage child marriage and halt the education of girl children, that has nothing to do with the rights of the child or woman. Factors such as the financial capacity of a family, the number of children in the household, etc need to be addressed and rectified. For women at all levels of society, there are more than one reasons for their still having to walk behind men instead of side by side.
In the public sphere, women and girls who leave the home to go to educational institutions, factories and other workplaces must overcome obstacles on a daily basis. Harassment in public spaces, public transports and at work, tolerating comments from misogynistic colleagues and bosses and even acts of physical harassment are common. Unfortunately, although there are laws, they are not implemented or investigated. A very few workplaces have sexual harassment or grievance committees. Those that do are not effective. Sexual harassment is largely not considered an offence. It is as if everything is acceptable as long as it is not rape. This is an extremely horrific way of fobbing off sexual harassment as 'fun'. Horrific still is that our law does not have the court-decided full definition of sexual harassment although in 2010 the High Court stated that the law had to be amended to include this definition. Without this definition, it will be difficult to prove and explain that an act was sexual harassment. The current legal definition only mentions 'physical touching' or attempt to physically touch a woman. That is all. Two lines. This only shows how patriarchal our society is. So many other laws have been enacted and amended since 2010, but this one single important definition has not yet been included in the Repression on Women and Children (Prevention) Act.
Respect and lack of it seem to be an overall factor here. Respect is something that needs to be taught at home — respect for wife, mother and sisters and all they do, respect for them as human beings, respect for their contributions and sacrifices, respect for their body and mind. If a woman or girl is raped, the shame on the family should not be the first thing that needs to be dealt with. The well being of the victim and the arrest of the perpetrator must always come first. This is how to show respect. Taking down a victim's narration of domestic violence, treating her with empathy and concern and doing all in your ability to seek justice for her is showing respect. Proudly and collectively representing a victim of sexual harassment with no fear of threats from the perpetrator is showing respect.
The lack of a proper implementation of legal remedies, the inability of women and girls to complain of the abuse, the social stigma attached to some of the gender-based offences and the lack of social networks for victims clearly show the lack of respect and lead to a weak representation and lack of justice. In turn, this encourages more gender-based offences to occur. This contributes to holding women back from aspects of equality in the public sphere and in domestic life as well. When a women gets justice for a wrong that she has suffered, she becomes empowered.
In order to enable women and girls to enjoy their rights in public and private life, the following, among others, need to be ensured: their education; their safety and security in both domestic and public settings; their full, unhindered access to justice mechanism; the cooperation of law enforcement and justice delivery mechanism with empathy, respect and full, effective investigation and trial; amendment to laws to give better protection for women; fully functioning, unbiased grievance and sexual harassment prevention committees in all workplaces and educational institutions; including boys and men in gender empowerment training and programmes. In today's setting, when men and boys are at home for a long period of time, the pressure on the wife and mother increases. This is the time to start the reforms, by assisting in household activities and sharing tasks.
I write this piece, thinking of Justice Ruth Bader Ginsburg. In respect to this defender of women's rights, I would like to end with a fitting quotation from her:
'Feminism… I think the simplest explanation… is a song that Marlo Thomas sang 'free to be you and me. Free to be, if you were a girl — a doctor, lawyer…. Anything you want to be. And if you were a boy and you liked teaching, you liked nursing, you would like to have a doll, that ok too. That notion that we should each be free to develop our own talents, whatever they may be, and not to be held back by artificial barriers — man made barriers, certainly not heaven sent'.
Saira Rahman Khan teaches law at BRAC University.
Want stories like this in your inbox?
Sign up to exclusive daily email
More Stories from Opinion