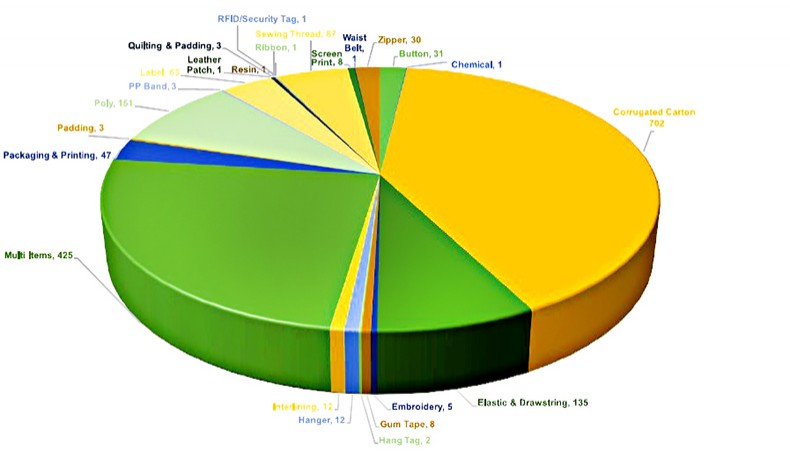 IN THE context of the global reach and size of the Bangladeshi ready-made garment industry, the backward linkage factories that support the industry are playing a vital role. The competitive pricing and delivery of finished goods to the international buyers within lead time are being achieved to a large extent owing to the existence of this large, various and efficient backward linkage industry.
It is well known that the RMG industry is the key contributor to the economy of Bangladesh, but it is not well-publicised that the sector also largely depends on an upstream supply chain of backward linkages that supply it myriad items that include, to name just a few significant ones, textile, dyeing, packaging, trim and accessories, apparel labels, and services such as washing, printing and embroidery.
Despite being a large employer of skilled and semi-skilled labour, and playing a pivotal role in the sustenance of the RMG sector and the growth of the economy, the backward linkage industries do not enter national debate and media coverage the same way the RMG sector does. That is why the consequences of national emergencies or contingencies on the backward linkages of RMG do not receive due attention from the government or international agencies, as does the RMG sector.
The COVID-19 outbreak in its wake has brought to the fore this issue of neglect and disregard as thousands of manufacturing units and service providers representing the backward linkage sectors have remained out of the coverage of government economic packages and financial incentives, while the RMG sector commands all the attention.
According to the Bangladesh Garments Accessories, Packaging Manufacturers and Exporters Association, there are currently 1,733 registered members in their trade body. These include a good range of manufacturing and service outfits (Figure 1).
The officials of the BGAPMEA state that there are many non-member operators in the area, and therefore the actual size of the industry in terms of employment and value addition, and contribution to the economy are much greater than what is captured in statistics. The sector also provides livelihood to independent traders who do not own a manufacturing outfit, but act as suppliers to the RMG factories.
There are 2,800 non-member factories in the sector. Therefore, the contribution of the textile and cognate manufacturing operations to the economy is quite significant. By some estimation, the size of the backward linkages industry is USD 5.1 billion in Bangladesh, and it employs a workforce of 5.5 million.
Since the backward linkages industry is connected with the RMG sector, it is evident that the impact of COVID-19 will fall on the industry. The COVID-19 crisis and the consequent economic downturn precipitated the government to declare an economic stimulus package of Tk 956 billion (about $11.2 billion).
According to an Asian Development Bank report: 'BDT 50 billion for RMG and other export-oriented industries which could only be used for paying salaries and allowances to workers and employees. The size of the Export Development Fund has been increased from USD 3.5 billion to USD 5.0 billion, which provides short-term facilities for importing raw materials for export-oriented industries.
Out of this package, the central bank will institute a USD 600 million Pre-Shipment Credit Refinance Scheme for RMG and other export-oriented industries. This highly welcomed package, though significant, will meet only a fraction of the massive requirements of the sector, which needs at least USD 470 million to pay wages every month. The country requires more support for the basic subsistence of the workers and to keep the industry alive.'
Our brief research concurred with the Asian Development Bank estimation, and additionally found out that the stimulus package was designed and directed only to provide recourse and sustenance to the large businesses and operations in the backward linkages sector and did not account for the numerous small and midsize firms which constituted it.
The COVID-19 outbreak has placed the smaller factories of the industry in imminent risk of completely shutting down their operations as orders are being cancelled, new businesses are not materialising, and funds are drying up.
Research on backward linkage factories
BY CONDUCTING very open-ended and lengthy telephone interviews, we found information and anecdotal evidence that led us to certain findings.
The COVID-19 outbreak precluded the possibility of doing fieldwork and conducting interviews of the factory owners or officials on their premises. The enquiry was also limited to a certain number of factories (only eight) or different operation types representing the backward linkages of the sector.
However, research into urgent problems can often be done by evaluating anecdotes. A number of research showed that 'anecdotal evidence does not benefit from the inclusion of statistical evidence or its intrinsic quality.' Anecdotal evidence had been utilised in research during the 2008 financial crisis and the ensuing austerity measures that impacted livelihoods.
The study conducted on the number of factories utilised the anecdotes, as was narrated by the respondents through open-ended in-depth interviews. Questions regarding the pandemic, its effects, and the ground realities of the factory in the aftermath of the lockdown, the relation of business vis-a-vis the RMG factories and employee morale were asked.
None of the factories in the anecdotes that follow have been named to preserve anonymity, and also as a safeguard against compromising their firms' competitive advantage. The anecdotes are presented below:
Circular knit factory in Chattogram
A SMALL circular knit factory in Chattogram with seven knitting machines and 22 employees are more or less passing idle time. Prior to the COVID-19 outbreak, per day production was seven metric tonnes of fabric. During the lockdown (April–May 2020), they received an order totalling to 3.5 metric tonnes of fabrics and in June–July, they received only 12 metric tonnes in order for the whole month.
The factory owner is a Japanese individual who assured that he would keep all his workers and staff for the next one year, even without any new business along the horizon. This singular act was deemed to be an unusual but great gesture from an employer. Still the workers seemed quite anxious.
Dyeing factory in Narayanganj
THE owner of a dyeing factory slowly built his factory with his own investments of Tk 80 million and he was about to begin production with a natural gas connection for his factory as other sources of fuel are not competitive for this type of industry.
After spending an additional six million for maintenance and salaries for security guards during these years, he received a gas connection. Later, he took a loan from bank and opened a letter of credit in December 2019 for his last machine (calendar), which is needed to finish woven fabric, and the plant was scheduled to start dyeing fabric in March 2020. He thought his perseverance would pay off, but the COVID-19 outbreak completely shattered his dream project and eventually he is incurring huge expenses such as rent, salaries, and utilities, including bank interests for the last couple of months.
Though there is a sky high demand for the dyeing factories as most of the dyeing factories have already been closed due to the outbreak and as importing of fabrics have also been hampered, so demand for dyeing using local fabrics are increasing now. The RMG factories are even offering cent per cent cash payment for their orders which earlier used to be in full or partial credit.
But the owner, unfortunately, could not seize this great opportunity as he could not re-open his factory due to fund shortage. Though he applied to another bank for loan to re-open his factory, his loan application was rejected as he already has an existing loan.
Two printing factories in Gazipur
'IF THE COVID-19 situation prevails, not only us but also many factories will have to shut down', the owner mentioned. In his factory, he has seven printing tables and 27 workers. The production capacity per day is 5,000–10,000 pieces depending on the design. During the lockdown, the factory lost fifty per cent of its orders. From Eid-ul-Adha onward the factory is producing 8,000 pieces. During a normal month, he has an expenditure of over Tk 1–1.2 million. The factory owner could not meet the salary expenses as he did not receive any payment from the RMG factory whose works he did. Apart from his operational expenses, he has a loan with a bank. He is not able to pay the instalments in the current situation — only twenty per cent of his debt has been recovered till date. The owner finally said, 'I don't think about it anymore. I left it to the mercy of Allah. I will go where the situation takes us. I have no future plans'. He is doing more sampling programme than production nowadays with the hope of new orders in coming seasons.
The owner of another printing factory in Gazipur said that, 'I have a small factory in my own building. My factory has been closed since the lockdown, and I had to let go of the factory workers. In fact, the businesses for which I worked for are also closed'. He used to work for large factories such as PN Composite, Alima Textile and MN Garments, and had 30–35 workers with 5,000 pieces daily production capacity. The factory has seven printing tables. In the past three months, he had barely any work. While he produced one hundred and fifty thousand pieces per month, he had produced only a total of one hundred thousand pieces in the past three months. These factories normally receive payment against back to back letter of credits, but if the order is small and the amount is less than $5,000, payment is given in cash. Many garment factories did not clear their amount, and accounts receivables that are unpaid are accumulating in small operations.
Still the owner seems confident. He recuperated a portion of his debt from the factories and paid wages to all the workers. He began recruiting new workers, and now working with 45 workers. He, however, mentioned that he was having problem with the price which had decreased. For an order where he used to get $1.50 before the lockdown, now he is getting $ 0.90 for the same order.
An embroidery factory in Dhaka
'I HAVE a total of 40 workers with five computerised embroidery machines. I bought two new machines for Tk 5 million and three old ones for Tk 3 million. When we started, we invested Tk 10 million in this business.' At present, there are unrealised dues worth Tk 10 million on the market. Till date, he did not receive a single penny from his debtors and also did not receive any support or cooperation from the government or any other organisation.
At the beginning of the COVID-19 outbreak and owing to the severe shrinking of orders, the owner had to cut short the factory work in one shift, but later he started working in full swing with two shifts. Earlier he could not make payments to his suppliers as he did not receive a single line of credit till date because his major buyers closed down due to the pandemic. But now when he opened his factory, he is able to pay his workers and also could recover the previous expenses.
But, he mentioned, there is no profit for his work as the price is very tight. He also mentioned that he is now working for a Filipino customer with 40 per cent less price.
A washing factory in Chattogram
FOUR industrial washing machines and four industrial dryers make up the equipment of this factory. Earlier, the factory had 35 workers with a total of 15,000 pieces daily production capacity. But during the pandemic, as the work orders are too low, the full capacity of the factory is not being utilised — for the past couple of months, they have been producing only 5,000 pieces daily and as he could not pay the workers on time, 10 workers left their job. Now he is working with 25 workers. The owner, who already has existing loan, has also applied for a new bank loan to pay the workers' salary but his application was rejected. He eventually had to sell his private car to pay the workers.
There are orders in the market but he does not have money to buy chemicals to complete these orders. Chemical suppliers refuse to sell any more on credit. Earlier, he used to pay the suppliers after receiving dues from his manufacturers.
The owner laments, 'I do not have any land to sell for repaying my loans. Initially, I invested Tk 15 million. Now, without any government support or a substantial bank loan, it would be difficult for me to run the factory again.' The owner sadly mentioned that now he was looking for private financier to sell part of his business.
A trimming factory in Dhaka
'MY FACTORY that employs 35 workers produces thread and elastics for a garment factory', the factory owner mentions. In early days of the COVID-19 outbreak, he had to close down his factory which he later re-opened but had to reduce the size and capacity. He has now a reduced 1,000 sq/feet factory area, which earlier was 2,200 sq/feet, with 16 workers.
'I will be able to re-open the factory fully if the RMG factories where we supply clear all the dues; otherwise, I have to borrow money from another source to run the operation. Electricity bills are due for the last couple of months. I also could not pay the workers' salary in full. I have a shortage of capital, which is the result of unpaid accounts receivables with the RMG factories I work with. Without additional money from external sources, it would be difficult for me to start all over again.'
Only about 15 per cent of his debts have been cleared by the manufacturers till date which is not enough for his survival. Banks already have refused to pay any loans to him forcing him to borrow from private sources with high interests.
'Orders are there, but everyone wants to do it in credit. Earlier the manufacturers used to request for 120-day credit, but now they are offering orders for 180–250 days credit. Even if one wishes to pay, they only pay 10 per cent of the total due; therefore the suppliers are forced to do business in credit to recover the due amount. Once you are in this cycle, he needs a magic wand to get out of this.'
Major observations
Currently, a sense of despair and hopelessness has been characterising the backward linkage industry. Some of the key issues that need to be resolved are:
a. As some of the RMG factories could not pay the outstanding invoices to the backward linkage factories, it may put drastic impact or even damage some of the businesses of the backward linkage.
b. The practice of not providing local line of credits for orders worth less than $ 5,000 has led to a great many numbers of outstanding accounts receivables which the RMG factories are not paying.
c. There seems to be no alternatives available to the backward linkage players to recover the accounts receivables during this crisis. No provision in the government's incentive gives any solution to such issues either.
d. Most factories are underutilised or about to be shut down, especially as there are limited or no orders now. While the orders of the RMG factories are being re-negotiated at the international buyers' level, no such deal or negotiation is underway for the local suppliers of the backward linkage.
e. Unemployment and non-payment of workers' wages are a major concern for the sector now. But no mechanism or government incentives have yet been declared targeting these small factory workers in the backward linkage. These issues can create dissatisfaction and unrest amongst the workers.
Mynul Hasan is field coordinator of Mapped in Bangladesh Project, Centre for Entrepreneurship Development, BRAC University. Shamim E Haque is an assistant professor, BRAC Business School and senior research fellow, Centre for Entrepreneurship Development , BRAC University.
Want stories like this in your inbox?
Sign up to exclusive daily email
More Stories from Opinion